I'll be covering Hot Chelle Rae's Thursday, August 4, 2011 concert in Milwaukee this week. Be sure to check back for a concert review and footage! ~Ifelicious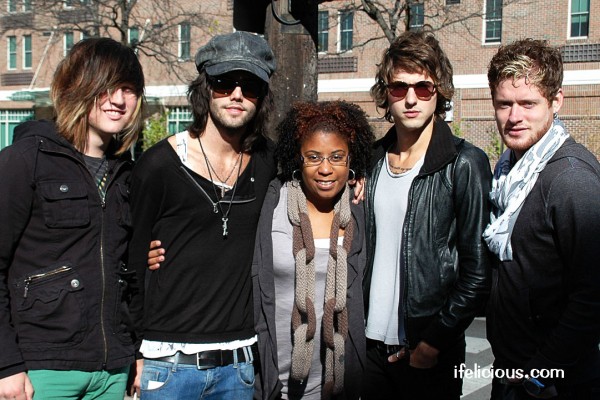 (New York, NY ) August 2, 2011 – Jive Records recording artist Hot Chelle Rae will continue to roll through the US this summer and fall, announcing additional tour dates with The Script and Big Time Rush. They kicked off their 2011 summer tour on July 10th hitting major markets across the country touring with We the Kings, The Summer Set, The Downtown Fiction, and Action Item on the Friday Is Forever Tour.
Hot Chelle Rae launched their tour in North America on the heels of the band's most successful single to date "Tonight Tonight" which has been certified platinum in the US and gold in Canada. Currently the single graces pop rotations on more than 150 key radio stations nationwide, is quickly rising and gaining in digital sales (currently at #4 on iTunes, #7 on Top 40 Radio and #7 on Billboard Hot 100). Their video "Tonight Tonight," which can we seen on MTV and MTV Hits, features a cameo by Glee's Chord Overstreet. The video has been viewed nearly 8.6 million times and the number keeps growing daily. Look for Hot Chelle Rae's sophomore record to be released this fall.
Hot Chelle Rae found its massive sound in 2005, each of its members boasting a music pedigree, in addition to serious chops. Guitarist Nash Overstreet, along with front-man RK Follese and drummer Jamie Follese, are all sons of A-list Nashville songsmiths. Bassist Ian Keaggy is the son of Grammy-Award winning guitarist Phil Keaggy. They each bring together talent and a unique passion for music to consistently deliver songs that are larger than life, packed tight with energetic, punchy beats amidst soaring vocals and explosive guitar work that could fill an arena.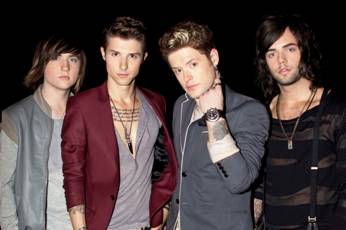 VIDEOS
Journeys interview with Hot Chelle Rae

Video for Hot Chelle Rae's hit single "Tonight Tonight"
The Nashville based foursome just recently performed on "Live with Regis and Kelly" and "America's Got Talent."
Hot Chelle Rae on "Live with Regis and Kelly"
Hot Chelle Rae perform on "America's Got Talent"
TOUR DATES
Hot Chelle Rae has been and will be maintaining an extremely busy tour schedule.  I've posted the tour dates as I know them now below, but make sure to check out their website www.hotchellerae.com for the official schedule.  They've landed a couple of headlining gigs that are listed at the very bottom.  One is in Green Bay, WI on September 5, 2011 and the other is in Toronto on October 15, 2011.
Remaining dates on Friday is Forever Tour
| | | |
| --- | --- | --- |
| Aug 2, 2011 | Pontiac, MI | The Crofoot |
| Aug 3, 2011 | Chicago, IL | The Botton Lounge |
| Aug 4, 2011 | Milwaukee, WI | The Rave |
| Aug 5, 2011 | Palatine, IL | Durty Nellies |
| Aug 6, 2011 | St. Paul, MN | Station 4 |
| Aug 7, 2011 | Iowa City, IA | The Blue Moose Tap House |
| Aug 9, 2011 | Denver, CO | Marquis Theatre |
| Aug 10, 2011 | Salt Lake City, UT | Club Sound |
| Aug 12, 2011 | San Francisco, CA | The Regency Ballroom |
| Aug 13, 2011 | Anaheim, CA | House of Blues |
| Aug 14, 2011 | Mesa, AZ | The Nile |
| Aug 15, 2011 | Tucson, AZ | The Rock |
Hot Chelle Rae tour dates with Big Time Rush
| | | |
| --- | --- | --- |
| Aug 30, 2011 | Boston, MA | House of Blues |
| Aug 31, 2011 | Hampton Beach, NH | Hampton Beach Casino Ballroom |
| Sep 4, 2011 | Allentown, PA | Allentown Fair |
| Sep 10, 2011 | York, PA | York Fair Toyota Grandstands |
| Sep 11, 2011 |  Allegan, MI | Allegan County Fair |
| Sep 17, 2011 | Spencer, IA | Clay County Fair |
| Sep 18, 2011 | Hutchinson, KS | Kansas State Fair |
Hot Chelle Rae tour dates with The Script
| | | |
| --- | --- | --- |
| Sep 1, 2011 | Washington, DC | D.A.R. Constitution Hall |
| Sep 3, 2011 | Syracuse, NY | New York State Fair |
| Sep 6, 2011 | Columbus, OH | LC Pavillion |
| Sep 7, 2011 | Detroit, MI | The Fillmore |
| Sep 9, 2011 | Nashville, TN | Ryman Auditorium |
| Sep 13, 2011 | Louisville, KY | Louisville Palace Theatre |
| Sep 14, 2011 | St. Louis, MO | The Pageant |
| Sep 21, 2011 | Seattle, WA | Paramount Theatre |
| Sep 23, 2011 | Oakland, CA | Fox Theatre |
| Sep 24, 2011 | Los Angeles, CA | Palladium |
| Sep 27, 2011 | Norman, OK | Riverwind Casino |
| Sep 28, 2011 | Tulsa, OK | Cain's Ballroom |
| Sep 30, 2011 | Austin, TX | Stubb's Waller Creek Ampitheater |
| Oct 1, 2011 | Houston, TX | House of Blues |
| Oct 2, 2011 | Dallas, TX | Palladium Ballroom |
| Oct 4, 2011 | New Orleans, LA | Mahalia Jackson Theatre |
| Oct 5, 2011 | Clearwater, FL | Ruth Eckerd Hall |
| Oct 7, 2011 | Miami, FL | The Fillmore |
| Oct 8, 2011 | Orlando, FL | Hard Rock Live |
| Oct 9, 2011 | Atlanta, GA | The Tabernacle |
| Oct 11, 2011 | Charlotte, NC | The Fillmore |
| Oct 13, 2011 | New York, NY | Roseland Ballroom |
Hot Chelle Rae headlining dates
| | | |
| --- | --- | --- |
| Sep 5, 2011 | Green Bay, WI | University of Wisconsin |
| Oct 16, 2011 | Toronto, ONT | The Opera House |
Related articles