UPDATE NOV 17, 2011: There was a lot of fallout from Ryan Murphy's comments about cast changes that I just couldn't keep up with who's in and who's out. I did want to report that Chord will be back guest starring as Sam Evans beginning in December 2011.  Read more – CLICK HERE. ~Ifelicious
I was surprised to read that Glee's creator Ryan Murphy has removed "trouty mouth" Sam Evans, played by Chord Overstreet, from the cast.  On the heels of the wrap up of the Glee Live! Tour 2011 that played its last show in Dublin, Ireland came some announcements about Glee season 3 that included no more Sam.  According to an article I read on PopSpoken:
The shakeup at McKinley also seen Darren Criss (Blaine) & Harry Shum Jr (Mike) being promoted to series regulars.
Show creator Ryan Murphy recently announced that each of the original cast will be graduating in the next season, paving the way for a new cast to join the Glee club at McKinley.
Murphy said, "The show to me is about the way you express yourself as you start to move out into the world as a fresh, young person. Do we really want to have an eight-year [high school] senior? The only way somebody could stay on the show is if they flunk, and that is always a possibility. I think [Heather Morris' character] Brittany is pulling straight Fs"…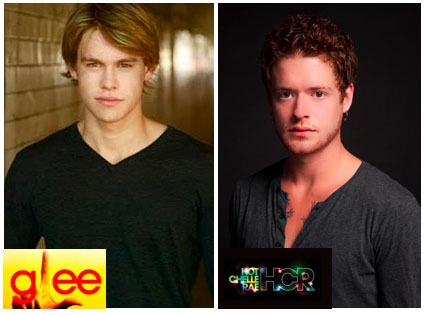 Who knows? In another blog post I wrote about Chord's appearance with his brother Nash Overstreet who is part of the rock group Hot Chelle Rae. Chord appears in the "Tonight Tonight" video. Perhaps, he'll be doing more HCR appearances. In my opinion, Chord won't be out of work for long. He's got the looks, enough acting talent, and vocal chops to land him another role on a series so I'd keep my eye out if I were you.
Any guesses on how they'll write him out of the show?
Hollyscoop.com: Chord Overstreet on Glee Tour 2011
On Air with Ryan Seacrest: Is Ryan Murphy Replacing the 'Glee' Cast? [AUDIO]
Also, read Stupid Celebrities Gossip article "Glee" Creator Ryan Murphy Engaged To Longtime Boyfriend (Photos).
Related articles