I admittedly have a rock star crush on Hot Chelle Rae (HCR) having interviewed them and met them when they toured through Columbus, Ohio last year.  Check out all of my blog posts related to the group including a featured interview with lead singer RK Follese– CLICK HERE.
MTV named them PUSH artist of the week in October 2010 right when their single "Bleed" from their album "Lovesick Electric" (released on Red Int/Red Ent) was just breaking into the Top 40 charts.  Now, the Nashville based band members Ryan "RK" Follese (lead vocals/guitar), brother Jamie Follese (drums), Ian Keggy (bass/vocals), and Nash Overstreet (lead guitar/vocals) are back again with a new EP "Tonight Tonight" and playful lead single by the same name.  The EP was released on March 15, 2011 through Jive Records and can be downloaded on iTunes. Watch below: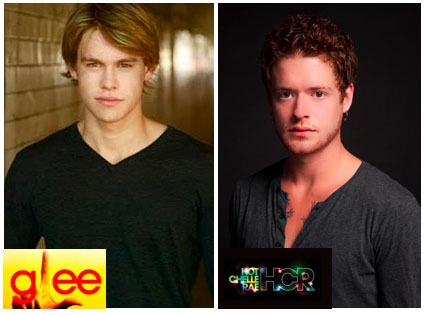 So who knew that Chord Overstreet who plays Sam Evans on Fox's "Glee" was the brother of HCR band member Nash Overstreet?  Did you catch a glimpse of him in HCR's video above for "Tonight Tonight"?
Admitted tangent below, but just stick with me…
Whenever I think of Chord's character Sam, I think of "Glee" season 2, episode 16 "Original Songs" when Rachel Berry (Leah Michele) suggested that New Directions sing original songs for regionals.  What Rachel or Mr. Schuster (Matthew Morrison) didn't expect was the eclectic and oddly personal range of songs that the Glee club chose to perform.  Santana Lopez (Naya Rivera), Sam's girlfriend at the time and show's scheming trouble maker, wrote an performed an original song (with Tina Cohen-Chang played by Jenna Ushkowitz on the piano) dedicated to Sam called "Trouty Mouth."  So funny!  Watch it below:
Watch this GleeWind on Hulu about the "Original Songs" episode:
End tangent…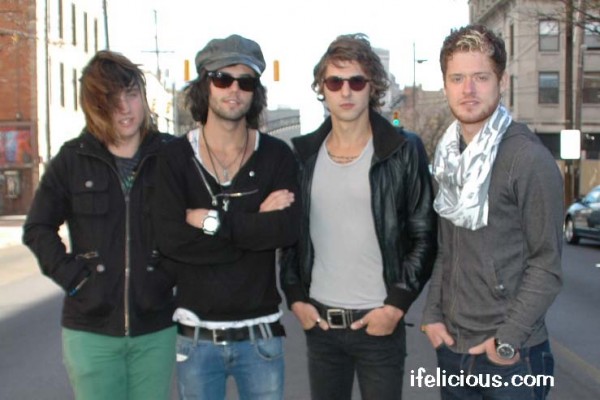 HCR is currently touring.  See their website for tour dates.  Here are a few of them.  I see they'll be back in Colubmus, OH on July 30, 2011 and in my new hometown of Milwaukee, WI on August 4, 2011 so hopefully I'll be able to do a follow up interview with them at that time or sooner.
Hot Chelle Rae: Tour Dates (excerpt)
| | | |
| --- | --- | --- |
| May 21, 2011 | Wichita, KS | Hartman Arena |
| June 4, 2011 | Buffalo, NY | Coca-Cola Field |
| June 7, 2011 | Rochester, NY | Frontier Field |
| July 10, 2011 | Eureka, MO | Six Flags St. Louis |
| … | | |
| July 30, 2011 | Columbus, OH | Newport Music Hall |
| … | | |
| August 4, 2011 | Milwaukee, WI | The Rave |
July 10, 2011 kicks off their Friday is Forever Tour with We The Kings, Summer Set, The Downtown Fiction, and Action Item.  Read more on HCR's website- CLICK HERE.
HCR also has a contest for fans where "You'll win roundtrip airfare, a 2 night hotel stay and tickets to meet Hot Chelle Rae and go to one of their shows with We The Kings. Also, if you share this contest with 3 people, you'll get a free download of an acoustic version of 'Tonight Tonight.' Share it with 5, and you'll get an exclusive HCR bracelet."  More on HCR's website- CLICK HERE.
Rock on HCR!  Glad to see y'all growing in popularity.
Related articles