Last year was the first time I got to know Abram Boise as someone who wasn't just a competitor on Challenges and in love with Cara Maria Sorbello. Heck, Cara Maria isn't the only person from MTV shows that Abram is dated, but more on that later.  Abram is a creative spirit who paints and writes and does his own tattoos.  In this final part of my "Battle of the Exes" interview series with Abram (see also "(Pt 1/2) 'Battle of the Exes' interview with Abram Boise: loving Cara Maria"), I highlight some of his lesser known pursuits as well as touch on his experience doing the MTV Challenges.
INTERVIEW
Dating "Real World: Back to New York" and Challenge competitor Coral Smith
Besides Ruthie Alcaide and Evelyn "EV" Smith, Coral Smith is probably the only other girl that I would consider as one of my all time MTV favorites from the Real World, Road Rules, Fresh Meat, and Challenges era.  For years, it was rumored that Coral and Abram dated, and with his permission, I'm giving you the real answer.  As far as my follow up question, I only asked because the rumors have been rampant for years and even her Twitter profile kind of hints at it, but your guess is as good as mine.
Ifelicious:  You and Coral used to date as well, right?
Abram:  Coral and I always kept everything very much away from TV shows…We did see each other for a long time, and I'll be honest, I don't think she ever really wanted to have it public.
Ifelicious:  But Coral is totally out now as a lesbian, right?
Abram:  I have no idea.
MTV Remote Control Blog posted an article "Coral Smith of 'The Challenge'…Where is she now?" that's a good read for those who want to get a little more info on Coral these days.  They've also posted another good read, back in 2009, entitled "Bad to the bone: The top five biggest bullies in MTV History."
Moving on…
Abram the author
Around this time last year, Abram was on the road promoting his children's book "Star of Happiness."  The tour ended after his arrest, but I know fans have still been interested in obtaining copies of the book (i have my own autographed copy…nanny nanny boo boo!  :P).  There were also a limited edition of quilts to accompany the story, but they are no longer available.  Even when we spoke last year, Abram mentioned that he had plenty of book ideas including ones for a graphic novel.  If you go to Abram's Facebook "About" page, you'll see a summary of the books he's working on.  I'll copy it here as well, in case that info is no longer posted on his Facebook page at some point.
Memories of Lemuria
A hardcore sci-fi black and white adult graphic novel based on the mythical Lemuria. The story reveals the bizzare origins of man and the cycle of 20,000 year destruction.

The Incredible Japanese Western (with Faesch Pierre-Quentin)
The story is exactly what it sounds like…..Two orphans bond in friendship in an old west mining camp and learn to fight and steal at a young age to surviive. They grow up to go on a bloody streak killing to avenge their murdered families and near killing of the girl he loves. but when dodgy goes too far over the edge, Poncho tries to kill his friend due to the guil he feels at causing his dear friends monstrosity. Their mishaps andadventures lead them through kung-fu china, Piracy and cannibalism in the south seas, leading through WWI Europe, and S& M in 1800's eastern europe only to lead them back home.

Tokyo Space Disco (with Michael Boise)
The most epically epically funny movie ever made in the entire universe….

The Creation of Will-Young
A short story written as a fiction reflecting on the experience of living. Told in the format of a personal journal from the perspective of a fictional being living in a fictional world. From floating islands and seas that you can fall into the sky if you dive too deep, to Hawaiin gargoyles teaching philosophy, to the zen of golf. the story is a reflection of our lives.

The Star of Happiness
Children's picture book [that encourages them to reach for the stars and fulfill their dreams.]
Ifelicious:  I read online that you were back to selling copies of your book [The Star of Happiness].
Abram:  I had a hundred copies left over from that first release.  I guess they've been in my house in Montana, and so I just released the last 100 copies…I'm going to rework the book.  I got a book agent.  He's been moving it to different publishers.  If something did work out, though, it would take six months to a year before I came out with…a revised version.  For now, I'll continue…to put out 500 copies at a time and sell those.
Ifelicious:  I know the children's book tour kind of ended on a sour note (see "A night of pee, poop and Jail for MTV reality star Abram Boise"), but would you consider another book tour once any new material gets released?
Abram:  I loved the book tour.  It was one of the most beautiful times in my entire life…I was filled with joy and inspiration and hope…I would like to do another tour at some point in time, but hopefully it would be with one of the graphic novels which, coincidentally, I'm actually talking with MTV about the possibility of actually doing a show…specifically about touring.  It wouldn't be a tour to promote the book.  It would be actually going out and living the situations that are in these hard core graphic novels…It would be very rowdy and very scary, everything that's me.  Whether or not it comes out in a TV show, I'm considering selling my house and just leaving.  I've been wanting to for years…I am growing more and more to have less inhibitions about what I say or what I feel or what I think.  I want to focus on living honestly because I know, at some point in time, I won't be healthy and young anymore.  I want to take full advantage of that.
Ifelicious:  I completely understand.  Recently, on a trip to LA, I sat next to someone.  When I asked him where he was from, he said he was a 'citizen of the world.'  He literally sold his business, and he's been traveling the world…We just had a really interesting conversation about what it means to step away from expectations and the norm and just go for what you love.
Abram's tattoos
Ifelicious:  One of the online searches that leads people to read one of my interviews with you is related to your tattoos.  Have you added anything recently?
Abram:  As a matter of fact, I tattooed my own chest last night.
Ifelicious:  You have your own tattoo kit, right?
Abram:  I used to have one when I was in Hawaii, and then I lost that one…so I went out and bought a new one.  I've been actually filling in on my arm.  I've got my fingers tattooed.  I just did my own chest and will probably get my head done in the next week or so.
Ifelicious:  What did you put on your chest?
Abram:  It's a black heart in the center of my chest with flames around it and a knife going straight through the middle.
Ifelicious:  You'll have to post a picture of it online.
Abram:  I will.  I'll tell ya, what's really hard.  I always wanted to get the center of my chest tattooed because I like the way it feels.  When you get tattooed on your sternum, it's like jumping out of an airplane…It's pretty wild.
Ifelicious:  Uh, that sounds crazy to me, but good for you on getting a tattoo in an area that is so painful.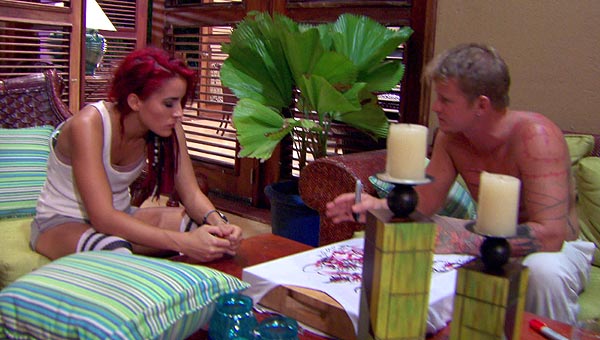 Competing on the MTV Challenges
Ifelicious:  What's your relationship like with the other cast members from The Challenge[: Battle of the Exes]?
Abram:  I get along with just about everybody.  I know there was some past history between Cara Maria and Wes and CT…but they were actually really polite to me…I get along with most everybody, and if I didn't, I just avoided them as much as possible.
Ifelicious:  How was this Challenge different than the others you've been on?
Abram:  This Challenge, I think they were trying to cast kind of a 'Temptation Island' type thing with a lot of couplea and make it sexy like that…although Cara Maria and I were dealing with some difficulties on the show…for the most part, Cara Maria and I were having a great time.  We were just young and in love…We were fooling around so much that [the producers] didn't really care anymore because they had seen us doing that so much already.
Ifelicious:  What do you think of you and Cara Maria as a team?
Abram:  As soon as I looked around and saw everybody, I was so happy that Cara Maria was my partner…She's got an athletic body…She's not all skinny and petite where you have to worry if you're going to hurt her or break her.  I think I've got the best partner on the show
Ifelicious:  Does your competitive drive take over once you enter a Challenge?
Abram:  No matter how stupid and jacked the competitions are at times, I'm stoked and ready to go.  That is an aspect of the show that I always loved…The vast amount of odd competitions that you have to go through combined with bizarre physical strength, and then also, on top of it, the mental strength…It's just so intense, and there's no second chances whatsoever.
Ifelicious:  Would you do another Challenge?
Abram:  Every time I show up, I tell [the producers], 'Look, I want you to scare the living shit out of me.  I want you to put the fear of God in me, please,' and they never really deliver.  Maybe once, I think it was the first Gauntlet, where they dangled me off a cliff in South Africa…those seasons were pretty good.  Other than that, I want something intense so actually as a matter of fact this summer I'm probably going to start doing work as a rodeo clown because I'm so bored, and I want to do something so bad.
Abram's artwork and outlook
Ifelicious:  What else have you been up to lately?
Abram:  I've been just painting a ferocious amount of art that's just been ripping forth and I haven't been able to stop it…There's been evolutions in my art…that I didn't know I was capable of actually achieving.  So it's pretty interesting to get to a level where I can look at a painting and say, 'This is on a professional level,' and I really want to compete on that level.  So my primary focus right now is my art and my stories- the graphic novels…I also want to get my house in Montana ready and rented out so that it pays for itself.
Ifelicious:  What do you want out of your life?
Abram:  I just want to retreat to my studio in Montana.  I want to continue my writing.  I want to continue my art, and that's about the extent of my big plans for the rest of my life…
Later in the interview, Abram expanded on his outlook on life which I found pretty interesting:
"I'm actually very content with my life.  I'm very happy, very content, very satisfied, very peaceful despite any turmoil that goes on…It is my belief that, in life, there's going to be a never ending cycle of continual work, effort and maintenance to keep that ideal happiness and contentment, and there's never going to be some finish line that we finally cross.  There's never going to be some final moment or retirement when everything's going to turn all blissful or at peace.  That doesn't happen in our lifetime.  We're going to work until the day we die, or we're going to have to work at the maintenance."
Well said, Abram!
Read all of my blog posts about The Challenges, including cast interviews – CLICK HERE.
You can find Abram online via Facebook (Abram G. Boise), Twitter (@AbramBoise), YouTube (Abram Boise), Etsy (AbramBoise), and his personal blog (Abram's Army).  Looking for a vacation spot?  Consider renting Abram's home near Yellowstone Park.  Here's the listing on Mountain-Home.com.
Related Links
VIDEO: Abram explains the scars on his chest
Posting this again (previously posted in my article "Reality TV Spotlight: MTV Road Rules and Challenge cast member Abram Boise") because I know people also want to know the story behind Abram's scars
VIDEO:  Abram shows off his tattoos at Savas Studios
This video is from a recent photo shoot done at Savas Studios in Boston for an artist who was doing a series about visual prejudice.