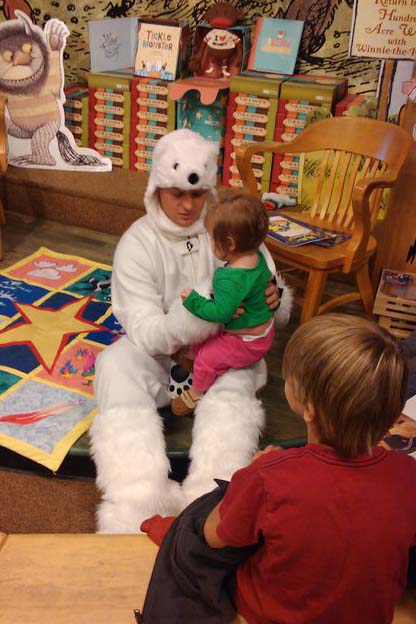 I'm trying to go to these schools and say, 'Hey look, it's cool to be on MTV, but it's also really good to be able to read, to write, and to create stories.  You can do this, too.'  That's one of the big things I'm really trying to focus on. ~Abram Boise
He's been named by Reality Ranker as one of the Top 20 Most Heinous Reality TV Stars.  MTV Road Rules: South Pacific and Challenges contestant Abram Boise is no stranger to being known as one of the bad boys of reality TV, but hopefully you got a more rounded picture of him in my previous post "Reality TV Spotlight: MTV Road Rules and Challenge cast member Abram Boise."  He's fearless, adventurous, an artist, an eco-friendly home design/builder, and a writer.  Sure, the verdict's still out when it comes to matters of the heart, but what else would you expect from someone who just celebrated their 28th birthday on January 30th?  What we didn't expect was Abram to author, illustrate, publish, and launch his own children's book tour for "The Star of Happiness" (available on paperback at www.starofhappiness.com) (website no longer active, contact Abram on Facebook if you want to order a copy).
No matter what you think, Abram has a gift of being able to relate to a multitude of people and do it very comfortably.  Maybe it's his midwest upbringing, coming from a family of 10 children (he's the third born), spending seven years and counting on reality television, or simply just his nature.  His approachability has led him on a 3 hour tour…oops!…I mean month-ish long book tour for "The Star of Happiness" solely based on fan requests, and from my latest chat with Abram, it looks like there will be even more to come in the fall.
Dressed up in a friendly bear suit (a character from the book), Abram's hit the road with a publicist, cameraman, sound guy, and I'm sure a few stragglers along the way.  In his journey, he's traveling to elementary schools, Head Start Programs, and autism schools in support of Autism Speaks across the midwest and east coast to read his book, "The Star of Happiness" to children while promoting literacy and encouraging young people reach for the stars- the book's premise. All of this being done on his own dime (although he's now set up a forum for donations). Who does that?  Abram does.
For the grown up fans, Abram also has worked in some additional appearances while in town like bartending gigs.  There, he enjoys amazing onlookers with his fire breathing tricks.  Other events open to the general public include independent and retail chain bookstore appearances.  The best way to keep up with Abram's whereabouts and antics are via his Facebook and Twitter pages.  At the time of this post, Abram's finishing up his time in Chicago then heading to Lansing, Michigan on Monday, February 7, 2011 and Toronto, Canada on Tuesday, February 8, 2011.
Here's the part of the interview where we spoke about his book and the accompanying tour.
Ifelicious: I read that this book was seven years in the making.  What exactly does that mean?
Abram: Well, basically, I had this big bright idea.  You know what?  I'm going to take my art and turn it into a book…I really literally thought about it all in a flash one night.  I'll make the blanket.  It'll be a kids blanket.  It'll be a bedtime story.  It'll all go together.  Boom!  I'm going to be on Oprah in two years.  Seven years later, she's going out, and I'm like, 'Dangit, man!  I didn't get to catch Oprah'…I would go through a different version of the book…I would add in an extra painting here or an extra painting there…I was building my house in Montana, and I had been traveling around the world on my own, plus I was filming those nine [MTV] shows…So, I've been doing a lot of stuff…I also got shot down a few times when I was trying to get it going…I was actually actively going after it so I was happy to see the rejection, but at the same time, I had to go through tons of versions of the book before I finally came up with this version that worked.
Ifelicious:  Were you picked up by a publisher, or did you self publish?
Abram:  I got Soundcolor Productions.  They're just a title company out of Missoula, Montana.  Basically, I got an investor to put up the money to self publish… So, I've got the copies of the book, and I'm looking for a larger publisher to maybe take it international.
Abram self segues into how his book tour began to take shape.
I wasn't even going to do the book tour…this last show, 'Cutthroat,' I did the show specifically to try to bring awareness to the book, and then all of a sudden I got contacts from people saying, 'Hey, you wrote a kids book?  I'd like to order a copy.'  Then a Borders branch manager contacted me, and she said, 'Abe, I'd like you to read the book at our location,' and then it turned into another thing at Barnes & Noble, then all of a sudden I was reading at schools in Indiana…and I got a huge reaction from schools, much more-so than anybody else…It's grown all on its own, and so now I'm going on this tour across all these different states visiting schools.  I teamed up with Autism Speaks so I'm reading at some autism schools, and we're doing a huge literacy program at each school…so it's pretty exciting.
Ifelicious:  So the tour is going to be mostly schools or only schools?
Abram:  I'm focusing on the schools more-so than anything else, but I will also be reading at more Barnes & Nobles, a few more Borders, and then also independent bookstores as well.  I'll be doing a few [book readings] at libraries.
Ifelicious:  Is your book targeted for a particular age group?  I know you said you're visiting elementary schools, but is there an age range within that?
Abram:  The age range is four to ten [years of age]…and it's right about at their reading level.  I will also be doing some readings at Head Start Programs around the country.
Ifelicious:  I noticed on your Facebook page that you actually interact a lot with [your Facebook friends].  Trust me, I look at a lot of people's pages and even on Twitter and people are just like, 'I'm famous, and I don't have time for you.  Thank you all of my supporters.'
Abram:  Well, that's really what's generated all these events…Like Cara Maria, she's really personal.  She wraps her paintings and makes them all pretty.  It's like a Christmas gift.  I'm always blown away by how personal she is with it.  Like she's called up the people that ordered her paintings…I've really been impressed with that personal connection, and I think it's one of the biggest things I have going right now.  I don't have the big publishing house that is going to go in there and just set up all like the reading events for me…and I just show and I get my water and plush pillow.  It's not like that.  The only person that is going to make the tour happen is, literally, me, so social media has become my office ever since I created this tour.
Ifelicious:  I'm in Columbus, OH.  Are you going to be coming through Ohio at all?
Abram:  I'm going to be in Indiana.  I don't have anything in Ohio yet.
Come on fans and especially those with children.  Let's get Abram to read at your school in Columbus, Ohio!
Ifelicious:  I noticed that you have the matching quilt for sale, and I went back and I looked at the [Cutthroat] reunion episode, and I noticed that you were wearing the bear suit and the quilt.  Is that how you plan to tour when you're reading to the students?
Abram:  The same big bear suit and quilt that you saw on the reunion show is exactly how I show up at the schools…and the truth is, I've got all of these tattoos…and I wanted to go in [to schools] and I wanted to come across appropriately, but the bear is actually a character in the story.
Abram shares more details about his tattoos.
I've got great tattoos.  I mean it says 'Love Life' on my tattoos.  A big focus for me, and you can understand, is writing.  So you're always in front of a keyboard…so when I'm typing I actually get to see those words that say 'Love' and 'Life' and I read it for myself.  It's not written upside-down for anyone else to read.  It reminds me, because writing is a huge part of my life…that I chose what I really love to do, and I'm pursuing it.
At this point, Abram filled was with joy that I could hear in his voice.  To him, while I'm sure he's grateful for his MTV experiences, he felt more fulfilled to be seen and heard promoting his own creation.
I've been on TV for the past like eight years on MTV, and I've had people send me messages from like Russia, from Poland, from Australia, from all over the world, South America, and it's awesome…but I got to go on local news and talk about my book and my readings at the local places, and that was awesome!  It was so cool to be on the local news for a project that was all about what I was doing.  It wasn't about the TV shows and MTV and them editing how they wanted to.
Ifelicious:  Before I forget, I wanted to find out who's making the quilt?  Are they handmade?
Abram:  I was trying to keep it (the manufacturing of the quilt) in the US…but the truth is there's not a market for that.  It's so unfortunate that you can't be producing locally because it literally costs over ten times the amount just for part of the blanket in the United States, than it does to have it shipped out and have it shipped back.
Ifelicious:  You need to find some grandma who has nothing to do with 20 cats or something.
Abram:  Yes, and I did.  I found some grandmas, and it turns out that quilting is a ton of work…but the quilt is such a big part of the product (the book).
The quilt is currently sold out (on back-order), but you can still place your order and will be waitlisted.  As with the book, go to www.starofhappiness.com (website no longer active, contact Abram on Facebook and ask if quilts are still available…I don't think they are being sold anymore) to order the quilt.
Stay tuned, even more on Abram Boise to come about upcoming ventures and the sh*t I should've shared!  😀 ~Ifelicious
Read all of my blog posts about Abram Boise by clicking HERE.
Related articles