Since starting my interview series with Jai Rodriguez, I had the honor of meeting him in person at the RuPaul's Drag Race Season 4 Premiere Party.  He's super cute and super kind in person as well.  Continuing with the next installment of my interview series with Jai (see also "Interview: Executive Producer Jai Rodriguez talks about Bad Sex"), we discussed his upcoming guest appearance on NBC's new scripted comedy series "Are you there, Chelsea?", his relationship status, and being a role model for the LGBT community.
Interview
Are you there, Chelsea?
(On your smartphone? Can't view the vid below on my blog? CLICK HERE to watch on YouTube.)
Ifelicious:  'Are you there, Chelsea?' premieres on Wednesday, January 11th, but you're not in the pilot episode, correct?  How was it?
Jai:  I shot episode 9, sequentially, but they don't all necessarily have to air in a specific order, unless an episode refers back to something that you as an audience member should know from an earlier episode…It was a great experience.  Obviously, the people that work on a show like that are the best of the best in comedy writing…There's no drama that anyone can feel.  Everyone's excited to be here.  Even Peter Roth, who's the head of Warner Brothers, the president, he was there at all of the table reads.  He was also there for portions of the shooting…It's like their little baby, and they really want to make sure that it is being done correctly…not just provocative, but they also want it to be actually funny in a way that's just sustainable.
Ifelicious:  What's the role that you're going to play?
Jai:  I play Chelsea Handler's dad's good friend.  Straight guy, married, 5 kids, and how he meets me is this little funny shocking twist…You know, sometimes you read a script and you wonder, 'Who thinks of this?'  It's so life imitating art…the other thing is two of Chelsea's writers from her actual late night talk show, two of the roundtable guys, were there on Friday when we shot in front of the live audience, and they're notorious for [giving] actors alternative lines.  Unbeknownst to anyone…the third pass…these two guys would whisper something in the actor's ear.  You'd be watching the scene, and then all of a sudden someone would say something totally out of left field.  I mean it was so great.  It was very fun.
Ifelicious:  I would imagine with a cast including Chelsea Handler, Laura Prepon, and others that there's got to be some really funny moments on set.
Jai:  Yes, and Laura Prepon does a great job playing Chelsea because you know she doesn't play herself (Chelsea plays her sister Sloane)…One of the best things about it is watching someone else play Chelsea.  I think, when I was there, it was the first episode that Laura didn't have to be in bed with a guy.  We were talking about that, and she was like, 'It's the first time I'm not making out with someone,' so it was pretty funny.
Boyfriend
Ifelicious:  Are you in a relationship right now?
Jai:  I'm in a really great relationship with myself at the moment.  Something that's really necessary.  I was dating someone last year.  That was a really fun relationship…I think this year and towards [last] Fall, I've just been spending time with friends and developing friendships and just really working on my career and just kind of being focused.  Honestly, I think it's the first time that I've been aware of it and actually made conscious a decision to focus more on myself.  I used to think things like this were selfish, but I was just thinking it was totally necessary for me.  It's not something that I do often.
Ifelicious:  That's good!  It takes a level of self awareness to be able to do that.
Jai:  Right now, I'm at peace but I probably won't stay on the shelf long.
Role Model

Ifelicious:  You've played a range of roles: gay, straight, transgender even.  Is there any role that you won't do?
Jai:  Actually, that's a great question.  I'll tell you based on something I was thinking about yesterday.  I will never play a role that I think disrespects the LGBT community in any way, shape, or form.  I think if the writing is done in a way that is not appropriate or that isn't fair or isn't an honest depiction of the community, I won't do it just because I'm not that hard up for work where I need to sort of sell out.  I think there's so much pressure on the media to tell the stories, by great organizations like GLAAD, that I don't want to be responsible for teaching middle America something that is an inaccurate depiction of our community.  I just think that it's just laziness on the point of writers and such.  If people are open to changing things and telling things more honestly once you get the role, before you sign your contract, yes, I will take it, but I'm not going to put myself in a position where I'm going to teach kids the wrong message.  That, I won't do.
Ifelicious:  With that in mind, would you consider yourself a role model for other LGBT actors or those in entertainment?
Jai:  The interesting thing is that I don't ever think you start out that way…'Queer Eye' was I think the first time for people using that word [in reference to me]…Now, I look back at my resume and the kind of work that I've done and I think that I'm willing to take on that role.  I'm certainly so involved in a lot of charities and stuff, and with having people either email you or just stop you and say…'I saw someone like me on television that I could identify with.'  In fact, I was just writing an article the other day for a big newspaper talking about how when I grew up there was RuPaul and Elton John on television.  Those were the only out gay people that there was, and I thought that I don't see much of myself in either one.  Some things have changed.  I'm definitely had more than my fair share of wigs and glitter…[Back then] I would have been thrilled to see a guy being a guy who happens to be gay, but being gay was like his B-story.  He was leading with his intelligence or leading with the fact that he was this and he just happened to be gay.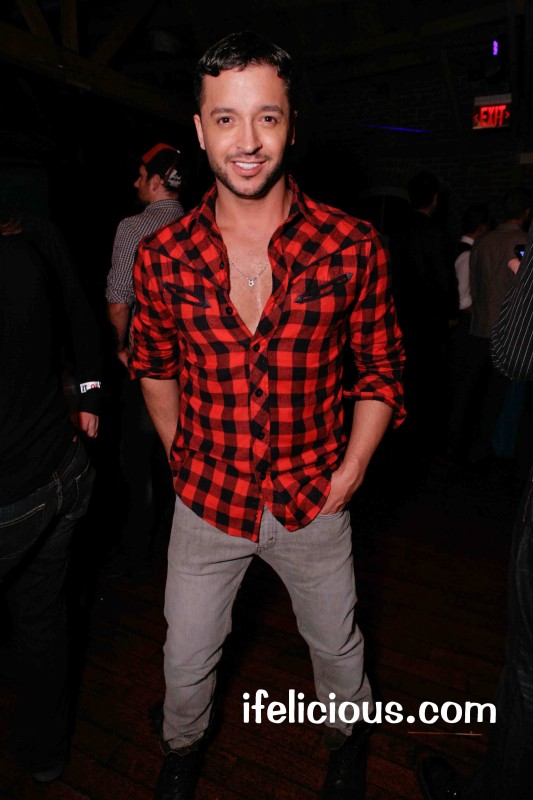 In the next and final part of this interview series, Jai talks to me about his days on "Queer Eye", playing Angel in "Rent," his music, and what's in store for 2012.  In the meantime, you can find Jai on Facebook and Twitter.  Tell him you read this article by Ifelicious and think he's awesome!  😉
Related Links
My other blog posts featuring Jai Rodriguez on Ifelicious Thoughts: