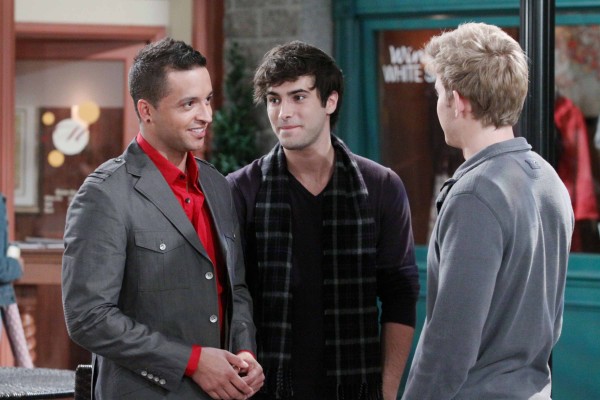 Where my DOOLs at?   😉  Jai Rodriguez ("Rent," "Queer Eye for the Straight Guy," "Bad Sex") will be guest starring on "Days of our Lives" (DOOL) this Thursday, January 12, 2012 at 1:00 PM ET/12:00 PM CT on NBC.  This role is significant to Rodriguez in its positive portrayal of gay male television figure as well as a throwback to his childhood having grown up watching the show alongside his grandmother who raised him.  I spoke to Rodriguez about his upcoming guest appearance in a recent interview.  We talked about another upcoming guest appearance on the brand new series "Are you there, Chelsea?" premiering tonight (January 11, 2012) at 8:30 PM ET/7:30 PM CT on NBC, his work as the creator and executive producer behind Logo TV's "Bad Sex," his music, and much more that I'll share in future posts.  He was also anxiously awaiting a phone call regarding the outcome from an audition.  From the looks of the tweet below, I believe he landed the role.
Congratulations, Jai!  As soon as an official announcement goes out, I will be sure to post it.
Interview
I could feel Jai's enthusiasm radiating through the phone as he spoke of his role on DOOL.  This was more than a run of the mill guest appearance; rather, it brought him full circle to his childhood in Brentwood, New York where he was raised by his maternal grandmother.
"'Days Of Our Lives' is the first memory of anything scripted on television because my grandmother who was my caretaker…would watch 'Days.'  In fact, she learned to speak English watching 'The Price Is Right' and 'Days Of Our Lives'…that was the lineup.  I remember all of the characters since I grew up with them."
Jai's role of Matteo enters the DOOL storyline, in the midwestern town of Salem, as a friend of the openly gay character Sonny.  Matteo plays a pivotal role when he's introduced to Sonny Kiriakis' friend Will Horton who has been questioning his own sexuality.
"I play this kid named Matteo who is very comfortable in his own skin, a masculine guy, makes good money early on- right out of college, and he's friends with the out gay guy (Sonny).  He has a really strong connection with the character Will who is struggling with his sexuality…so it goes from having thoughts in his head to 'This might be something' to 'Oh my gosh!  This is the real deal.'"
The introduction of Matteo is part of the writers' careful handling of Will's coming out process to ensure it's portrayed realistically.  As such, the potential still remains for Matteo to appear on future episodes.
"I think my character invests in a piece of property there in Salem that's going to be rented by one of the boys.  So it could be one of those things where I come and check up on it every now and then.  You never know what could happen."
I kept thinking that Matteo was such a sexy soap opera name and wondered about its origins.  Little did I know, the original character had a different name and was changed upon Jai's request.
"I think [the name] was originally something bizarre like Lance…When the role landed with me, I was like, 'Lance?  I mean I just don't think when you look at me you see a Lance, and if I come potentially come back, I want a strong name.'  So they called my agent…We suggested [Matteo], and they were totally open with that.  Even casting told me that 'This is a big deal for us.  We want to be very cautious with the way we handle this' because…they wanted there to be a natural chemistry between me and the other character, not just heavy handed flirting, you know, with someone who hasn't really done that before."
Jai's no newcomer to soaps.
"My first job on television at all was on 'All My Children' where I played a young dad.  It's just interesting kind of the flip of it now being able to play a character closer to myself."
Keep up with Jai Rodriguez online via Facebook and Twitter.  More with Jai coming soon!
Press Release
Emmy Award-winner Jai Rodriguez debuts on the hit daytime drama, "Days of Our Lives" on Thursday, January 12, 2012 as "Matteo," an old friend of Sonny who together, present healthy gay role models for Will and help to make him comfortable in his own skin. In this episode, Will talks with Sonny's mom and dad, Justin and Adrienne, who say they love Sonny unconditionally and wouldn't change a thing about him, which affects Will. Will connects with Sonny's friend Matteo (Jai Rodriguez) over music, but catches himself and awkwardly leaves.  Sonny tells Matteo that Will "just isn't there yet." Will's coming out process will take place in episodes airing in late February and March, 2012, and is a progression. Sonny acts more as a confidante and mentor to Will rather than a love interest for the time being, and is very supportive in both giving advice and also not pressuring him.
Related Links
My other blog posts featuring Jai Rodriguez on Ifelicious Thoughts:
Additional web finds: