At an age when many of us are still figuring out what we'll be when we grow up, Jai Rodriguez (Facebook, Twitter) was already landing major roles in Broadway and on TV. In this final part of my interview with Jai, we reflected on his first big breaks playing the role of Angel Dumott Schunard on award winning Broadway musical "Rent" and as one of the Fab Five on Bravo TV's reality makeover show "Queer Eye for the Straight Guy" (later shortened to "Queer Eye"). Before wrapping up, we also touched briefly on Jai's singing career.
Interview
Playing Angel in "Rent"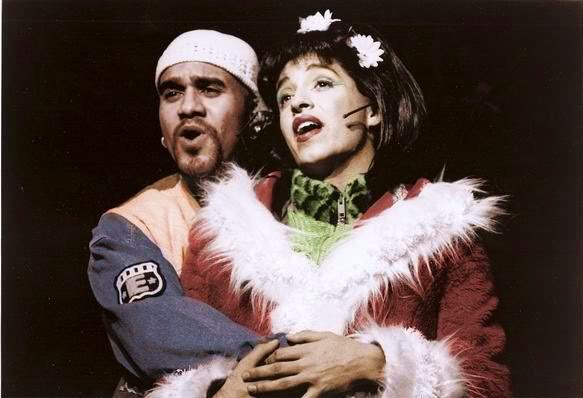 VIDEO: MTW's RENT Jai Rodriguez
(reading from your phone? can't view the video? CLICK HERE to go directly to the YouTube link.)
At the age of 18, Jai played one of the most iconic roles in an equally iconic Gex X musical as the character Angel, a gay drag queen and musician living with AIDS, in Jonathan Larsen's "Rent." He landed the role just after original cast member Wilson Jermaine Heredia had his Tony Award winning performance and during the musical's heyday.
Ifelicious: You've had a lot of other early successes, too. You played the role of Angel in 'Rent' when it was on Broadway, and I read that you were the youngest cast member.
Jai: I played Angel in 'Rent' at a time when the show was really new, and there were still people leaping in the streets. It was a big part of pop culture- a Pulitzer Prize winning show and Angel being a Tony Award winning role. It was a lot of pressure for an 18 year old. That's how old I was when I got the part. While other people are in college, I was doing eight shows a week, and so I never really slowed down because during 'Rent,' during those 5 years, I would leave and do a play. I would leave and do a movie. I would leave and do a soap. I would always come back and 'Rent' was like home base. I'm so grateful to the producers for letting me sort of keep 'Rent' as my waiter gig, so to speak, after the first couple of years. It was a really wonderful time, and for me, it's a time I look back at fondly because 'Queer Eye' was three years that I worked on the show, and 'Rent' was five. It was the most defining five years of my life.
Ifelicious: I was a big Rent-head back then and still kind of am. I've seen the play many times. It's ridiculous!
Jai: I'm actually dying to see it in New York now that it's off-Broadway which I think is where it always should've been for a show that's so intimate.
Ifelicious: That would be cool to go back and just do that kind of quietly, just go back and sit and watch and maybe not even announce your presence.
Smoke and Mirrors for "Queer Eye"

VIDEO: Vegas Interview with Jai, Part 1
Jai was able to put his own spin as "Queer Eye"'s Culture Vulture to land him a permanent spot as part of the Fab Five; yet, he's the first to tell you that he wasn't and isn't adept when it comes to the fashion and design realm. "The only thing I've had any training in is as an actor and as a singer. Even though 'Queer Eye' introduced me to the world as some culture savant, the truth of the matter is, at the time, I was performing on Broadway which is my only training," explained Jai. As a gay male, the likely popular assumption of viewers was that he was obviously is an expert, but just like that lady in the Straight Talk commercial with her cornish game hens and endive salad ("no, it's absolutely pronounced endive" LOL!), that couldn't be further from Jai's truth.
Jai: The role wasn't a well defined, crafted job description when it was presented to me. I was a replacement. They fired someone before me. So, obviously, someone before me quote-unquote 'got it wrong' and so it was really about the chemistry of the five guys. I made the conscious decision to just be the guys' best wing man because, much like the straight guy, I didn't know half the shit these guys were trying to teach him…For those 3 years on the show, I got to learn so much about fashion design, food, and grooming. Obviously, those lessons are still with me and I have much more of an affinity for those things now…I was 10 years younger than the guys, so I haven't even caught up to the age that they were when we started, if that puts it in perspective. I think now, I would have so much to offer versus 10 years ago.
Ifelicious: I would imagine that it's been hard to shake your 'Queer Eye' persona. For me, writing about pop culture, if I want to tell people about a person, I revert to, 'You know this guy? Ya, you do. He's from 'Queer Eye'' or whatever. I'm sure you want to move away from 'Queer Eye' as your sole defining moment.

Jai: I try to honor it. I try to honor the fact that it was a first all gay cast. I try to honor the fact that I won an Emmy for [Outstanding Reality Program in 2004] and a New York Times bestseller for it, but also hold onto that I was the only person on the show without any true credentials in the field when I was working on the show…When people say, 'How do I know you?' I know it's 'Queer Eye'…even though, I did 100 episodes of 'Queer Eye,' and I've probably done 150 of other shows since then…
…Being on a reality show like that, people think you're a fashion expert, that you're a style and taste-maker, and that couldn't be any further from the truth. Could I go there as an actor? Could I go to that place and be a fashionista that's cool and hip and talk about it? Yes, it's imbedded in me…Would I want to? Is it my passion? Absolutely not…I struggled with fears and was depressed a lot because I thought I was the one guy on the show who was not able to show America what it was that I was talented at. That was a struggle when all of the boys were parlaying 'Queer Eye' into something professionally after. I almost had to denounce 'Queer Eye,' personally, here to work as an actor. That was really tricky because I didn't want to seem ungrateful.
Music: Broken to Twisted

VIDEO: "Broken" by Jai Rodriguez
We closed out our conversation speaking briefly about Jai's musical career, although his music alone could be an interview unto itself. To date, he's released an album entitled "Broken" on Airgo Music, but he's performed as a singer for years. He's currently revived his "Twisted Cabaret" music night that he used to do at XL in New York City on Tuesday nights at Revolver in West Hollywood.
Ifelicious: Now, we didn't really get to talk about your music so I wanted to ask you about that. Are you doing anything with that now?
Jai: I wish I could say that I have been recording or whatever, but I had a really bad experience the last time with the label I was working with. They were friends, and you know working with friends is always very tricky. They turned out to be extremely dishonest so I backed away from that whole thing. Actually, music is one of those things that fills the heart, you know, like the work on film and television pays the paycheck that pays the bills. In terms of feeding the soul, I just have to sing. It's one of those things that I actually have to do. So, I actually have a night the first and third Wednesday (now every Tuesday) of every month here in West Hollywood. I do it at a bar called Revolver, and it's me and three diva girls. It's in a video bar so we basically perform in the the style of those videos- top 40 to musical theater stuff, but mostly top 40. It's a great night. I call it 'Twisted Cabaret.' It's just a great night.
Thanks, Jai, for the great interview! Be on the lookout for Jai to guest star in upcoming episodes of NBC's "Are You There, Chelsea?" and FOX's "Bones." Keep up with Jai by following him on Twitter (@JaiRodriguez) and "liking" his Facebook page.
Related Links
My other blog posts featuring Jai Rodriguez on Ifelicious Thoughts:
Additional web finds: