While Oxygen hasn't officially announce that there will be a second season of "The Glee Project," Ryan Murphy (creator of "Glee" and "The Glee Project") has already launched audition process.  Season 1 co-winners Samuel Larsen and Damian McGinty will appear in seven episode arc (meaning a storyline that lasts for seven episodes) during season 3 of "Glee" on FOX.  The other two finalists, Alex Newell and Lindsay Pearce, were awarded a two episode arc.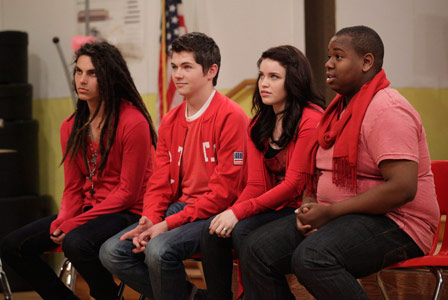 So far, we've already seen Lindsay make her debut on the series premiere that aired on September 20, 2011 where she rocked the confidence of Rachel Berry (Lea Michelle) and Kurt Hummel (Chris Colfer) at a midwest mixer for New York Academy of Dramatic Arts hopefuls where she played the role of a gal named Harmony- a Rachel Berry type on steroids (one of her lines was "I've been acting since I was a fetus." lol)!.  Harmony performs the lead vocals and dances to a mashup of musical numbers "Anything Goes" (from "Anything Goes") and "Anything You Can Do" (from "Annie Get Your Gun").  She totally brought down the house and proved that she can also act in a way that's believable- something Lindsay struggled with during "The Glee Project."
Watch Lindsay's performance…
Damian is the next finalist to make his debut on "Glee" on November 1 (episode 4).  He's playing an exchange student named Rory Flanigan that's having a rough time making friends and get adjusting to McKinley High.  Ace Showbiz reported:
Coming from Irish, Rory will live with Brittany's family during his stay in the country and upset Santana who has been quietly in love with the blonde cheerleader. Rory and Brittany's relationship itself is unique because she 'thinks he is her own personal leprechaun only she can see.'

Another person who is not happy with Rory's arrival is Kurt. When the newcomer does 'a little falsetto in his first song,' Kurt did not like that because Kurt's the soprano of the group and doesn't want that taken from him.
Oh Brittany Pierce (Heather Morris), she's such a sweetheart whose reality lives in most people's imagination.  It makes me smile and/or giggle every time she speaks.  🙂
According to E! Online, Samuel will make his debut in or around episode 9 (read full article HERE).
The mjsbigblog posted a video interview with Samuel and Damien on "Good Day LA."
Watch below…
How to enter…
So, if you're at least 18, can pass for a high school student, and are a triple threat (sing, dance, act), then head on over to The Glee Project's casting website where you'll find everything you need to know about auditioning online and/or in person.  Online auditions are being accepted until November 13, 2011 at 11:59pm ET.  There will be live auditions in New York, Chicago, and Nashville during the month of November, but specific details have not been released at the time of this blog post (check the casting website for the latest information).
The audition songs available are:
"The Edge of Glory" by Lady Gaga
"I'm Yours" by Jason Mraz
"Drops of Jupiter" by Train
"Unchained Melody" by the Righteous Brothers
"Before He Cheats" by Carrie Underwood
"Ordinary People" by John Legend
"The Kiss" by Faith Hill
"Out Here On My Own" from "Fame" (Irene Cara/Naturi Naughton)
From the press release:
For the next season of "The Glee Project," Casting Director Robert Ulrich and his team are seeking singularly talented young men and women with strong vocal, acting and dancing abilities with big, oversized personalities. Musical theater experience is a plus, but not required. Candidates must be at least 18 years of age – but able to convincingly portray the role of a teenager – and be legally eligible to work in the United States. Candidates must also be available for production in or about January through April 2012 and be willing to travel as part of production.
Have you submitted your audition online?  Leave a comment with a link to your audition so we can check it out and support you with a "like."
Here's some advice from season 1 co-winners Damian McGinty and Samuel Larsen…
Good luck!  🙂
Read all of my Glee related blog posts by CLICKING HERE.
Good Day LA interview with Idina Menzel
Idina Menzel Talks Returning to Glee: MyFoxLA.com
Related links
Read all of my blog posts related to "The Glee Project" – CLICK HERE and "Glee" – CLICK HERE.
Bonus Footage!!!
Fellow Gleeks, shut the front door! Oh yes I did get red carpet interviews with Damian McGinty, Cameron Mitchell, Lindsay Pearce, and Bryce Vine from "The Glee Project" Season 1 at the 2012 NewNowNext Awards. *sassy black girl neck roll* LOL! Check them out below:
The Glee Project Season 1 Interview with Cast Members at the 2012 NewNowNext Awards
(click here to watch directly on youtube)
The Glee Project Season 1/Glee Season 3 Interview with Damian McGinty
(click here to watch directly on youtube)