SCROLL TO THE BOTTOM FOR THE VIDEOS THAT PEOPLE HAVE LINKED IN THE COMMENTS SO FAR. I'LL TRY TO KEEP IT UP TO DATE DAILY.
UPDATE 4/27/2010 (via Glee fan page on Facebook): Due to popular demand, we will have a one-day "encore" of the GLEE audition process. Starting this WED, 4/28 at 12:00pm PT through THUR, 4/29 at 11:59am PT, you will be able to submit an audition video online if you haven't done so already. Visit http://bit.ly/dtKbyW to submit!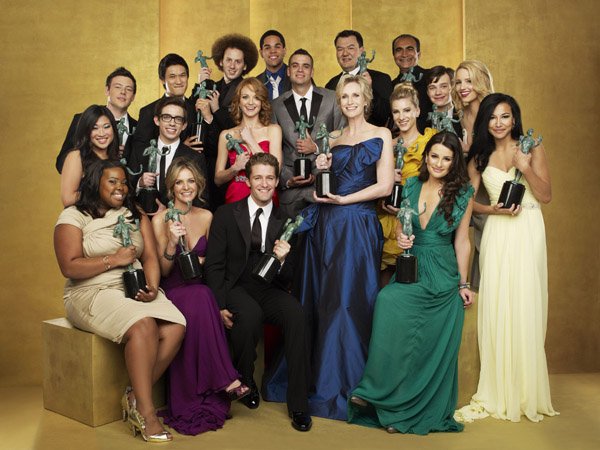 It's not surprising that FOX has already given "Glee" the thumbs up on a season 2.  It has already garnered several awards such as the SAG Award for Best Comedy Series Ensemble, a Golden Globe for Best Musical or Comedy Series, and Dorian Awards for TV Musical Comedy of the Year and Jane Lynch (plays Sue Sylvester) also took home TV Performance of the Year: Musical or Comedy, and a People's Choice Award for Favorite New TV Comedy.  These are just awards given in the past couple of weeks.  In addition, the Glee volume 1 and volume 2 soundtracks both went Gold.
The second season comes with a little twist.  Fans will be able to vie for a spot on the show.  According to the press release from FOX:
Building upon the show's incredibly supportive community of GLEEks and with the hope of bringing fans even closer to the series, auditions will be open to amateur individuals as well as professionals between the ages of 16-26, and all hopefuls will be able to submit auditions online. Additional details to be announced soon, please check www.fox.com/glee for updates.

This unique casting search and process will be chronicled in a multi-part special that will air leading up to the premiere of the series' second season in fall 2010 on FOX, and the new cast members will be revealed in the premiere episode…

…ALL the roles will be chosen from the video audition process, which is exciting and unprecedented. We want to be the first interactive musical comedy on television, and the search is ON.
According to the Glee official website, online auditions for 3 roles will begin in February 2010, but make sure to keep checking www.fox.com/glee/audition/ for the latest.
Will you audition?  If so, comment with a link to your audition! 🙂

Related Links
I'm starting to embed the videos that you've commented with links so far in the space below.  Oh, and if you have a Myspace account, friend me (myspace.com/ifelicious).

Art singing "True Colors"

http://www.myspace.com/gleeauditions?link=156582538
Glee song

Glee | MySpace Video
~~~~~~~~~~~~~~~~~~
Gabe singing "Don't Rain On My Parade"

http://www.myspace.com/gleeauditions?link=55758053
Don't Rain On My Parade

Glee | MySpace Video
~~~~~~~~~~~~~~~~~~
Natalie singing "Don't Rain On My Parade"

http://www.myspace.com/gleeauditions?link=531662243
Glee song

Glee | MySpace Video
~~~~~~~~~~~~~~~~~~
Eric B. singing "Lean On Me"

http://www.myspace.com/gleeauditions?link=531370865
Lean On Me

Glee | MySpace Video
~~~~~~~~~~~~~~~~~~
Mauri Gustafson singing "Don't Rain On My Parade"

http://www.myspace.com/gleeauditions?link=50803367
Glee song

Glee | MySpace Video
~~~~~~~~~~~~~~~~~~
Laurapora singing "Don't Rain On My Parade"

http://www.myspace.com/gleeauditions?link=22816360
Glee song

Glee | MySpace Video
~~~~~~~~~~~~~~~~~~
Emily (via Zoe) singing "And I Am Telling You"

http://www.myspace.com/gleeauditions?link=531993727
Glee song

Glee | MySpace Video
~~~~~~~~~~~~~~~~~~
Erin singing "Lean On Me"

http://www.myspace.com/gleeauditions?link=55559703
Glee song

Glee | MySpace Video
~~~~~~~~~~~~~~~~~~
Jordan (via Michelle) singing "Can't Fight This Feeling"

http://www.myspace.com/gleeauditions?link=531679000
Glee song

Glee | MySpace Video
~~~~~~~~~~~~~~~~~~
Jennifer (via DK) singing "Don't Rain On My Parade"

http://www.myspace.com/gleeauditions?link=532663560
Glee song

Glee | MySpace Video
Related articles