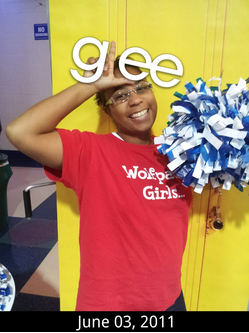 Raise your hand if you've been to the Glee Live! 2011 concert tour.  I went to one of the Chicago shows last week and had a blast!
Walking into the arena was a total Glee brand merchandising experience, and every line was super long.  I sent the hubby in the line to wait for a Glee photo at one of the Samsung booths while I went over to play a slushy game where I used an iPhone as a controller and tried to slushy all of the bullies.  If you were one of the top 10 scorers, you got a t-shirt.  I need a do-over! LOL
As we took our seats, we looked around at the stage setup.  There was a main stage with large screens to the right and left; and then there was another smaller stage at the back of the floor seating near the A/V (audio visual) people and their equipment.  I love when performers add the second stage because you get a closer view of them for moments in the show.
There were a few things to keep us somewhat occupied before the cast from Glee took the stage.  The large screens showed quotes from the show followed by the person that said it.  It was kind of fun to guess who said the quote and remember the episode.  Eventually, a street style dance troupe took the stage as the opening act.  These cats were no Jabbawockeez and could've benefited from some stronger choreography.  In my opinion, I think that  dope DJ with some karaoke style singalongs would have worked best to get the crowd ready, but some local act got to have their moment.  I was naughty at one point and tried to start an arena wide chant, "We want Glee!" but the hubby shut it down.  Props to the guy who did the ninja flips.  He's carrying that dance crew right now.
It was at least an hour from the show time (it felt like so much longer, maybe it was closer to two hours) before the Glee cast took the stage.  After another break in action, a bunch of Cheerios in their William McKinley High School cheerleader outfits began running around and tossing barf bags into the crowd.  I was perplexed and didn't break my neck to get one, although people went crazy for them, but it made sense once the show started.
The show opens with a messages from Will Schuester (Matthew Morrison) and Sue Sylvester (Jane Lynch) on screen.  Mr. Schue gives his classic pep talk and Sue does the opposite.  Once the curtain rose, everyone was on their feet and screaming at the top of their lungs.  This concert brought out kids to grandparents and all were equally fanatic.  Like everyone else, I was so excited to actually see all of the cast on stage.  I didn't read any reviews of the tour so everything was a surprise.  That had me hyperventilating at my first sighting of a Warbler part way through the performance.
The cast introduces themselves by taking the stage and doing a solo and then they moved to duets.  Here are some highlights from the show:
Everyone sings well live which is more than I can say for some lip synching superstars (eh-hem…Britney Spears)
I realized that I fell in love with Lady Gaga's "Born This Way" because of the episode from Glee and their rendition of the song.  Now I totally want a white tee with sporting a flaw. Since I'm flawless, I'll have to just borrow one.  😉
The girl in front of me was one of those people who goes wild during concerts and was jumping up and down (with no rhythm) and waving her arms in the air.  That's fine except her hand or head is in almost all of my cell phone pics.
The Warblers are the perfect straight-laced compliment to Glee's act and they were equally enjoyable.
Kurt Hummel's high tops were something I either loved or hated (still not sure), but my eyes were glued to them whenever he came on stage.
(NEW) You could buy slushies from vendors.
(NEW) I totally want the blue satiny jackets that had the lower case "g" in the Glee font on the left chest in silver sequins!  They were worn by the cast at one point in the concert.
Cell phone pics:
I purposely watched the concert with the intention of enjoying it so I didn't keep track of a play by play, but here some reviews:
If you saw the concert, what were your favorite moments?  Was there anything that you wished they would have covered?
Read all of my blog posts about Glee- CLICK HERE.