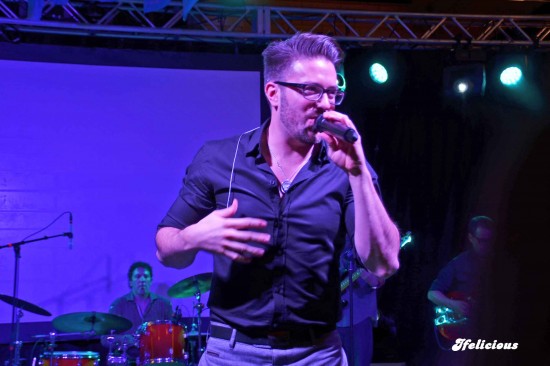 On November 2, 2013, "American Idol" season 8, top 3 finalist Danny Gokey returned to his hometown of Milwaukee to perform live at the 2nd Annual Sophia's Heart Gala. The event raises funds for the Sophia's Heart Foundation that Gokey founded and currently serves as its president. Guests not only got to see Gokey in concert, but they had opportunities to meet him, purchase his book "Hope in Front of Me: Finding Purpose in Your Darkest Moments," take photos, get autographs and bid on awesome Gokey swag like one of his very own leather jackets that he wore on season 8 of "American Idol." Gokey's wife Leyicet and son Danny, Jr. were also in attendance. The crowd was all smiles when Gokey brought Danny, Jr. on stage during the gala. I have photos from that moment and the entire night included later in this post. He was also gracious enough to let me interview him on camera about the gala and his music.
CONCERT
The concert began with a performance from the Sophia's Heart Choir and Dance Team- Milwaukee. It was like watching a real life version of  the television show "Glee" as the choir performed popular songs like Anna Kendrick's "Cups (Pitch Perfect's 'When I'm Gone')" and Katy Perry's "Roar" to their own choreography. I spoke to the director for the choir and dance team in Milwaukee, Jeff Krumbein who stated fondly, "I was asked to start this program by Danny in April of 2010…He had the vision, and I tried to fulfill it in memory of his [late] wife. It's a totally different style of music because they develop it themselves…They do it without someone teaching them the notes on the page. I just let them go, and they create it out of their musical backgrounds."
Gokey took the stage with the choir for several songs before beginning his solo set backed by local band Chasin' Mason. Both Milwaukee and Nashville branches of the Sophia's Heart Foundation have music and arts programs, but it was in Milwaukee where it all began. In my interview, Gokey explained, "We've been doing a lot of rehearsing…It was an amazing event. These kids just showed up. My heart just melts. I just love these kids." The beautiful thing is that the kids love Gokey and the program just as much. Several of them got up to give their testimonials at the gala affirming the positive impact the music and arts program has had on them. "Sometimes the world can be a little tough. Here's a place where we can all just relax and be ourselves without being judged. We're family here. We all love each other," PJ Rivers, a sophomore at Milwaukee High School of the Arts, said to me.
The concert ended with Gokey performing a set backed by Chasin' Mason (remember them? they also backed "Idol" singers Kimberley Locke, Naima Adedapo, and DeAndre Brackensick at last year's Holiday in the Heartland concert — CLICK HERE for my blog post) that featured music from his debut album "My Best Days" and popular covers- a few dating back to his "American Idol" performances. One of the highlights, however, was when he debuted the song "One Life" with the choir on backing vocals. Even though Gokey debuted with a country music album, I know he has that RnB/Soul flava, too. I always get a kick out of him covering Michael Jackson songs like "PYT (Pretty Young Thing)." He reminds me of Justin Timberlake in those moments…well without the dance moves. 😉 Now that Gokey's signed with BMG, he's promised to showcase more of his RnB/Soul in his sophomore album.
NEW MUSIC
Gokey did not confirm nor deny that "One Life" would be the lead single from his sophomore album. I, however, have a sneaking suspicion that it will be since it's the one he chose to debut at the concert. It was a really beautiful song. Gokey describes "One Life" as, "It's a real life song. It makes you think. It's kind of sobering, but it's powerful melody." As far as a timeline for his next single, the plan is still for us to hear something before the end of this year. Gokey remarked, "We are waiting to release a single. We're actually waiting to get that one back to us." Translation = "soon." 😀
BOOK – "HOPE IN FRONT OF ME"
Also very much a part of the gala was promotion of Gokey's inspirational memoir "Hope in Front of Me: Find Purpose in Your Darkest Moments." Gokey was there before and after the gala busily signing copies that people purchased. I read an electronic press copy and was glad to scoop up the second-to-last book sold that evening for him to personalize with an autograph. When first released,"Hope in Front of Me" reached #4 on the Barnes & Noble bestseller list, #13 on Kindle and #15 on Amazon in the inspirational category. To purchase the book and for more information, go to HopeInFrontOfMeBook.com.
** I interviewed Gokey just prior to the book's release. CLICK HERE to read that blog post. **
VIDEO: Interview with Danny Gokey at 2013 Sophia's Heart Gala
PHOTOS: 2013 Sophia's Heart Gala
This slideshow requires JavaScript.
** For more coverage from this event, also check out my Milwaukee Music Examiner article — CLICK HERE. **
Related Links