Celebrity philanthropist, musician, eyewear designer, and top 3 finalist in season 8 of "American Idol," Danny Gokey is now adding author to his suite of accomplishments. On October 1, 2013, Gokey's inspirational memoir "Hope in Front of Me: Find Purpose in Your Darkest Moments" is being released in digital and print formats via NavPress — CLICK HERE to see where you can purchase online or in stores. $1 from each book sale will be donated to Gokey's charity Sophia's Heart Foundation. He also inked a deal with BMG Records and is currently working on his sophomore album to be released in spring 2014 with the debut single to be released in fall 2013.
Back in 2009, "American Idol" fans were instantly captivated by Gokey. He was a young man from Milwaukee grieving the death of his wife Sophia just 4 weeks before auditioning for the show. When he sang, he had soul. When he spoke, he spoke with humility. We felt like we knew this boy next door who turned the stigma of wearing glasses into a weekly fashion statement. He was our friend who needed hope and healing and a shot at his dream of a music career. Gokey finished in the top 3 leaving "American Idol" royalty Adam Lambert and "Live Like We're Dying" Kris Allen to compete for the title.
Yet, Gokey's story neither began nor ended with "American Idol." Like many of us, his life's journey thus far includes victories, stumbles, crossroads, and dejection. Even in his darkest moments, Gokey maintained his faith in God and clung to hope that, as his debut single declared, "My Best Days are Ahead of Me." "Hope in Front of Me" was divinely inspired and takes a look at the pages of Gokey's life with a tandem drumbeat message of hope intended to help people navigate difficult times. Readers will also have an opportunity to scan barcodes embedded in certain places in the book that launch videos with a sneak preview of Gokey's new music, testimonials from Sophia's Heart Foundation, and a personal message of hope from Gokey.
In an exclusive interview, I spoke with Gokey, who now lives in Nashville, about his book, new music, Sophia's Heart Foundation, family life, and more.
INTERVIEW WITH DANNY GOKEY
Promotional video for Danny Gokey's book with Ben Stroup, "Hope in Front of Me"
HOPE IN FRONT OF ME
Ifelicious: I read somewhere that your decision to write a book came after hearing God speak to you.
DG: I felt like God spoke that to me in fall of 2007…I'm not trying to be weird or nothing. He spoke to me and told me that I was going to write a book, and I thought it was the weirdest thing…The thing was that after 'American Idol' I had about two dozen book offers, and I turned them all down…I knew I was going to write a book, but I didn't just want to write a book just to write a book…and there was so more much more of the story that…wasn't even captured yet, and so I'm glad I waited.
Ifelicious: Do you need to be a Christian to read it?
DG: No, not at all…I just wanted to reach people who felt hopeless. I wanted to reach people who were broken, no matter what you represented, no matter where you come from.
Ifelicious: I read that you're giving back a portion of the proceeds from the sales of the book to Sophia's Heart.
DG: One of the coolest things that made me sign up with this publisher is that a dollar from every book is going to Sophia's Heart…The book is bringing more than just hope to the reader. It's bringing hope to people that they may never see or never meet…Each book that is purchased is also going to bring hope to a homeless family and a homeless child. It's going to give them the ability to restore their dream and restore their hopes as well.
Ifelicious: Your book has codes that I call 'little treats' that you can scan with a smartphone. What will people hear or see when they scan the codes?
DG: There are videos…They've got testimonies of Sophia's Heart, they've got me in the studio because I'm working on the album. There's a lot of extra stuff in there. I hope that they can connect more on a personal level to see what's happening in my life.
Ifelicious: How was the writing process for you?
DG: I feel like it was a healing process. Hope is so real. It can bring healing. When I look back, there was a situation where I wanted to kill myself…I look back, and I'm like, Man! I am so thankful that I didn't follow those toxic emotions and fall into that trap. There was an answer. I had the courage to take that answer and apply it to my life…You might want to be mad at God, but guess what? That ain't gonna help you because He's the only one that can help you when it comes down to it…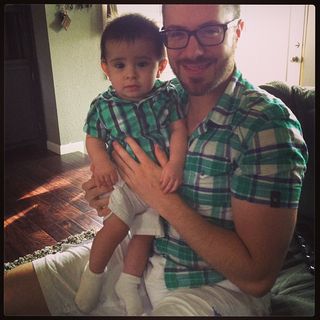 …I'm in a new chapter now. I've got a son now. I'm remarried. I got all these great things. I didn't see that when I was walking through that devastation, but it was there for me to grab it if I wanted it, but I never would have gotten there if I forfeited too soon or maybe taken my life or maybe just got stuck in bitterness.
NEW BEGINNINGS
Ifelicious: In a day and age where you have a TV show called 'Catfish' that's become a household name about perils of online dating and people not turning out to be who they say they are, here you go. You find a wife on Twitter!
DG: I didn't intend to meet my wife on Twitter. That's for sure. I was scared to talk about in the book because I was like, 'Man! Are people going to think I'm weird?' But it happened, and it's been the greatest thing that ever happened to me…We got married November 30, 2011. We didn't tell nobody. We just got married. I think I shared in the book that there were some people that didn't really understand, that questioned our intentions, but we knew each other. All of the people who had questions about her were people that never met her or people who thought they knew me.
NEW MUSIC
Ifelicious: You're working on a new album now, right?
DG: I signed with BMG, and we've been in the studio cutting up songs. I tell you this record is going to be so hot! The sound is just amazing! And these are songs that I've written. I didn't get to do that on my first album. I have a lot more creative control on my second album…The album is going to come out in spring of next year (2014).
Ifelicious: When will fans get to hear your first single?
DG: It's coming out in the fall. It's just that we're trying to get it so right because it's a really great song.
Ifelicious: You wrote about this a little in your book, and those of us who watched you on 'American Idol' certainly observed this quality throughout the season. You've got a lot of soul to your music style. I know you didn't get to show much of that in your last album, but will we see more of that this time around?
DG: This album you're going to hear a whole lot more soul!
SOPHIA'S HEART GALA IN MILWAUKEE: BUY TICKETS NOW
Ifelicious: You have the 2nd annual gala for Sophia's Heart Foundation coming up in Milwaukee.
DG: Yes, it's on November 2nd, and we're selling tickets right now. I'm doing a live show. I would love for people to come out. It's in support of [Sophia's Heart Foundation's] music and arts program that's in Milwaukee. I do music and arts here in Nashville as well. I'm hoping that we can raise enough money to keep the music and arts going and hopefully do what we do in Nashville…start taking in homeless families off the street of Milwaukee.
Ifelicious: Will the gala feature any Sophia's Heart participants?
DG: Yes…These kids are amazing. They are going to be performing at this gala. They're going to be performing with me. It's going to be a great time of music and raising money. These kids lives are changing. They share their testimonies and everything.
Ifelicious: This sounds like a great event, and it sounds like you have a lot of great things going on right now. It'll be nice to see what 2014 has in store for you.
DG: I think 2014 is going to be a really great year.
 * * * *
For more about Danny Gokey and Sophia's Heart Foundation, check out the following online:
For more news, interviews, and coverage of "American Idol" contestants and alumni on my blog — CLICK HERE.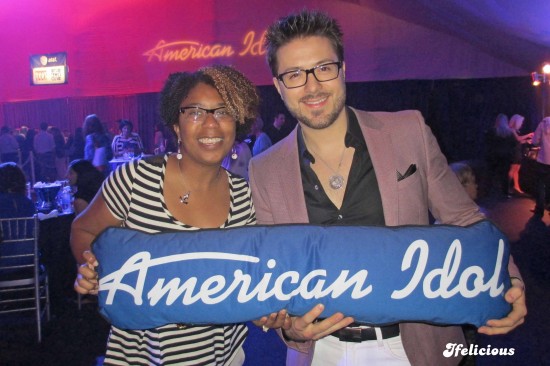 Related Links