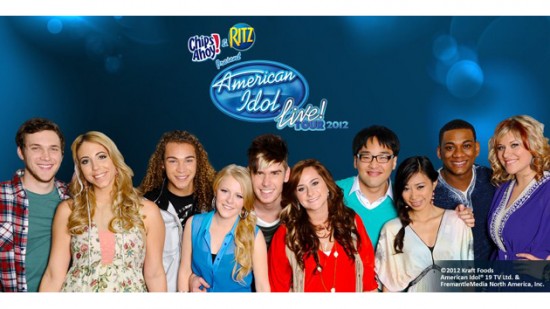 With all of the gossip surfacing daily speculating on who will or will not be on the judging panel for season 12 of "American Idol" (thank God it seems that's all settled now), it was nice to turn my attention to what "American Idol" is really about- showcasing previously unknown musical talent competing for their shot at stardom.  Such was the case on Tuesday, September 11, 2012 when the American Idol LIVE! 2012 tour stopped through Brew City (Milwaukee's well earned nickname), with season 11's top 10 finalists, on what I learned was their final tour date in the US before going overseas.  Call me a narcissist, but I knew they were saving the best city, my current hometown, for last…obvi!  😎
As a thank you for my blogger support of AT&T's "It Can Wait" no texting and driving campaign, I was treated to a special meet and greet (different than the VIP meet and greet) and super awesome floor seats just a few rows away from the stage in Bradley Center.   No shame in my game, I'm a Gleek before I'd say I'm an "Idol" stan, but with "Glee" not touring this summer, this gave me my sing-along fan fix I've been craving all summer.  I never considered buying tickets to the American Idol LIVE! tour, but I would tots go again.
SHOW FORMAT
A series of group numbers without winner Phillip Phillips followed by each of the top 10 finalists getting their moment with a few solos or smaller group numbers.  There were 30 songs performed (will post the set list at the bottom) and an additional 2 songs for the encore with an intermission (something I wasn't expecting but it made sense given the amount of songs we got to see).  The songs, for the most part, reflected the best performances we remember from the top 10 finalists during the season.  Top 2 finalists Jessica Sanchez and Phillip Phillips had the most on stage performances during the concert.
PHOTOS
I'll save you the boring details (actually they weren't that boring) on why I only ended up at the concert with my iPhone to take pics, but here's the best of those photos.
If you click on a single image, it will launch a full page slide show.
HIGHLIGHTS
Joshua Ledet brought down the house when he sang James Brown's "It's a Man's Man's World."  Even sweeter is that he dedicated it to his mom who is apparently also a singer.  Joshua's performance earned the ONLY standing ovation of the night and won me over as a fan when I really wasn't this past season.  I wanted to throw my sexy cougar panties on the stage…if only he were interested in girl panties.  😉   The moment was complete with a  classic James Brown moment where they brought out a cape.
Colton Dixon's dream of singing for Jesus came true.  During his solo set, Colton announced that he just signed a record deal with Sparrow Records (EMI Christian Music Group), and that his first single "Never Gone" will debut on iTunes on September 25, 2012.  We got to hear the new track that he performed while tickling the ivories (playing the piano if you don't know that expression).  Me likey!  😀
Heejun Han singing John Legend's "Green Light."
DeAndre Brackensick singing Stevie Wonder's "Master Blaster (Jammin')."  He's such a cutie patootey with those curly locks.  Nickelodeon or the Disney Channel needs to scoop him up for one of those teen heartthrob singer type shows.
Jessica Sanchez singing anything.  She was my pick for the win.
Phillip Phillips showing his creativity and versatility with his rendition of Stevie Wonder's "Superstition" with that little skat bit he does at the end.  I also dig his debut single "Home."
Phillip Phillips giving me the duck face at the Meet and Greet when he saw I was taking photos.  That was a personal highlight for me.  😛
LOW-LIGHTS
Hollie Cavanagh singing Adele is a crime against humanity.  She did do better with Demi Lovato's "Give Your Heart a Break" although she didn't land the high note.
Really?  Did they have to open up with "Sing" by My Chemical Romance?  I feel like "Glee" owns that as a group number so it made it seem like "Idol" was setting the tone that they were going to do a Glee-esque concert.  I would've picked something else popular and fun and, in the "Idol" judges infamous words, would have "made it their own."
Some of the group numbers are just hideous no matter how you spin them.  I felt like I was politely sitting through my imaginary daughter's (since I don't have a real one, lol) elementary school recital where everyone is cute but way off key.  Such was the case with the group (sans Phillip) singing Bruno Mars' "Just the Way You Are" and One Direction's "What Makes You Beautiful."  Thumbs down also goes to "Moves Like Jagger" and "Party Rock Anthem" as well.  I hate the group numbers and those cheesy commercials during the regular season of "Idol" anyway.
SET LIST
Here is the full list of songs performed at the "American Idol" concert in Milwaukee.  The hyperlinks take you to each top 10 finalist's Twitter page.
| | | | |
| --- | --- | --- | --- |
| | SONG | ORIGINAL ARTIST | IDOL PERFORMER(S) |
| 1.) | "Sing" | My Chemical Romance | All except Phillip Phillips |
| 2.) | "Master Blaster (Jammin')" | Stevie Wonder | DeAndre Brackensick |
| 3.) | "Undo It" | Carrie Underwood | Hollie Cavanagh, Skylar Lane |
| 4.) | "Glitter in the Air" | Pink | Erika Van Pelt |
| 5.) | "Moves Like Jagger" | Maroon 5 | Joshua Ledet, Colton Dixon, Erika, Hollie |
| 6.) | "Green Light" | John Legend | Heejun Han |
| 7.) | "Party Rock Anthem" | LMFAO | All guys but Phillip |
| 8.) | "Everybody Talks" | Neon Trees | All guys but Phillip |
| 9.) | "Whole Lotta Love" | Led Zeppelin | Elise Testone |
| 10.) | "Rumor Has It" | Adele | Elise (lead), Erika, DeAndre |
| 11.) | "Meant to Live" | Switchfoot | Colton Dixon |
| 12.) | "Never Gone" | Colton Dixon (debut single) | Colton Dixon |
| 13.) | "Piano Man" | Billy Joel | Colton Dixon |
| 14.) | "Just the Way You Are" | Bruno Mars | All but Phillip |
| 15.) | "What Makes You Beautiful" | One Direction | All but Phillip |
INTERMISSION
| | | | |
| --- | --- | --- | --- |
| 16.) | "The Best Thing I Ever Had" | Beyoncé | Jessica Sanchez |
| 17.) | "How Come U Don't Call MeAnymore?" | Prince | Jessica (lead), Joshua, DeAndre |
| 18.) | "Proud Mary" | Tina Turner | Jessica (lead), all others but Phillip(backup) some fans and/or crewalso came on-stage for this number |
| 19.) | "Gunpowder and Lead" | Miranda Lambert | Skylar |
| 20.) | "Stay with Me" | Rod Stewart | Skylar |
| 21.) | "Rolling in the Deep" | Adele | Hollie (lead), Elise, Erika |
| 22.) | "Give Your Heart a Break" | Demi Lovato | Hollie |
| 23.) | "Runaway Baby" | Bruno Mars | Joshua (lead), DeAndre, Erika, Elise |
| 24.) | "It's a Man's Man's World" | James Brown | Joshua |
| 25.) | "I Knew You Were Waiting(for me)" | Aretha Franklin & George Michael | Joshua & Jessica |
| 26.) | "Superstition" | Stevie Wonder | Phillip Phillips |
| 27.) | Mash up "Nice and Slow" /"Sometimes Good Bye is aSecond Chance" | Usher / Shinedown | Phillip |
| 28.) | "Somebody That I Used toKnow" | Gotye | Phillip, later joined by Elise |
| 29.) | "Volcano" | Damien Rice | Phillip & Jessica |
| 30.) | "Home" | Phillip Phillips (debut single) | Phillip (lead), DeAndre, Colton, rest of top 10 came on stage abouthalfway through |
ENCORE
| | | | |
| --- | --- | --- | --- |
| 31.) | "Raise Your Glass" | Pink | All gals |
| 32.) | "Glad You Came" | The Wanted | All guys, then gals joined towards the end of song |
Related Links