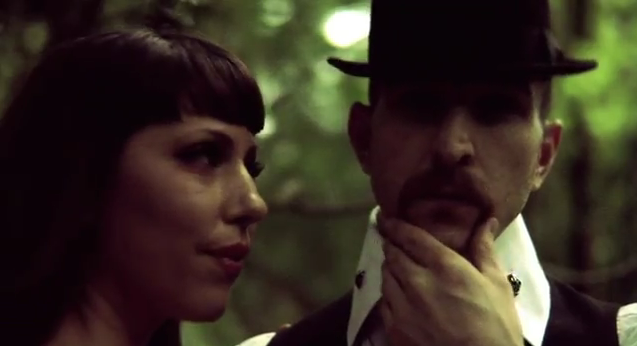 I got my first taste of indie UK band Capelle and Chicago native indie musician Nitty DeFaunque a few months ago as Capelle was on a US tour. I met them in Chicago where they performed at Double Door back on April 17, 2012 (click here for concert coverage and interview with the band).  They again caught my attention with the track and video for "What You Gonna Do" that sampled a bit of Kanye and Jay-Z's hit "Otis."  On top of that, they are just nice people if you ever get to meet them.  Right now, they're one of my favorite indie artists to support which brings me to the latest video and track from the Capelle and Nitty DeFaunque who are now referring to their collabos under the moniker Them Bones, called "Bury Them Bones." Watch below:
VIDEO: "Bury Them Bones" by Them Bones (Capelle and Nitty DeFaunque)
(click here to watch directly on YouTube)
Here's the info provided on the YouTube Channel about this track:
"Them bones" is the exciting premiere project by Australian born vocalist, writer and producer Nic Capelle, also known as the frontman of London based Rock Electro Outfit Capelle and new discovery, Chicago native Nitty DeFaunque. This duo has cultivated a profound writing and performance alliance as well as a partnership in life. With strong roots in Country, Blues, Soul, Rock and Roll and Hip Hop "Them Bones" seamlessly fuzes together all of their collective influences to take you on a dynamic journey with this album. 'Reaction To You' is their debut release.
With the fearless, powerful and emotion filled vocals of DeFaunque equally matched and complimented by Capelle's unique and recognizable vocal delivery, this album is full of gritty rhythms, abundant country twang, drenched in slide guitar and sweaty soul grooves with tasty down home flavor!!!
These two are packed full of talent with musical innovation to boot. Them Bones is not to be taken lightly.
Stayed tuned for the release of "Reaction To You" by "Them Bones" coming your way August 2012.
Stay hip to what Capelle and Nitty DeFaunque are doing by "Liking" their page on Facebook- Capelle fan page and Nitty DeFaunque fan page.