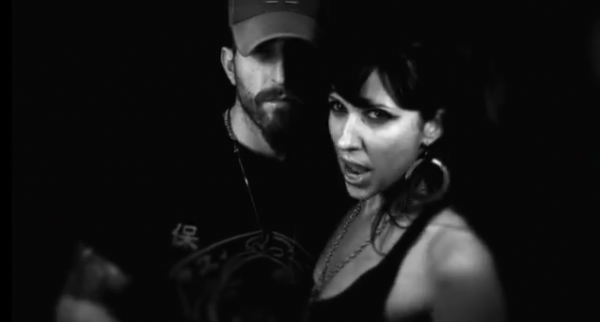 OMG!  As soon as I saw the video and heard "What You Gonna Do" by UK electro rock band Capelle featuring Chicago artist Nitty DeFaunque, I knew I had to spread the word.  The song instantly draws you in as it kicks off by sampling just a little of Jay-Z and Kanye West's mega hip hop hit "Otis" and then rocks out to the gritty, sexy vocals of Nitty DeFaunque singing "What you gonna do to me? What you gonna do?" Capelle simply yet brilliantly provides the electro rock instrumentals.  I listen to a lot of music, and this song is a dope ass hit!
Jay-Z and Kanye's "Otis" pays tribute to legendary artist Otis Redding by sampling his cover of "Try A Little Tenderness."  In Otis Redding's version, the song crescendos at the end as Otis ad-libs with "gotta gotta nah nah nah" which is what you readily recognize in both "Otis" and "What You Gonna Do."
Check out the video below.  I also reached out to Nic Capelle from the band Capelle and Nitty DeFaunque, collaborators in music and in love, to get more insight on the creative process that led to "What You Gonna Do."
VIDEO: "What You Gonna Do" by Capelle featuring Nitty DeFaunque
(click here to watch directly on youtube)
I'm not surprised that Capelle produced a rock track inspired by hip hop since band member Nic Capelle is influenced by hip hop as he shared in an interview I conducted in April while the band was in Chicago.  See newly added footage where Capelle band members share their music influences:
(click here to watch directly on youtube)
INTERVIEW
Ifelicious: Was 'What You Gonna Do' written to intentionally sample 'Otis' or did that come together later?
Nitty: Nic had played me a remix he was working on for a dubstep/rockstep mix of 'Otis' and had an idea for a hook that he wanted me to lay down. He suggested I sing the lyrics 'what ya gonna do to me.' I loved it! We had such a good time. We played it to some friends at a dinner party that night.  They loved it so much that we decided to craft a whole track around that hook. By the end of it, there was very little of the original sample from 'Otis,' and we toyed around with cutting it completely, but decided to use it at the very start of the track to pay homage to where it all was influenced from.
Ifelicious: Who came up with the lyrics and idea?  Nitty or Nic or was it collaborative?
Nic: This was a collaborative effort. It's very autobiographical and tapped into the naughtier side of our relationship.
Ifelicious: Who produced the final track?
Nitty: It was totally Nic. He took all the vocal takes, even the outtakes and silly moments, and transformed them into a track I was so proud to be a part of.
Ifelicious: Who shot the video for it?
Nic: When the track was complete, we loved it so much we decided to do a clip. We, basically, took the black sheet off our bed, duct taped it to the wall, and let the camera roll. Nitty was such a natural performer and really captured the sex appeal of the song.
Nitty: Nic tediously cut and graded the footage. He has such a skill for producing and editing videos. He really wowed me. I gotta say my man made me look dam good!!
The track is not available for download at the moment, but you can listen to it on SoundCloud.  See below:
What Ya Gonna Do – Otis Remix by NittyDeFaunque
Check out more tracks by Nitty DeFaunque on SoundCloud – CLICK HERE.  Also, "Like" her Facebook fan page.  Keep up with the latest on Capelle through their official website, Facebook fan page, YouTube Channel (CappoTV), and Twitter (@CapelleSound).
Related Links