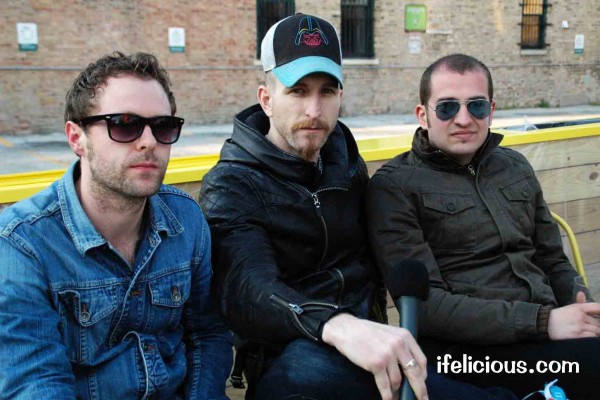 It was a modest crowd at Double Door in the Wicker Park neighborhood of Chicago, but indie rock band Capelle brought the audience to their feet with their self described "rock electro madness" on Monday, April 17, 2012.  Hailing from the UK, Capelle's Monday night concert marked the last stop on their US tour to promote their upcoming album "Crooked Deluxe" slated for released in May 2012.  It was Nic Capelle on the lead vocals and rhythm guitar, Rick Taylor providing backup vocals and playing the bass, and Fotis Vayenas as the lead guitarist.  The band also welcomed native Chicagoans Gabe Raham from Bullied By Strings on the drums and guest vocals from Nitty DeFaunque who came on stage to perform "Walk Away" alongside Nic Capelle.
"Crooked Deluxe" follows a couple of other projects from Capelle.  Their first album was entitled "Money Now, Money How, Money When" (purchase on iTunes and Amazon).  They've also recorded a documentary "Capelle – All Roads Lead to America," about the journey and struggles associated with being an indie band, that is currently planned to be released in October 2012.
Capelle — "Distant Minds" by GuitarWorld
I interviewed Capelle on Monday before their final gig at Double Door.  The end result was 22 minutes of footage filled with sarcasm, laughter, and insight into their music and themselves.  What I like best about Capelle is their unique ability to bring you into their musical lives with excellent documentary footage of their experiences as posted on YouTube, the music itself, and the sincere gratitude I felt from them for making what was a simple 2 hour drive down to Chicago from Milwaukee.  Capelle is as much fan focused as they are music focused, and I hope they don't lose that as the band becomes more successful.
I've done some not so fancy editing (y'all know me, jack of all trades, lol) of the interview down to 6 minutes for your viewing pleasure.  😉   Check it out below:
VIDEO: Interview with Capelle in Chicago
(click here to watch directly on YouTube)
PHOTOS:  Capelle in Chicago
Below are photos that I took on Monday night.  CLICK HERE to check them out directly on Picasa.
Now that I've whet your appetite, take in more Capelle by visiting the official Capelle website, "liking" Capelle on Facebook, subscribing to Capelle's YouTube channel, and following Capelle on Twitter.  Be sure to check back here as well for more news and info as the time draws near for Capelle's next US tour planned for later this year.
VIDEO: Trailer for "Capelle – All Roads Lead to America"
(click here to watch directly on YouTube)
I'm a huge documentary fan, so I'm looking forward to the official release of Capelle's documentary.
VIDEO:  Making of Crooked Deluxe- Part 1
(click here to watch directly on YouTube)
There's also a Part 2 and Part 3 to the Making of Crooked Deluxe.
Related Links