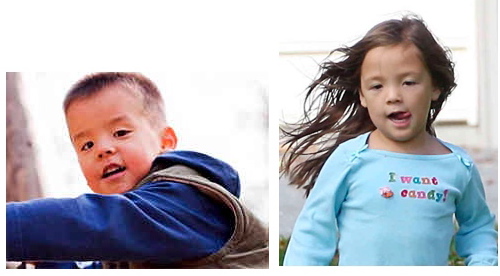 Whoo!  Dem some bebe's kids!!! 😀
Last week, I posted about Octomom (Nady Suleman) launching a $14 signature shake at Millions of Milkshakes in West Hollywood, and she received a lot of criticism (see "Nadya 'Octomom' Suleman to create $14 shake with 14 kids at Millions of Milkshakes to make money" and "Nadya Suleman plus 14 appearing to launch a signature shake at Millions of Milkshakes"). To be fair, I wanted to also post about the recent news of sister and brother Alexis and Collin Gosselin (two of the sextuplets, children of now divorced Jon and Kate Gosselin) being expelled from the private school they were attending in suburban Pennsylvania. The reported reason is the result of ongoing bullying of other schoolchildren. A source close to the situation told In Touch Weekly, "They've fought with their peers, called them nasty names and made fun of other kids." The source also shared, "Collin had such bad issues that he refused to get his picture taken at school because he's tired of being on-camera."
This news caught my attention not only because of the recent emphasis on anti-bullying, but also because the kids were not just suspended, they were expelled. That had to signify an ongoing problem that escalated to a level where it was not plausible for them to continue to attend that school. I then did the math, and the sextuplets were born on May 10, 2004 making them only six years old. That's such a young age to have behavior problems so severe that it led to being expelled.
I loved watching "Jon and Kate Plus 8" over the years, and even "Kate Plus 8" over the past year, but I do think if a red flag hasn't gone off yet between Gosselin mom and dad (Kate and Jon), this would absolutely be Kate's cue to put the filming to rest and focus on her family.
Talk to any celebrity that's fallen from the spotlight.  Ms. Gosselin, you need to give up that $250,000/episode and find another source of income that will allow you to be close to your children.  Maybe the kids won't get to live in a multi-million dollar mansion or attend fancy private schools, but they'll be allowed to be kids again.
To play the devil's advocate, per se, if you have eight kids, the odds of two of them turning out to be little badasses (and i'm not even including Maddy in the mix who we saw was very temperamental season after season) is pretty high.  Perhaps it was inevitable odds at play.
Trust me, fans like myself will be content to watch reruns.  Get the show syndicated.  Put the seasons on dvd, and sell them to me on Amazon.  No more book tours and "Dancing with the Stars" seasons.  Just put it aside for now.
Hmm, I wonder if someone on that TLC camera crew will eventually write a tell-all book as soon as they are freed from whatever contractual obligations; or maybe TLC will pull together some unused footage and assemble a juicy documentary.  For now, I'm happy not seeing the Gosselin name in headlines.
Read all of my Jon and Kate Plus 8 related blog posts by CLICKING HERE.
Just for kicks, watch the trailer for 1992 movie "Robin Harris' Bebe's Kids" below: