Yes, you read that right.  Nadya Suleman, who earned the name "Octomom" after giving birth to 8 children bring her brood to 14 and loads of debt and criticism, is excited about launching a healthy milkshake that her children (and I assume yours as well) will enjoy.  Suleman plus all 14 children will join A through D-list celebs from Lindsay Lohan to Jon Gosselin who have custom milkshakes that they've created and are named in their honor at the popular West Hollywood spot Millions of Milkshakes.  Watch her video promo for the event below:
Here's the full press release below: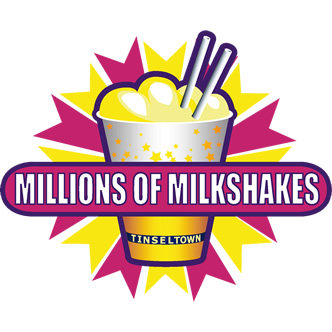 (WEST HOLLYWOOD,CA) On Wednesday November 10th, 2010 Millions of Milkshakes West Hollywood branch will be host to Nadya Suleman also known as Octomom and all her 14 kids as she launches her own signature Milkshake at the popular Celebrity hotspot. This event is expected to be a frenzy!
Nadya Suleman is an American woman who came to international attention when she gave birth to octuplets in January 2009. The Suleman Octuplets are only the second full set of octuplets to be born alive in the United States and, one week after their birth, surpassed the previous worldwide survival rate for a complete set of octuplets set by the Chukwu Octuplets in 1998. The circumstances of their high order multiple birth led to controversy in the field of assisted reproductive technology as well as an investigation by the Medical Board of California of the fertility specialist involved. Public reaction turned negative when it was discovered that the single mother already had six other young children and was unemployed and on public assistance programs. She conceived the octuplets and her six older children via in vitro fertilisation (IVF).
Suleman began IVF treatments in 1997. The treatments were carried out by Dr. Michael Kamrava, who was expelled from the American Society for Reproductive Medicine in October 2009. In 2001, Suleman gave birth to her first child, a son named Elijah. After the birth of her first daughter Amerah in 2002, Suleman suffered from stress, mood swings, and low feelings. In 2008 she had six embryos left over from her previous in-vitro fertilization treatments. She stated at the time that she requested that all of the remaining embryos be implanted, despite the norm for a woman her age being two or three implanted at the most. Suleman states that part of her reasoning for attempting a sixth pregnancy was so that the frozen embryos would not be destroyed. Supposedly, the six remaining embryos were implanted and two of the embryos split into twins, resulting in a total of eight embryos. However, time has shown that there are no identical sets of twins in the group. In fact, Dr. Kamrava stated recently that she insisted on all 'fresh' cycles, and in fact she still has embryos stored with Dr. Kamrava.
Before knowledge of the octuplets became public, Suleman had been living with her six older children and mother in a small three-bedroom house in Whittier, California. Property records show the Suleman house in mortgage default, scheduled to be sold at auction in May 2009.Suleman's parents filed for bankruptsy in 2008, citing nearly $1 million in liabilities.
News of the octuplets caused an international media sensation. Public response was largely negative and even included death threats. There has been much public discussion about Suleman's decision to have the octuplets, including a minor protest outside the Suleman home.Many expressed concern that Suleman's decision for more children would burden taxpayers via public support. In March 2009, Suleman bought a new house in La Habra.
In February 2009, Vivid Entertainment offered Suleman one million dollars to star in a pornographic movie. Suleman has declined their offer.
On March 25, 2009, Suleman and Gloria Allred appeared together on the Dr. Phil show. Allred had a list of criticisms regarding Suleman's performance as mother and homemaker.
On April 16, 2009, Suleman revealed she has struck a deal for a reality TV show in the UK, though the Hollywood Reporter said some U.S. networks were reluctant to pick up the show.Suleman signed an agreement with the Los Angeles Superior Court on July 24 to have each of her children earn $250 a day to star in a reality show; filming was set to begin on September 1. On May 4, 2009, it was announced that Allred had filed a case with Orange County Superior Court requesting that a guardian be appointed to protect the rights of the infants.
On August 10, 2009, Fox announced a two-hour special entitled, "Octo-Mom: The Incredible Unseen Footage", which aired on August 19.
She was featured in the February 2010 issue of Star Magazine of , which included an interview and pictorials. Both focused mainly on her rapid and effective weight loss since delivering the octuplets an entire year prior.
In March 2010 it was reported that Suleman's own La Habra house was facing foreclosure. On March 22, 2010, the adult entertainment company Vivid Entertainment contacted her, offering to pay off the debt of approximately $460,000 on her house, if she agreed to appear in porn movies for them.
Suleman appeared on The Oprah Winfrey Show and Idol Gives back in April 2010. She denied claims that she had recieved plastic surgery and stated that she refused to star in pornographic movies. She also added that she has severely rethought her decision to give birth to and raise her children, along with mentioning that she hopes to become a teacher one day.
I used to give her the benefit of a doubt when people initially attacked Suleman, but her appearance on "The View" earlier this year left me shaking my head. Anyway, what better place for Suleman than Hollywood? In a way, she fits right in with the rest of the bunch.
Sometimes celebrities donate portions of profits from their milkshakes to charity. I'm thinking that's not going to be the case for Suleman. Either way, I'm intrigued by this story and will certainly post some follow up for you next week after the event.  Maybe this will get her closer to her desire to land on "Dancing with the Stars."
Related Articles