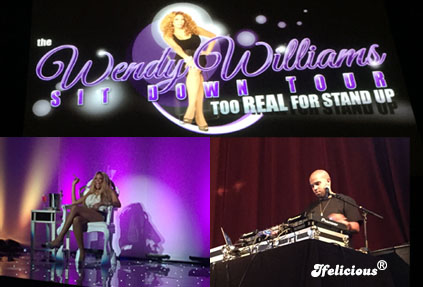 Sometimes I love living in this midwest town where people aren't as hip to what would be a hot ticket anywhere else. That's how I scored awesome last minute seats to see Prince a few years back in Raleigh (not midwest, but same difference); and second row seats to see Wendy Williams last night at Milwaukee's Riverside Theater. Let me tell you, she slayed it! If you're a daily Wendy Williams show watcher and a fan her from her radio years as I am, this is a show you need to see when it hits your town.
* * * * * * *
PHOTOS
These are from my iPhone…
This slideshow requires JavaScript.
* * * * * * *
As Wendy has been promoting, "You're not gonna get talk show Wendy;" and she was right. While not a "ha-ha!" comedian, as Wendy will readily admit, she has a gift for captivating an audience. Wendy did what she does best: brought her sexy, sassy, judgmental, and uncensored self to the art of story telling. I mean "Can we talk?" as she'd often say in a manner reminiscent of Joan Rivers who used to own that phrase. You could not help but laugh in moments, offer up a "mm-hmm" with a side of side eye in solidarity as Wendy went in on pop culture topics like Caitlyn Jenner and her own colorful life's mosaic of tampons, pimps, and dead people. Her set was very Wendy, too- nice chair, champagne glass full of some unnamed libation, a blinged out microphone and a fancy, plush, purple couch that she never sat on.
The only thing I wish I could've offered Wendy in return was a better audience. Wendy is very interactive and her storytelling "lactates" off audience reaction. Have you seen her talk show, Milwaukee? She's like a preacher in the pulpit in front of a congregation that exclaims, timely and unprompted, in unison. There were moments we didn't give that to her, and in true Wendy style she stopped to let us know. I only wish she saw the guy to the left of me whose phone rang twice and he answered it during the show despite the gay couple in front me and me giving him the look of death with a "c'mon now!" and the girl to the right of me who smacked her gum like it was her only source of nourishment for the entire week. This is in Row B! Milwaukee's finest… SMH… 😐
Shout out to DJ Ominaya who kept us groovin' before the show and provided the musical punchline to some of Wendy's stories on command. The opening comedian (someone please comment with his name, couldn't find it in my quick google search) was on point, too. I loved his joke about the Confederate flag. Still got me thinkin'…
I'll close with a true story. As I was leaving Riverside Theater, a lady stopped me to ask if I enjoyed the show. I told her I did; and after an awkward silence (for me I was just trying to figure out why she was asking), I asked her the same thing. She replied by telling me she was one of the producers for the tour. So I put my little hustle on and told her I was a blogger and would love to interview Wendy one day. She completely ignored me in that showbiz kind of way. At this point in my career, there's a 50-50 chance whether I'll dial up the extra hustle, and this time I chose not to. Even though I'm writing this blog post, I was really attending last night as a fan. Still, a few "what-ifs?" linger. Today, I'm getting a little retribution courtesy of social media. I took a pic of Wendy shaking hands with fans at the end of her show, posted it to my Instagram (@Ifelicious) account with the official #WendyWilliamsTour hashtag, and got a like from THE Wendy Show's Instagram. Now, in true social media style, everyone all of sudden is hitting like when my Instagram generally gets very little action. DJ Ominaya left a comment, too, which was cool. See below:
A night well spent. How YOU doin?
Related Links