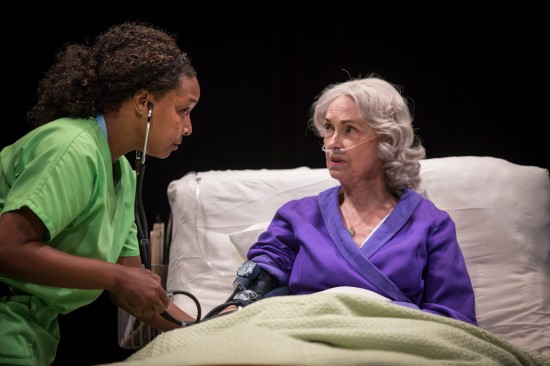 "People who have money are preserved…People who do not have money are not preserved. If one does not get preserved, things get messy" is an excerpt from Maxine's opening lines that epitomize the dark, comedic yet scandalously delightful play "Death Tax" written by Lucas Hnath. The play, under the direction of Heidi Stillman, is currently showing Chicago's Lookingglass Theatre Company through October 12.
Modest in cast and props but rich in dialogue, "Death Tax" has you calibrating your own moral compass as you dance between judgment and empathy for each of the main characters over the course of five scenes:
This slideshow requires JavaScript.
In "Death Tax," Maxine is convinced that her daughter, who she perceives as disappointing and penniless, wants her dead by year's end in order to collect a more hefty inheritance that would otherwise be slashed after an estate tax takes effect in the coming year. Maxine surmised that her daughter enlisted Nurse Tina to carry out the "mercy killing" of sorts in return for a cut of her daughter's inheritance. Wanting to spite her daughter and secure her fate, Maxine offers Nurse Tina a weekly cash package accompanied by a sweet jackpot as incentive if she lives into the New Year.
Truth be told, Tina was never approached by Maxine's daughter; however, the prospect to live the American dream and finance a lawyer to regain custody of her son maliciously taken by her ex-husband back to Haiti is too good to pass up. Tina accepts Maxine's offer, and the remaining four scenes reveal what happens when, as Sir Walter Scott says so eloquently, "Oh! What a tangled web we weave when we first practice to deceive."
In the same way you end up binge watching your favorite TV series on Netflix, each scene in "Death Tax" adds a new dimension that leaves you eager for the next scene to begin just so you can find out how the story unfolds. To top it off, it's conceivable that such indecent proposals happen in nursing homes within a culture where money talks.
Kudos to J. Nicole Brooks who navigated densely worded part as Nurse Tina and delivered it with a cadence that kept the audience from being overwhelmed. Plus, she nailed the Haitian Creole accent while seamlessly switching character by the play's end.
For "Death Tax" showtimes and ticket purchase information, visit lookingglasstheatre.org or contact the box office at (312) 337-0665. As Donna on NBC's "Parks and Recreation" would say, "Treat yo'self!" … to a night of theater. 😉
Related Links