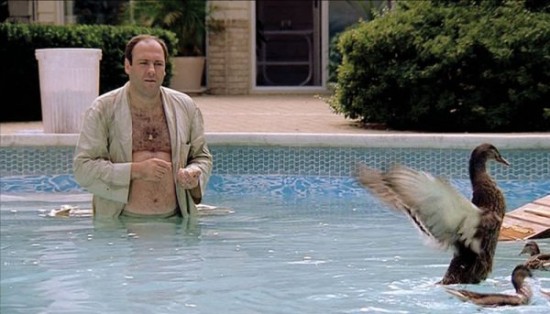 You woke up this morning
Got yourself a gun,
Your mama always said you'd be
The Chosen One…
(Song Title: "Woke Up This Morning" *Theme song to "The Sopranos") originally sung by Alabama 3)
As my hubby will attest, I hate shows that hinge their storylines on graphic violence. Somehow, I made an exception when it came to "The Sopranos" when it first aired on HBO and throughout the life of the show. I was drawn to the complexity of the characters. Tony Soprano was this hardened, mafioso killer that cried when he saw a duck swimming in his backyard pool and went to therapy. I always wondered if he wanted to be more of the mysogonistic, cold hearted killer or the guy on antidepressants who love his family to a fault.
That's how most of us remember James Gandolfini, although his acting career extends way beyond 6 seasons of "The Sopranos." I just saw news of his passing today, June 19, 2013 of a heart attack at the age of 51. Maybe this is TMI, but I was thinking heavily about life and death today so the timing of his passing and his age punctuated a recurring dialog in my mind.
Rest in Peace, James Gandolfini. Thank you for your contribution to entertainment and life, in general.
What will you miss most about James Gandolfini?
Related Links