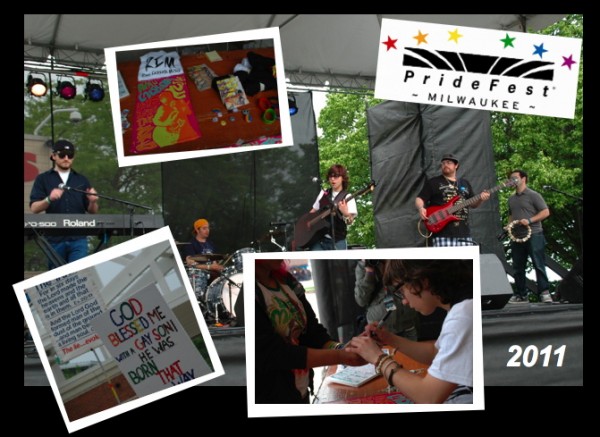 It was a gray day and modest crowd at PrideFest Milwaukee 2011's Rainbow Stage where Ryan Cassata performed. I was initially fighting the distraction of a stage set in front of a restroom until I suddenly I began to see it differently. Here I am meeting 17 year old transgender music artist/activist Ryan Cassata for the first time on a makeshift stage on top of a basketball court and in front of the women's restroom. The stage's backdrop coincidentally covers both the "wo" in "women" below the "RESTROOMS" signage as well as the "wo" in "women" written next to the symbol/silhouette for woman. Anyway, those are moments that I wish I was a much better photographer.
Those at PrideFest Milwaukee that didn't wander over to the Rainbow Stage at 2:30 PM on Saturday missed out on a true inspirational and musical treat. Plus, there's no mistaking that Ryan Cassata is a trailblazer. Besides music, Ryan has been a champion within the transgender community and has traveled around the country speaking to people as an educator and advocate. He's even landed appearances on CW's "The Tyra Banks Show" and CNN's "Larry King Live."
On Saturday, however, it was just about music in celebration of PrideFest. Ryan writes all of his own songs and performed the ones from his latest album "The Theme of Humankind" (available on iTunes and Amazon) released on May 28, 2011 through his own record label Artemendous Records. Some songs are about love and heartbreak in relationships while others have more of a political edge promoting peace and universal understanding. When, I asked Ryan about the song he performed about bullying "In My Hands" he said, "I get a lot of fan mail from all over the world. A lot of them are GLBT kids that are getting bullied so severely that they're suicidal and no one's doing anything about it. So, I wrote this song for them, to perk up their spirits; and also, I wrote it for the bullies to tell them to stop and have a wake up call."
Interview
Check out my interview with Ryan Cassata and his band mates Dave Suchmann, Josh Seidman, Kenny Truhn, and Steve Battline.
Photos
Images from PrideFest Milwaukee
This slideshow requires JavaScript.
Related Articles
Fan Video
Fan video for "Val's Song" off The Theme of Humankind album