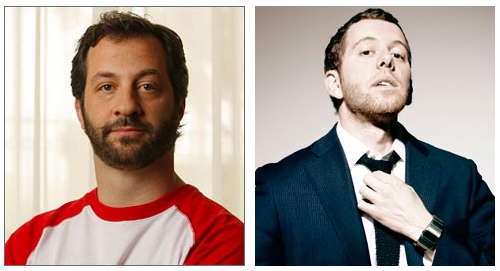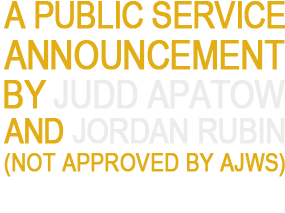 In honor of the America Jewish World Service's (AJWS.org) 25th anniversary, Judd Apatow and Jordan Rubin combined their comedic juices to create a humorous PSA to rally support for the organization.  The video was so well received by AJWS that you'll find it on their homepage.  Celebrities, Jewish and non-Jewish alike, included: Andy Samberg, Ben Stiller, Don Johnson, Danny Trejo, Jerry Seinfeld, Julia Louis Dreyfus, Lindsay Lohan, Ken Jeong, Sara Silverman, Tracy Morgan, and even Triumph The Insult Comic Dog among others.
From Paste Magazine:
The three-minute video features great lines such as Silverman's, "Last year, American Jewish World Services gave away more than $22 million in grants. That really throws a wrench in the 'Jews are cheap' premise. I mean, if you think that's cheap, there's no way you're Asian, because you're really bad at math." Said lines might maybe lend a little evidence as to why the AJWS might have chosen not to greenlight the promotional video's production.
Watch the PSA below: