Honestly, this might be the most exciting news that I've read all day!  The Green Machine is back with an new design for the 21st century kiddies.  Dude!  This was the Bentley of big wheels back in the day.  It would be a great option for San Francisco's Bring Your Own Big Wheel Race that I wrote about last month.  Check out the press release below for details.  ~Ifelicious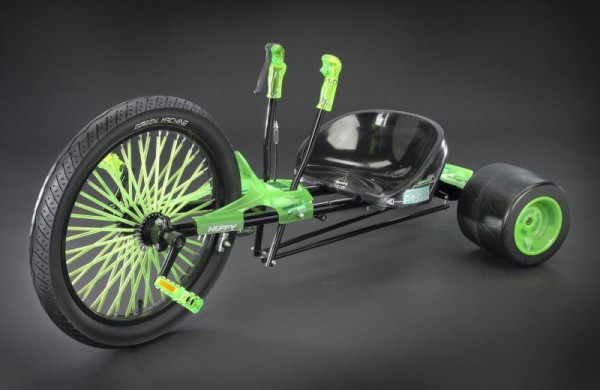 International following grows popular for extreme performance ride-on.

CENTERVILLE, Ohio, May 18 /PRNewswire/ — Huffy Corporation has redesigned the most exciting product in its line of extreme rides. Built for speed, extreme fun and performance, the Huffy® Green Machine offers a sleek new design and on trend color scheme for the budding daredevil in any family. Huffy Corporation markets and distributes bicycles and other products bearing the Huffy brand, the most widely recognized consumer brand in the bicycle industry.
The appeal and popularity of the Green Machine stems from the product's sliding and spinning capabilities. Using two stick shift-type levers, the rider controls the steering and braking action for 180 degree spins and slides. A number of innovative updates have been applied to the initial design for improved performance. A new extra wide front tire with a semi-slick tread has been added for improved steering traction and the bike now boasts futuristic Vapor Green components on the frame, wheel spokes, pedals and grips.
"Since the 1960's, the Green Machine has thrilled kids of all ages. It is the perfect product for thrill-riders," said Ray Thomson, vice president of marketing for Huffy. "It's great for family fun. Nearly anyone can ride it. Videos posted on our website and YouTube show teens, adults and kids of all ages having a great time showing off their styles of sliding and spinning the Green Machine."
Recently, Huffy has sold more than 600,000 Green Machines in the U.S. and 19 foreign countries such as Australia, Trinidad, Ireland and the Dominican Republic. People from across the globe connect on the Huffy website to check out the Green Machine microsite to post videos, discuss the product and download information, truly making it an international phenomenon.
For more information on Huffy and its Green Machine ride-on, visit http://www.huffy.com.
About Huffy Corporation
Huffy Corporation is a private company with more than a hundred years of experience in the bicycle business. Its bikes are hallmarks of innovative design, high-quality components, proven durability and time-tested performance. The company offers products for all ages from tricycles, scooters and children's bicycles to BMX, mountain, cruiser and commuter bikes. For more information, visit: http://www.huffy.com.
(source: Huffy Corporation)