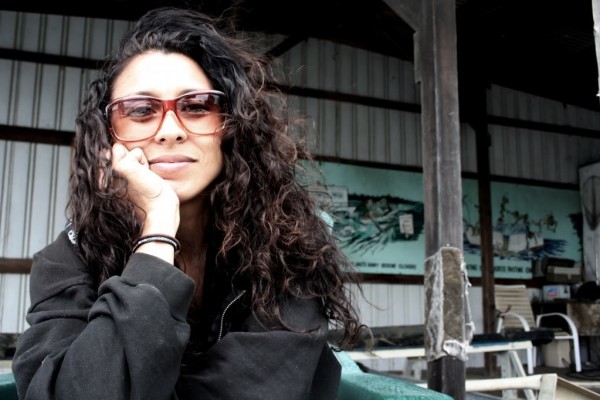 Ramona Maramonte is one of the latest indie filmmakers that I have had the pleasure of meeting.  As a woman who's been juggling her ambition to make it in the entertainment industry with being a wife and mother of 3 children, she is an inspiration to women everywhere that you can do it all with the right planning, perseverance, and family support.  After years of pursuing a music career with aspirations of being the next "Jenny from the block" aka Jennifer Lopez, she settled down to be a stay at home mom while still kept her sights on making it in entertainment.  Now that her children are older, Ramona is back in the saddle blazing her own path in film production and screenwriting.  If you'll be in the Bay Area for the California Independent Film Festival (CAIFF) April 22-25, 2010 in Orinda, California, be sure to buy tickets to see "Six Sex Scenes and a Murder" by going to CAIFF website.  Ramona was the co-producer for the film and worked alongside Julie Rubio who was the writer/director/producer.  "Six Sex Scenes and a Murder" will screen on April 23 at 9:15 PM at the CAIFF.  Read the film synopsis and watch the trailer below:
Someone wants Nick Hamilton dead, hes got 24 hours to make the last deal of his life. Six Sex Scenes And A Murder explores the power and depth of human sexuality while weaving an erotic tangle of passion, desire, and whodunit.
You can also view "Six Sex Scenes and a Murder" on iTunes and Netflix.
Ramona also has a few other projects in the pipeline that we can look forward to hearing more about in the near future.  She's partnered with Kelly Byrn to write the screenplay for 2 film shorts "Mom's Got Muscle" and "Ava."  A fellow fan of reality TV, Ramona is working on her own reality TV series that she's keeping on the hush other than to offer that it will involve her love of muscle cars.
Thomas Roberts with TR Studios (http://audioboo.fm/TRStudios) recently conducted an interview with Ramona that is worth checking out.  I've posted it below: