Dear Diary,
Aye yi yi!  Traveling out of Columbus, OH sucks!  There are no direct flights to LA, and because this was a last minute trip, I didn't have many reasonable options to choose from.  For one, I do not have a good history of getting to the airport for early morning flights (my husband would argue that this applies to any flight) and this one left at 7:50am for Phoenix.  It's probably attributed to the fact that I don't tend to pack until the last minute, and today was no exception.  My dog had a cute little moment before I left that nearly made me cry.  He traveled with us the week before and he's always by my side (sleeping next to me now as I type) so we're like homeys.  I had my suitcase at the top of the stairs unzipped, and he jumped on top of my packed clothes as if to say "I know you're going somewhere. Take me with you."  What a cutie pie!  I shoo him off and he jumps back on my clothes again like "I'm not kidding, girl!  Take me with you."  My hubby also noticed and I ran for my camera to take a quick picture of the moment because he had never done something like this before.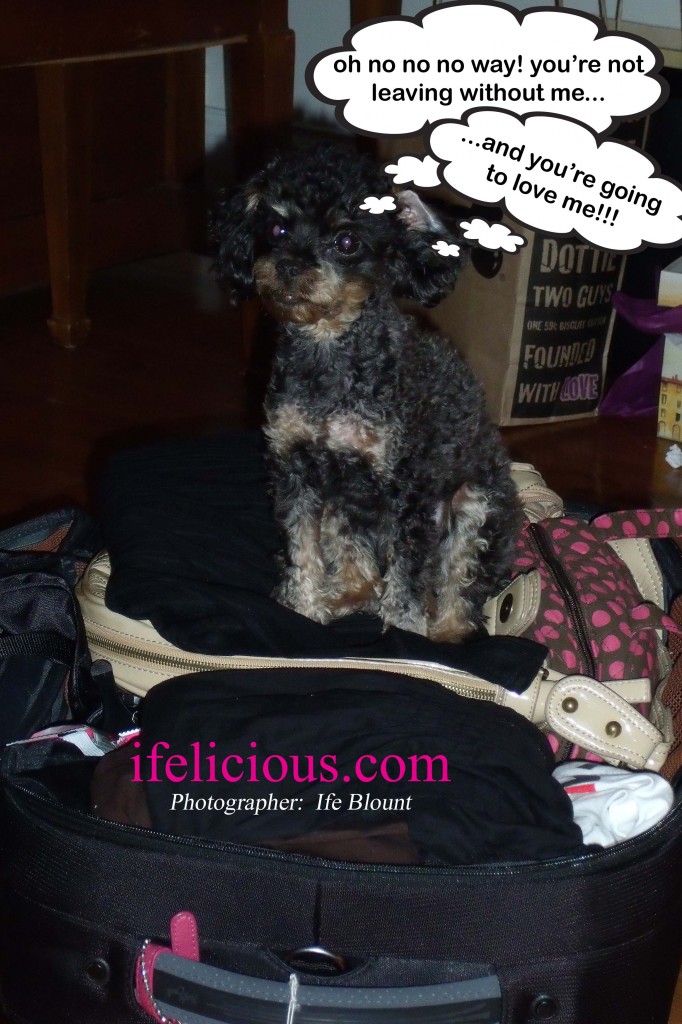 I shoved everything I thought I needed in my suitcase and laptop backpack including camera equipment and headed for the airport.  One little aside…I put my packed and few last minute items in one of our cars before finding out we were traveling in a different car.  This will come into play shortly.
When I got to the airport security checkpoint, I realized that I didn't have my 3-1-1 bag with my conditioner and other toiletries.  Damn!  It was in the other car that we didn't drive to the airport.  Not a huge deal because my hubby would be joining me the next day, but I didn't like not having my favorite hair products with me and this nappy hair is no match for that hotel brand conditioner shizz they have in the bathrooms.  Oh well, I could resolve it if I had to once in LA.  After making my way through security, I had enough time to grab some Starbucks chamomile tea and a piece of lemon pound cake (airport ritual) before heading to my gate.  I miss flying with my hubby because he has supa dupa fly status and that means upgrades to first class.  I was like in zone 20 but luckily was able to snag up an emergency exit row seat.  Even short gals need leg room!  The additional bonus was having no one in seated in the middle seat so both me and dude in the aisle spot didn't have to become too cozy with anyone.
The flight was uneventful with the exception of a few occasional silent in flight farts from somewhere in the vicinity.  Ughh!  I get it's human nature, but we're trapped in space.  Stick a cork in it, take some Beano, or something.  Don't laugh at me, but I want to start a war when the silent farts start coming.  Like send one back to them from my ass to their nose.  LOL!
I had elevated expectations of running into stars like I did during my February trip to LA on the Phoenix to LAX segment (it was NBA All Star weekend in Phoenix the last time I was there).  Not so much this round.  By this point, I was super excited to just get to LA.  It was red carpet eve.  Hellz ya!  I start thinking about how I just might go hit up some swanky club tonight while I'm rolling sans hubby (he arrives tomorrow) and enjoy some martinis.  Maybe I'll even run into LC (Lauren Conrad for those of you who don't watch "The Hills") or Speidi (Heidi and Spencer also from "The Hills").  A logistics engineer turned journalist has to dream, you know?
Once I arrive in LA, I knew I hadn't rented a car nor written down the address for the hotel so I was crossing my fingers that there was WiFi, better yet free WiFi, at LAX.  They had WiFi but it wasn't free.  I plopped my stuff down at a less crowded gate and got online.  Inevitably, I checked my email, and saw this urgent last minute favor type request from an assignment editor for a mag asking me to interview Raheem DeVaughn like an hour from the time I read the email.  I laughed to myself because there are weeks that go by when my life feels boring and all of a sudden this past week has springboarded my life into the amazing zone.  It's like I'm dreaming.  Hellz ya, I'll interview Raheem DeVaughn.  What a great opportunity!  At the same time, my more sane side kicks in and wonders how I will work this interview in on such short notice.  I mean I know him and his work, but not to the extent that I'd be able to talk to him without research.  I probably should say no.  Of course, that happened after I said yes, but I did propose a later time to allow me enough time to drive to my hotel.
The Hollywood rush is in full effect!  I go and get my rental car (a Hyundai, not so Hollywood, but at least it has XM satellite radio which is all I needed), plug in ye ole Garmin and start my drive out to the Sheraton in Universal City, CA.  As an east coast gal turned midwest gal, the landscape and architecture in California is always so strikingly different to me.  I try to picture my life in LA, the black woman celebrity blogger version of Perez Hilton, LaKeisha Holiday Inn (LOL!), wearing sunglasses all the time and obsessed about looking my best because everybody does in LA.  It's so foreign to me.  The hills in the distance, the lack of planned neighborhoods (sorry, I'm a product of Jim Rouse and his vision of planned communities with tot lots and neighborhood pools and village centers that you'll find in my hometown of Columbia, MD).
Traffic's not so bad, but bad enough to have me worried about proposing a 3pm PST interview with Raheem.  My phone's near dead and I realize that I left my jacket in the other car (actually I first noticed it on the plane when I was freezing but unwilling to cough up $7 for a "comfort kit" that had the pillow and blanket we used to get for free).  As I drive along a stretch where the Hollywood sign comes into view one of my sisters calls me to check on my trip so far.  I share my excitement and how I'm viewing the Hollywood sign in the distance and my life seems so dreamy at the moment.
Checking in was ok and would have been better if the hotel had more than one front desk clerk (something I noticed for my entire stay which surprised me for such a busy hotel).  The people in front of me were of course needing some kind of shizz that took extra time and I'm like pacing as I know the time is inching near 3pm.  Finally, I'm up and I hope that checking in isn't supposed to take like 30 minutes per person.  It doesn't.  I get my keys and head up to the 17th floor.
The room's nice, been updated in recent-ish years but the coffee brown paint on the doors and trim are a bit shabby (I'm a hotel snob if you didn't know).  The sheets are also scratchy to the touch, but I'm only here for 3 days and I figure I'll survive.  Laptop gets turned on.  I check my email wtith 6 minutes left before "showtime" with Raheem and wondering how I'll wing it.  Luckily, the assignment editor pushed out the interview 30 minutes (they know LA traffic better than I do), and I feel at ease knowing I'll have time to prepare.
The interview goes well.  Raheem's real easy to talk to and has some personality to him.
Interview over.  What a rush!  I arrived a day early because I normally sleep a day when I travel before I feel back at my best.  Not this round.  I'm full of energy.
With the thought of not having my Aveda hair products (Brilliant conditioner and humectant pomade AKA my "hair crack" because I'm so addicted to it) and seeing that what I packed as casual wear could not be assembled into any kind of outfits, I decided it was time to shop.  According to Garmin, Hollywood and Highland off Hollywood Blvd was the closing shopping area.  Off I went.
Damnit!  I had no idea Hollywood and Highland was that place in the "Times Square" of Hollywood, near the Grauman's Chinese theater and all the crazed tourists and people dressed up as spiderman and Star Wars characters.  I absolutely hate shopping with lots of people scurrying about and all the overdone mayhem that comes with a tourist trap.  Anyway, I'm there so I figured I'd walk around.  I lucked upon an Aveda store and bought the conditioner I wanted, knowing I'd have to check my bag on the way back.  It just made me feel at ease.  I also scored at the Virgin Megastore where everything was 40% off.  I started thinking of the CDs that I had been meaning to buy and sifted through the chaotic mumbo jumbo (the CDs weren't necessarily organized throughout the store so you had to dig around sometimes).  Even with their ridiculous original price, 40% off made a CD price more reasonable.  I scooped up Asher Roth, Eminem, Kanye West (yes, I'm finally giving in to the auto-tune album), and an Obama inauguration CD with DVD to give to my hubby (by the way, that turned out to be quite a find.  it has excerpts of Obama speeches and lots of hope/change type songs that were popular during election/inauguration.).
Next, I headed back on the road looking for some inexpensive clothing.  I remembered there was a Kmart, Whole Foods, and some other store across from The Grove and decided to drive out there.  Score!  There was a Ross- dress for less store and in I went.  I found me some cute little patent leather, kinda baby doll style-esque flats that would work perfectly with my dress for tomorrow.  Plus, more importantly, I'd be comfortable.  They were only like $15 which is a far cry from $140 I paid for those red shoes yesterday.  I also found a couple of graphic tees and a pair of capri style jeans that fell within my bargain shopping rule of $15 or less.
Outfit now complete.
Hungry and tired, I decided to ditch my grandiose thoughts of clubbing in LA that night, headed a few doors down to Whole Foods instead to pick up some dinner (who doesn't love their salad bar?), and then drove back to the hotel.
Today was a whirlwind of a day.  I called my hubby (we rarely miss a day without saying hello to each other) but it was short because the sleepies were setting in big time for me.
It wasn't hard to fall asleep tonight.
LINKS TO OTHER POSTS IN THE "MY LA JOURNAL" SERIES…
My LA Journal- Wednesday May 27, 2009 eyebrows waxed and outfit shopping
http://ifelicious.com/?p=2432
My LA Journal- Friday, May 29, 2009 (Part 1 of 2) immortalized in bronze by renowned sculptor Peter Harper
http://ifelicious.com/?p=2513
My LA Journal- Friday, May 29, 2009 (Part 2 of 2) red carpet for Derek Strong party
http://ifelicious.com/?p=2537