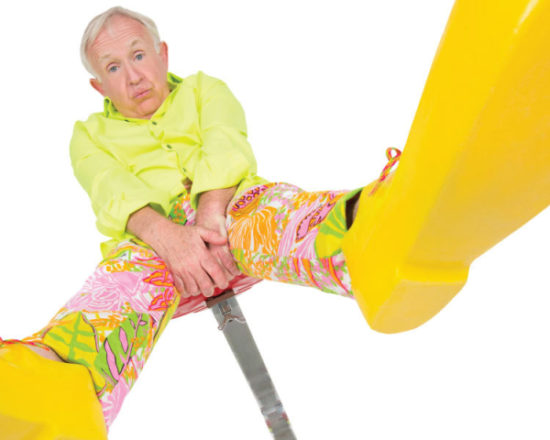 A seasoned veteran to all things entertainment, I had the pleasure of chatting it up with Leslie Jordan. Many will recognize him from "Will and Grace," but I intentionally left that chapter closed in our interview. Our conversation was authentic and unfiltered just as Jordan is at heart. As we spoke, it was clear that several months abroad and a few recent monkey wrenches in his work gigs had clearly left him temporarily a bit crestfallen.  However, as you'll read, this self-professed "gregarious recluse" will don his "Leslie Jordan drag" when the time calls for his public persona that we've all grown to know and love. The fact remains that the Hollywood hustle is changing in favor of reality TV celebrities emerging everywhere from obscurity, and entertainers like Jordan navigating new landmines in an already competitive landscape.
We jumped right into conversation about his latest work, a straight-to-video horror movie called "Demonic Toys 2: Personal Demons" written and directed by one of Leslie's dearest friends, William "Billy" Butler.
"DEMONIC TOYS" AND ADVENTURES IN ITALY
* * * * *
TRAILER: "Demonic Toys 2: Personal Demons"
(click here to view on YouTube)
* * * * *
Ifelicious: How are things?
Leslie: Well, I tell you what, I'm suffering from jet lag today.  I can hardly get around.  I was in Italy. I have a friend that writes these low budget horror movies.  Most of them go straight to video, and some of them go end up like on the Syfy channel.  But, anyway, he asked me if I'd like to do a movie for him.
Initially, Leslie outright refused explaining he was past that point in his career of chasing such opportunities; however, Billy reeled him in with promises of a free trip to Rome, Italy. He continued:
Big mistake!…We were in this gorgeous castle, 900 year old castle, and most of the kids who were there working on the movie were just starting out so there was all this amazing energy like 'Oh my God, we're in Italy doing a movie!' but I was like, 'But there's no hot water!  There's no heat!'
We laughed together for the first of many moments.
Ifelicious: How long were you there?
Leslie: A week…and we had an Italian crew that didn't speak any English.  There were 21 of us [cast and crew]…I'm a recovering alcoholic, and I'm pretty outspoken about it.  I have 11 years clean, and it's a big part of my sordid journey, but it's the first time in 11 years that I'm in this castle in the middle of nowhere with wine, wine, wine!  Those Italians drink wine morning, noon, and night!  They also don't sit down to dinner until 10 o' clock at night, but honey, I have supper at 6 and I'm in bed by 'Jeopardy,' practically.  About 8 o' clock, the wine would start flowing.  Well, if I wanted to eat, I had to be up with all these chatty people…They start eating at 10 and the food comes very slow.  You never finish 'til midnight…Not that my sobriety's at stake at all…but I have to put up with you."
I didn't say it during our interview, but I would like to applaud Leslie Jordan achieving 11 years of sobriety!  That's an inspiration to so many who have struggled not just with alcohol but any form of addiction.

Ifelicious: How did it end up?
Leslie: All in all, I finished shooting and took all the [money] that I made for the whole trip then I went into Rome on a train, and I checked into the hotel which is one of the finest hotels in Europe.  It's called the Hassler.  It's where Tom Cruise and Katie Holmes spent their honeymoon, and I blew all my money! I stayed in Rome for 3 days.
Ifelicious: I totally understand.  It's like you had to recover from your tough week.

Leslie: Recover, that's right. I went shopping.  My accountant's so mad at me.  I bought this beautiful Burberry trench coat."
Ifelicious: I love Burberry!
ALLIGATOR POINT
Leslie was excited to break the news of a weekly TV series called "Alligator Point." The pilot is slated to debut on the Lifetime TV network this fall.
Leslie: The good news is I've got a big new television series.  I'm so excited about it.  The week before I left for Italy, it just sort of fell in my lap.
Ifelicious: Oh, what's that?
Leslie: Kelsey Grammer is producing it and directing it, but he didn't act in it, and he is the best director I ever worked with.  What a lovely man he is!  Generous and loving and kind and giving and just knows exactly what to say to an actor to get the best performance out of you.  And it's myself and Cybill Shepherd.  It's kind of like 'Cheers' in an oyster bar on the coast of Florida [in] a tiny little town.  The name of the series is 'Alligator Point' and we shot our first episode 2 weeks ago before I left for Italy, and I think we really have something…It's about family.  It's hilarious, and it's the old three-camera sitcom which I love.  That's where you sit before a live audience.  So it's the best of everything.
SORDID LIVES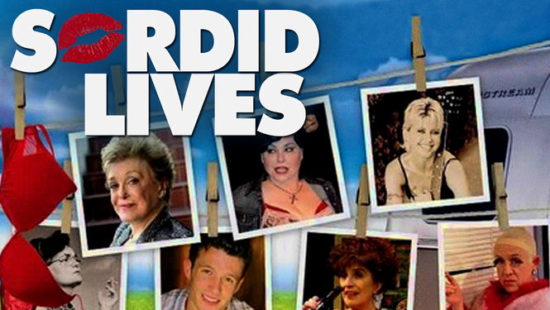 Ifelicious: Well, I'll have to stay tuned to get more information about it…How are things going with 'Sordid Lives' on Logo?
Leslie: The second season of 'Sordid Lives' may or may not happen. It's in the hands of the studio execs and the network.  It's just money…You know, it's such a limited market [running on Logo].  My only gripe with the whole thing was that when we hit the air, the ads were so suggestive.  It just makes it look like gay people all we do, you know, is have sex…I can't ask my mother to watch this, she'd be shocked [because of the advertisements].  You know, she'd be shocked enough at the character of me in a dress…An all gay channel is great but it is pretty limiting…and 'Sordid Lives' [the movie] had such a great following with straight people.
ON-STAGE

Ifelicious: How are things with 'My Trip Down the Pink Carpet' the one-man show you are doing in New York City based on your book?
Leslie: The Off-Broadway run is postponed.  No dates are set yet, but we are looking at Fall or Winter of '09…Theater is a lot of work, and that show, I did 45 cities with it, and it's exhausting.

Ifelicious: Oh, I understand.
Leslie: I have a wonderful life in Los Angeles…I have decided that I'm a gregarious recluse.  I'm very gregarious, very outgoing, but I just need a lot of time by myself…I call it 'Leslie Jordan drag' when I have to go out.
The conversation led into us talking about various things he does in his down time, in between gigs.  One of them he shared was about his standup routine. Leslie continued:
I have a filthy standup routine.  Filthy!  That I take into gay bars…and I call it my 'gin and regret' show because it's all about the shenanigans I got into when I was drinking.
You LA folks will have to let me know if you've seen Leslie's "gin and regret" standup routine.
INSPIRATION
Lastly, my dear friend (if you read my interviews, you know I had to slip that in somewhere) Leslie literally dug through his trash can to find a quote from David Frost to share with me and others aspiring to achieve their dreams.
'Don't aim for success.  If you want it, just do what you love and believe in it and it will come naturally'
*******

Make sure to pick up a copy of Leslie Jordan's memoir "My Trip Down the Pink Carpet." Leslie is a great storyteller, and I know this book does not disappoint in either content or delivery.
A million thank yous to you, Leslie.  I can't wait to see what lies ahead for you.  Thank you for allowing me to enjoy my touristy Kodak moment in the airport while also being kind enough to grant me this interview.  All of your advice, published and unpublished was well received.  You are a true gentleman.
Muah!
~Ifelicious
RELATED LINKS