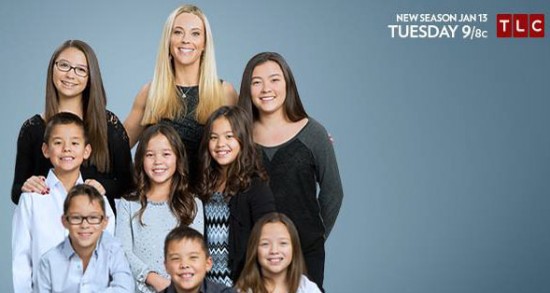 I know there are still some of you out there who, like me, have watched every episode of "Jon and Kate Plus 8" and then "Kate Plus 8" and associated televised special updates. Good news! We'll get to see how 13-year-old twins Mady and Cara, and 10-year-old sextuplets Alexis, Aaden, Collin, Hannah, Joel, and Leah are doing in a series of one-hour "Kate Plus 8" specials beginning January 13 at 9/8c on TLC.
Here's what to expect, per the press release:
In the first two one-hour specials, Kate prepares her brood for a trip through New England to do some exploring and sightseeing. First stop is Plymouth, Mass., for an all-day immersion into the lives of pilgrims complete with costumes and a homemade dinner. After a fun-filled day living back in time, the family travels to Maine for some beach adventures including collecting crabs, checking traps for lobsters, rowing, and paddle boarding. The family even attempts rope climbing, but will Kate be able to overcome her fear of heights?
The other specials follow the family as they celebrate the twins' birthday and undergo an extensive and stressful home renovation. The family also sets up a yard sale to raise money for a local animal shelter, which perfectly aligns with the birthday celebration of their beloved dog, Shoka. The specials highlight the highs and lows of raising a large family and continue to give viewers an in-depth look inside the lives of Kate and her eight.
* * * *
TRAILER: "Kate Plus 8" specials
(click here to watch on TLC)
* * * *
Even though Jon Gosselin was adamant about not having the kids on reality TV and not being interested in reality TV for himself, he appeared on season 4 of VH1's "Couples Therapy with Dr. Jenn" with Liz Jannetta. The couple reportedly parted ways back in September 2014. Jon does make a cameo in one of the upcoming "Kate Plus 8" specials when the family has a yard sale at a local church.
Kate Gosselin is a cast member on the current season of NBC's "The Celebrity Apprentice" and is rumored to be currently dating millionaire Jeff Prescott. That's a relief considering  for years she's been dodging rumors that she was having an affair with her married bodyguard Steve Neild including during the time that "Celebrity Apprentice" was being filmed.
For more on "Kate Plus 8" check out the series website on TLC, follow "Kate Plus 8" on Facebook, and search/use the hashtag #KatePlus8 on social media. Kate Gosselin is on Twitter: @KatePlusMy8 and maintains the website KatePlusMy8.com.
Related Links