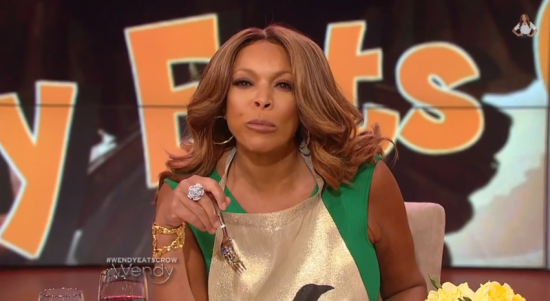 My stomach is still churning from watching Wendy Williams literally eat crow on her season 6 premiere of "The Wendy Williams Show" earlier today. Last season, the news and eventual marriage between Kim Kardashian and Kanye West (aka "KimYe") sent Wendy down the rabbit hole of Elisabeth Kübler-Ross stages of "grief." All the while, Wendy continued to circle back to stage 1, denial. Once KimYe got married, Wendy was adamant that the marriage would not outlast Kim's marriage 72-day marriage to Kris Humphries. She turned the idiom "eat crow" into a literal wager. Today, 114 days into KimYe bliss and on the season 6 premiere of "The Wendy Williams Show," having lost her own bet with the viewership and/or KimYe and/or whoever in the entertainment karmic universe, she made good on her bet.
In the final minutes of "The Wendy Williams Show" she aired a montage of clips of her repeated KimYe fail declaration and vow to eat crow. Then, we were introduced to Chef Kevin Burrows who walked through his gourmet preparation of crow gumbo that he so lovingly prepared for Wendy using a crow that was hunted by a viewer in Utah. It's crow hunting season; who knew?
All the while, I kept glancing at Wendy waiting for her to come up with some clever exit strategy, but she stood firm, donned a bib with a crow emblem, sat down with a glass of pinot noir, and dug right in.
Wendy's reaction was "I can taste the iron in it…and it tastes kind of like chicken liver."
All I kept thinking was "Oh, no, she didn't!" Well, "Oh, yes, she did!" Check out the hashtag #WendyEatsCrow on social media for more.
* * * *
Watch Wendy Williams Eat Crow Prepared by Chef Kevin Burrows
(click here to view directly on YouTube)
* * * *
Related Links