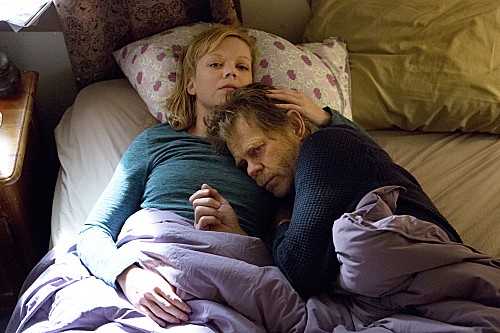 This week has an epic showdown between Lip and Fiona, Mickey goes on the hunt for his ex-boyfriend Ian, Veronica and Kev get some startling news, Debbie is forced to face heartbreak, and Carl gets bullied. It's a regular sh*tfest for the Malkovichs' and Gallaghers', and there are only four episodes left. Will Fiona go to jail? Will social services place the Gallagher kids in foster care? Will Ian sober up and face the music? So many questions to keep us counting down the days to the next episode. Check out my favorite quotes from this week and episode recap below.
Episode 7: Credits & Info

Series: "Shameless"
Season: 4
Episode: 7
Episode Title: "A Jailbird, Invalid, Martyr, Cutter, Retard, and Parasitic Twin"
Written By: John Wells (Developer), Paul Abbott, Nancy Pimental
Edited by: Tim Tommasino
Directed By: Gary B. Goldman
Network: Showtime
Favorite Quotes

I think Lip and Fiona had the strongest word play this week in terms of the script, although there's always something that catches my attention from any of the cast. Here are my favorite quotes in episode 7.
We've been dumped into foster care too many times because of that prick upstairs. There's no way I'm going to let it happen again. -Lip Gallagher
Sort your sh*t out. -Lip Gallagher
I would never ever turn against you. -Sammi
Well, we don't get everything we want; and a good negotiation is when both sides feel like they got screwed. -Maria Vidal
Anything with balls in it is good. -Holly Herkimer
My father did what he always did, beat on me…It was my fault. It was always my fault. My mom got away scott free. -Frank Gallagher
Bible says I have the right to bear arms, so I bear arms. -Tommy
Hewey ate Dewey. -Veronica Fisher
Come on. Get in my force field. -Kev Ball
Are you retarded now? -Carl Gallagher
Liam almost died! And that was you, all f*cking you! Your coke, your boyfriend, your f*cked up life! Not mine! -Lip Gallagher
I'm guilty. -Fiona Gallagher
Recap

Read all of my "Shameless" episode recaps — CLICK HERE.
Since this episode has such a detailed title, my recap is in the context of identifying the jailbird, invalid, martyr, cutter, retard, and parasitic twin. The only title I was uncertain of was the martyr because I feel like you could argue a few of the characters conceptually play that role. In the end, I decided Frank is truly the strongest martyr in this episode and in the cast, in general. It only threw me off because the academic part of me still wants to believe that each title is mutually exclusive so I must be missing someone. Well, feel free to comment with your own take on this episode and this season so far.
A Jailbird. Fiona Gallagher (Emmy Rossum, Twitter @EmmyRossum) goes to a preliminary hearing, accompanied by Veronica Fisher (Shanola Hampton, Twitter: @ShanolaHampton), and stands by her not guilty plea to possession and child endangerment. Judge Shanor (guest star Denise Grayson, Twitter: @TheSwelleLife) suggests that Fiona's public defendant Maria Vidal (guest star Lisa Vidal, Twitter: @TheLisaVidal) and the lawyer representing the State of Illinois Craig Jeffries (guest star Gregory Linington) work out a plea bargain to be presented at the next hearing. Fiona feels she could fight it, but concedes to going down the path of a plea deal. Back at home, Fiona runs into Carl who misses Fiona and asks her about jail. Fiona then talks to Lip which turns into an argument. At a follow up hearing, Fiona pleads guilty and the judge grants the plea deal 100 hours total combined of parenting and Narcotics Anonymous meetings and three years of probation. Judge Shanor let Fiona off the hook with no jail time but she did place Fiona under house arrest. Fiona is a felon. Before she walks out of court, we watch an officer come by and apply an ankle monitor.
An invalid. Frank Gallagher's (William H. Macy) health is still deteriorating and Sammi (guest star Emily Bergl, Twitter: @EmilyBergl) is continuing to take care of him. He started writing some sort of "Frank's Guide to Life" type of book that he refers to as his "gift to humankind" and "trade book" and is five chapters in. Frank wants to smoke pot, but Sammi won't let him as she's been ordered by her half-siblings who are anticipating a visit from the social worker. When Frank gets mad about it, she tries to make amends by offering him some Oxycodone which makes Frank happy for the moment. Sammi inquires about Frank's family; and it's the first time we learn about his immediate family. There was his father, mother, and three brothers Clayton, Wyatt and Jerry. His father spent time in prison and was physically abusive but only towards Frank. While there, his mother slept around with several guys. She got caught with one of them when his father came home unexpectedly early from prison. When Sammi makes a reference to Frank's limited about of life left, Frank goes ballistic. Sammi desperately tries to make peace and succeeds when she offers him heroin. Frank shoots up and eventually passes out on the bathroom floor. Carl Gallagher (Ethan Cutkosky, Twitter: @EthanCutkosky) finds him and alerts Fiona and Lip. Pissed off, Fiona and Lip kick Sammi, Chucky (guest star Kellen Michael), and Frank out of the house. Frank reeks from soiling himself so Sammi has her son Chucky break into Sheila Jackson's (special guest star Joan Cusack), who is off to be with Roger Runningtree, house so she can give him a bath before taking Frank back to her trailer.
A martyr. To me, Frank believes he is a martyr. He'd rather die than get sober. Lip sacrificed his new college life in order to come back and be the man of the house. In this episode, we watch him grow up and learn how to sacrifice for his family and look at more of the long term gain. He bypasses an opportunity to bag some chicks on the L. He also sacrificed his grade in thermodynamics on a homework assignment so that he could take care of his brother Liam.

A Cutter. Ellie (guest star Teresa Ornelas, Twitter: @Teresa_Ornelas) cuts herself because her boyfriend Gary broke up with her. She shows off the marks on her legs to Debbie Gallagher (Emma Kenney, Twitter @EmmaRoseKenney) and Holly (guest star Danika Yarosh, Twitter: @danikayarosh) at the library. Debbie tries cutting herself after Matty breaks up with her. From Debbie's reaction, it doesn't look like she'll do it again.
A Retard. Some kids on the school bus bully Carl about Liam's (played by twins Blake Alexander Johnson and Brennan Kane Johnson) cocaine overdose and scare him into believing that Liam is retarded. Even though he exacts revenge on them, he ends up carrying the fear that Liam may actually have become retarded. After witnessing Liam repeatedly opening and closing one of the bedroom doors on his head, Ian decides to give Liam an online "Are You A Retard" test to see if he's retarded. Liam passes and then asked Ian to take it. Ian freaks out when his results show that he's retarded. This is reminiscent of last season when Frank convinced Carl that he had cancer because now Carl literally believes he's retarded. The next morning, he boards the short yellow bus to school.
A Parasitic Twin. Veronica goes to a prenatal check up with Dr. Ma (guest star Karen Maruyama) and learns that she lost one of her triplets through what her doctor terms as fetal resorption. It basically means that one of the embryos didn't fully develop and got absorbed by the other embryos. It is a similar term to "parasitic twin." Both Veronica and Kev (Steve Howey, Twitter: @ReelSteveHowey) are mixed between relief they'll only have to care for three babies instead of four and sadness that they lost one.
= = = = = = = = = = =
Lip is juggling being the head of the household and attending college leaving him even more deeply resentful towards Fiona. The Gallaghers' are anticipating a surprise visit from a social worker so it's time to keep the household on the straight and narrow. That meant a collective, stern warning from Lip and Debbie to Sammi when he smelled Frank smoking pot upstairs. Unable to trust Fiona, Lip takes Liam back to school with him for the day. When he gets to the dorm room, his roommate's girlfriend Amanda (guest star Nichole Bloom) is there. She offers to babysit Liam; and Lip reluctantly agrees after she offers to text him a photo of Liam every 30 minutes while he's away.
Kev gets robbed of his rub and tuck money, totaling $600, that he stores in a keg at the Alibi Room. The two people who robbed Kev knew he kept the money in a keg which makes him suspicious. He goes to Mickey Malkovich (Noel Fisher, Twitter: @Noel_Fisher) to get a gun. The rub and tuck business is partially Mickey's so he's mad about the robbery as well. They argue about how much share of the business each has as well as discuss Mickey's fragrant soap choices (LOL). Kev tries to get one of the bar patrons to confess to the robbery; and when they don't, he flashes his gun. To his surprise, he's met with a room full of bar patrons waving their gun in return.
Mandy confronts her brother Mickey and demands he go find Ian so they can update him on the family situation. Mickey goes on the hunt for his ex-boyfriend Ian. When he finds Ian, he sees basically the same thing that Lip and Debbie noticed except this time he's offering lap dances and goes by the stage name "Curtis." A bouncer ushers Mickey out, and Mickey decides to wait outside for Ian. When Ian walks out with an older guy, Mickey beats the guy up and then turns to find Ian passed out on the snowy sidewalk. He throws Ian on his back and hitches a ride home.
Debbie is under the belief that she and Matty (guest star James Allen McCune, Twitter: @JAllenMc) are back together and is heartbroken when she learns otherwise. She goes essentially breaks into Matty's apartment by getting his spare key from the apartment superintendent and surprises Matty with a home cooked meal of spaghetti and meatballs for their one month anniversary. Matty makes it crystal clear to Debbie that they're not boyfriend and girlfriend because of her age. Debbie takes it to heart. When Matty drops her home, Debbie runs up to her room grabs a sharp object and cuts herself
Preview for Episode 8 "Hope Springs Paternal"
(click here to watch directly on YouTube)
* * * *
Follow me on Twitter @Ifelicious for more on "Shameless" and other entertainment happenings. Showtime's Shameless can be found online via the series website, Facebook, Twitter: @SHO_Shameless, YouTube, and using the Twitter hashtag #Shameless.
Related Links