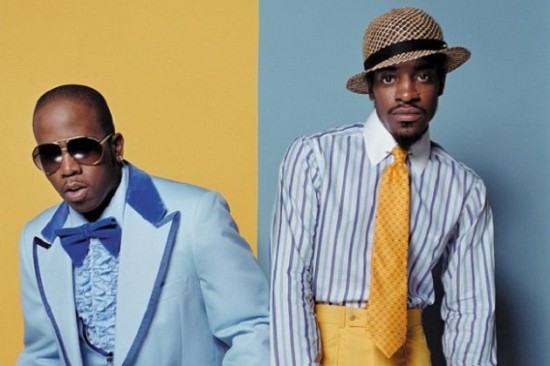 It has been 20 years since high school friends from Atlanta Andre Benjamin aka "Andre 3000" and Antwan Patton aka "Big Boi" who comprise the group Outkast redefined hip hop with their eccentric style. As a group, they've been on hiatus since 2007 and since fielded rumors ranging from a permanent split to releasing a new album. Neither is the case as the artists took time to pursue other projects in music, fashion and film. In January 2014, Outkast announced that they would be going on a 20 year anniversary tour at various music festivals throughout the summer beginning with Coachella on April 11. It has just been announce that Outkast is headlining Milwaukee's Summerfest on June 29 at Marcus Amphitheater with special guest Gary Clark Jr. Tickets for this event go on sale beginning March 3 at noon and may be purchased at the Summerfest box office, through Ticketmaster, and at Walmart stores.
"It's truly an honor to celebrate 20 years and still be free to do music the way we choose," said Big Boi. "Don't just think outside the box, know that there is no box. I'm looking forward to rocking the stage with my Bro Ski and to all the fans – stank you smelly much, this is for y'all!"
"And imagine, all we wanted to do was rap," says Andre 3000. "I am thankful to have been a part of a group that allowed me to explore anything that came to mind and have fun doing it. Returning to the stage together is the most exciting way for us to thank everyone for their 20 years of supporting Outkast."
Read more about Outkast's 20 year anniversary tour on my Examiner Milwaukee Music column — CLICK HERE.
OUTKAST FESTIVAL TOUR DATES
Details are still coming together regarding specific dates and a full listing of music festivals that Outkast will be performing at this summer. I did some research and included the specific dates, where possible, below. Those are in bold print. For the festivals where Outkast's performance has not yet been finalized, I put the dates for the entire festival. All of the festivals have links, so click on the individual links periodically to see if they have finalized the date that Outkast will be performing.
Also, make sure to visit outkast.com for more information. On social media, use the hashtag "#Outkast20" (Twitter #Outkast20) when talking about and searching for news on their 20 year anniversary tour.
| | | |
| --- | --- | --- |
| FESTIVAL DATES | CITY, STATE | FESTIVAL NAME |
| Apr 11 & Apr 18, 2014 | Indio, CA | Coachella Valley Music and Arts Festival |
| Apr 25-27, 2014 | Kingston Downs, GA | CounterPoint Music Festival |
| May 2, 2014 | Tampa, FL | Big Guava Music Festival |
| May 16-18, 2014 | Gulf Shores, AL | The Hangout Beach, Music and Arts Festival |
| Jun 6-8, 2014 | Randall's Island, NYC | The Governors Ball Music Festival |
| Jun 19-22, 2014 | Dover, DE | Firefly Music Festival |
| Jun 29, 2014 | Milwaukee, WI | Summerfest |
VIDEO: Big Boi Reveals Plans for 20-Year Anniversary
(click here to view directly on youtube)
Big Boi talks to radio personality Big Boy at Power 106 FM. In the interview, he hints at a anniversary tour that we now know has come to fruition.
* * * *
Related Links