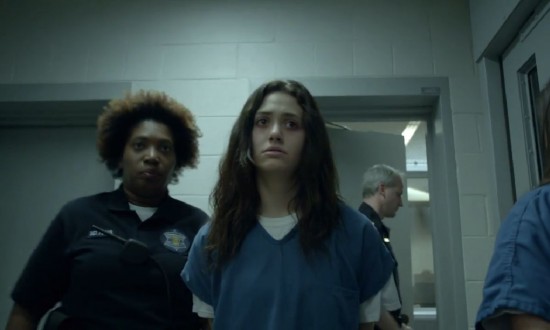 Episode 6 "Iron City" is my favorite episode of this season's "Shameless" so far. Fiona has to cope with her arrest; and Frank learns that he is living his last few days on earth. "Shameless" can't go on without Frank in it; and I don't want to think the show is in its last season, either (update Feb 18 @ 4:26pm CT: "Shameless" was just renewed for a 5th season!!!). On top of that, just when Lip seemed to be getting his college life together, the family falls apart. Until now, I would've thought Lip dropping out of college would be his own choosing to defy "the man," but with the new plot twists, if he leaves it'll be for the sake of saving his family. Just when I thought Matty was totally out of the picture, he becomes relevant again to Debbie in a big way. And then just when I thought Mike was sidelined in the script, he becomes relevant again in a big way to Fiona. What a great week for us "Shameless" fans!
Episode 6: Credits & Info

Series: "Shameless"
Season: 4
Episode: 6
Episode Title: "Iron City"
Written By: John Wells (Developer), Paul Abbott
Edited by: John M. Valerio
Directed By: James Ponsoldt
Network: Showtime
Favorite Quotes

There's a lot of storylines getting worked out in episode 6 "Iron City" that just about everyone has a profound line in the script. Here are just a smattering some of my favorite quotes for this week:
It's almost 5 o'clock. I've got a quantum physics quiz in three hours. Guess what I'm missing, huh? -Lip Gallagher
If there were an anti-AA, I'd have a 40-year drunk chip rattling around in my pocket. -Frank Gallagher
You know you're dying, right?…Soon…Very soon. Order the flowers, decide between an urn or a casket soon. -Dr. Zabel
Underwear, too. -Sgt. Fuchs
Look, I'm saying it's her fault. I'm just saying that it's not ours, either. It's nobody's. Sh*t happens. -Kev Ball
We live in a double wide behind a casino. -one of Roger Running Tree's nephews
Why didn't you want to be my dad? -Sammi
That's not a regular thing. Yesterday was my birthday. -Fiona Gallagher
Don't take any wooden nickels. -Sheila Jackson
Why's the world so f*cked up? -Carl Gallagher
Liam's black? -Sammi
Recap

Read all of my "Shameless" episode recaps — CLICK HERE.
Fiona's in jail; Liam is in the hospital recovering from the cocaine overdose; and Frank, unbeknownst to everyone but Sammi, is also in the hospital after fainting in the sweat lodge. Lip has now become the last Gallagher standing who can act as the responsible adult in this family crisis, and it's just when he seemed to be getting the hang of college life. Unfortunately, it's Frank and Fiona who have custodial rights of Liam, and with Fiona in jail, they need to find a stable looking Frank to prevent Liam from being released into foster care.
Phenomenally resilient Frank Gallagher (William H. Macy) is truly at his deathbed now. Dr. Zabel (guest star Scott Grimes, Twitter: @ScottGrimes) delivers the disheartening news to Frank and Sammi (guest star Emily Bergl, Twitter: @EmilyBergl) in a dialog littered with equal parts sarcasm and sincerity. "Times up, Frank," Dr. Zabel blazoned. He suggests that they consider hospice care facilities that take the indigent. Frank doesn't want to go into hospice but he obliges Sammi and checks out a facility. While there, Frank freaks out and swears off hospice care as the place he wants to go to die.
Fiona Gallagher (Emmy Rossum, Twitter @EmmyRossum) is not above the law, but she seems to have kept herself out of jail until now. We watch her go through the humiliating process of being booked and processed by Sgt. Fuchs (guest star Saidah Arrika Ekulona, Twitter: @SaidahSays). She has completely become undone and is riddled with guilt over Liam's accidental overdose. She gets assigned a public defendant named Maria Vidal (guest star Lisa Vidal, Twitter: @TheLisaVidal). Dressed in jail uniform and handcuffed, Fiona appears at the arraignment in front of her siblings, Kev, and Veronica. She pleads not guilty to possession of a controlled substance and child endangerment; and Judge Vanwyngarden (guest star Bill Kalmenson) sets bail at $100,000. Ms. Vidal explains to Veronica, Kev, and the Gallagher kids that Fiona needs $10,000 (10% of the bond) to be released and the acceptable payment terms. Later, Ms. Vidal meets with Fiona and suggests that she give over the name of who sold Fiona the cocaine as a bargaining chip for a lighter sentence.  All of this happened really because of the affair with Robbie. It was his cocaine during an unwelcome apology visit in episode 5 that even led to Liam's overdose. Fiona, however, never rats Robbie out this whole episode to anyone- not to her public defender or Mike Pratt (guest star Jack McDorman) who surprisingly is the one that bails her out of jail.
In the past couple episodes, Lip Gallagher (Jeremy Allen White) has been juggling college life, finding his Army AWOL brother Ian, and now being the primary adult contact in handling Liam's accidental overdose. He's pissed about Liam's accident and places all of the blame on Fiona no matter what anyone says. When Fiona calls from jail, there's a pregnant pause before Lip accepts the call, and he's quick to end the conversation. When he finds out the amount needed to bail Fiona out of jail, he gets angry at "Fiona, Jr." (my nickname for Debbie Gallagher played by Emma Kenney, Twitter @EmmaRoseKenney) for being worried about coming up with the money. Debbie runs off and Lip launches a search for Frank in order to prevent Liam being released into foster care. Later, he pays his ex-girlfriend and confidante Mandy Milkovich (Emma Greenwell, Twitter: @violettegreen) a visit. After they watch Mandy's dad Terry Milkovich (guest star Dennis Cockrum) being hauled away by the police, Lip fills in Mandy on everything that's transpired since they were in touch in episode 5. He also asks Mandy to find Ian and fill him in on the latest Gallagher developments. Their conversation gets cut short by Mandy's boyfriend at the door (guest star Sheldon "Shel" Bailey). Towards the end of the episode, his college roommate drops off his books and an essay where he got a B+. As he greets Liam on the day he's being released from the hospital, Lip's college fate remains unclear. Right now, he seems to be picking up the family slack that both Fiona and Frank have neglected all season.
Debbie Gallagher retreats to the comfort of ex-boyfriend Matty (guest star James Allen McCune, Twitter: @JAllenMc) after Fiona's arraignment. She goes over to his apartment and falls asleep. The next day, he brings Debbie over to the hospital where all of the Gallaghers', except Fiona, plus Veronica and Kev are gathered to greet Liam who is being released from the hospital. Lip is suspicious of Matty (referred to as "Matt" by Debbie in this episode), but the attention quickly turns to Liam when he's wheeled out.
After a moment of feeling sidelined to his dad's affections by his new-found half-sister Sammi and her son Chuck (guest star Kellen Michael) in the last episode, Carl Gallagher (Ethan Cutkosky, Twitter: @EthanCutkosky) rediscovers his purpose in the family dynamic during this episode. He finds a middle ground with Sammi as they are the only two left with any compassion for Frank. Carl is also the person instrumental in getting Fiona bailed out of jail by contacting Mike.
Liam's accidental overdose takes on a new meaning to soon to be parents Veronica Fisher (Shanola Hampton, Twitter: @ShanolaHampton) and Kev Ball (Steve Howey, Twitter: @ReelSteveHowey). Of the two, it's Kev who continues to remain calm and collected for Veronica's as well as the Gallaghers' sake. Stepping up as family friends, Veronica even looks into her and Kev's assets to see if they can come up with bail money to no avail. Kev counsels Lip to forgive Fiona, and they are at the Gallaghers' side through the entire episode.
Sheila Jackson (special guest star Joan Cusack) and Roger Runningtree (guest star Eloy Casados) consummate their relationship, and she starts weaving herself into another bizarre familial construct.
The last scenes happen in parallel juxtaposition. An elated Fiona getsdropped off by Mike to an empty home while everyone else is at the hospital celebrating Liam's release.
Preview for Episode 7 "A Jailbird, Invalid, Martyr, Cutter, Retard, and Parasitic Twin"
(click here to watch directly on YouTube)
* * * *
Follow me on Twitter @Ifelicious for more on "Shameless" and other entertainment happenings. Showtime's Shameless can be found online via the series website, Facebook, Twitter: @SHO_Shameless, YouTube, and using the Twitter hashtag #Shameless.
Related Links