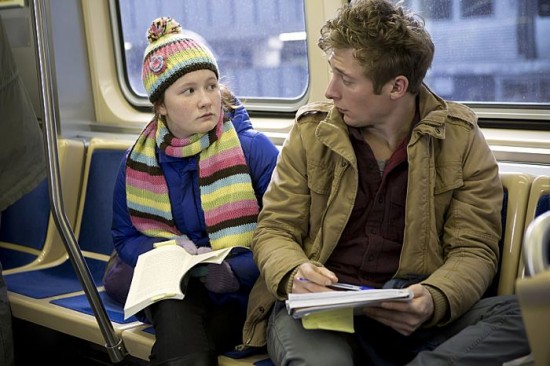 This week is definitely the climax for this season of "Shameless." Fiona's world comes crumbling down as she hits her 30th birthday milestone, Ian joins the storyline with an unforeseen twist, and Frank's plan to fund a liver transplant shows promise but delays. Read all about it in my episode recap below. Also, enjoy some of my favorite quotes from episode 5.
Episode 5: Credits & Info

Series: "Shameless"
Season: 4
Episode: 5
Episode Title: "There's the Rub"
Written By: John Wells (Developer), Paul Abbott, Davey Holmes
Edited by: Finnian Murray
Directed By: David Nutter
Network: Showtime
Favorite Quotes

My favorite quotes this week came from Fiona's storyline and also Kev's storyline. Fiona had to face the repercussions of her actions, and Kev had to find a way in his mind to justify entering into an indecent proposal. As always, the writing in episode 5 was great and left some of my favorite quotes from other cast members as well.
I'm not punishing you or blaming you. I just really need this to end. -Fiona Gallagher
You're Indian? The feather not the dot. -Frank Gallagher
I'm having four kids. If that means I've gotta turn around some Russian whores to feed my family and pursue the American dream, that's how it's gotta be. -Kev Ball
And, after a break up, a woman's not in the mood for bad news. -Debbie Gallagher
Mike is a tater tot. -Veronica Fisher
We've got everything we need: lube, Clorox, all in bulk. -Mickey Malkovich
I owe you an explanation because what I did was crazy, and I keep asking myself why I did it, and the only answer I can come up with is that I think I was trying to prove something, not to you, but to myself. To prove that I didn't I didn't deserve you or this job, your parents, your friends; all these nice, normal, functional people. I really didn't think I deserved any of it, and in the end I was right. -Fiona Gallagher
I'm sorry, by the way…I'm not more interesting…I'm really not. I hold down a job. I look after my family. I care about telling the truth. I'm sorry those aren't selling points. -Mike Pratt
You and Chuck gather saplings. You can initiate him in the Gallagher way. -Frank Gallagher
That's hilarious…I mean I didn't steal anything; I just started the motors. -Ian Gallagher
Sammi is amazing! She rallied the bar by telling them the lodge would cure impotence, and then she led the charge to steal the blankets from the bums on skid row. Is she a chip off the old block or what? -Frank Gallagher
The idea of men upstairs gizzing all over Dad's apartment works for me. -Alan Kopchek
Here's to good ole fashioned American capitalism. You can keep a man down, but you can't keep him from getting it up. -Kev Ball
Recap

Read all of my "Shameless" episode recaps — CLICK HERE.
Fiona Gallagher's (Emmy Rossum, Twitter @EmmyRossum) world avalanches out of control just as she's celebrating her 30th birthday. She finally kicks the Robbie Pratt habit for good (guest star Nick Gehlfuss) but the affair between them becomes public knowledge at the Pratt's family dinner. The dinner that was meant to celebrate Fiona's birthday takes a turn when Mike Pratt (guest star Jack McDorman) gets into an argument and then fisticuffs with his brother Robbie. Mike knows everything about Fiona and his brother and asks her to leave. The next day at work, Fiona is faced with several awkward moments between the surprise birthday party from the office to having to face her boss/now ex-boyfriend Mike for the first time since her affair with Robbie was breaking news at the Pratt family dinner. Luckily, Mike saves Fiona's job but transfers her to another department leaving Fiona grateful and reeling with even more regret that she couldn't make things work with a nice guy. She then turns her attention back to the household she's long been neglecting. Robbie pops up at Fiona's house and leaves behind some cocaine, that he brought as an apology, before she's able to get him out of the house. Later, when they're all partying and snorting coke for Fiona's birthday, Liam (played by twins Brenden and Brandon Sims), the youngest Gallagher, gets into their stash and overdoses. They rush to the hospital and Fiona who openly admits it was her coke gets arrested.
Lip Gallagher (Jeremy Allen White) learns that his brother Ian Gallagher (Cameron Monaghan, Twitter: @CameronMonaghan) stole his ID, enlisted in the Army, did a bunch of illegal things while there, and then went AWOL leading Lip on a frenzied search to find him. He and his sister Debbie Gallagher (Emma Kenney, Twitter @EmmaRoseKenney) have a nice brother-sister bonding moment in the process. Mandy Malkovich suggests to Debbie that they look for Ian's old boyfriend, aka Jimmy Steve's dad, and it proves to be the key lead they need to find Ian. Lip and Debbie eventually find Ian bartending at a gay bar called The White Swallow in the Boystown neighborhood of Chicago. Besides noticing he's high, there is not much else known about Ian by the end of this episode.
Frank Gallagher (William H. Macy) continues his hunt for a new liver and becomes closer with his newly reconnected daughter Sammi (guest star Emily Bergl, Twitter: @EmilyBergl) to the dismay of his son Carl Gallagher (Ethan Cutkosky, Twitter: @EthanCutkosky). The crooked family lawyer/insurance lady, Lou Deckner (guest star Alex Borstein, Twitter: @AlexBorstein), says the broken leg will give the big pay off that Frank needs for surgery, but the claim will take at least a year to process. That's too long for Frank who is now back to searching for more options. After a conversation with Sheila Jackson's (special guest star Joan Cusack) Menominee Indian boyfriend Roger Runningtree (guest star Eloy Casados), Frank decides to try the Native American healing powers of a sweat lodge. Sheila offers her backyard to hold it. Meanwhile, Sammi is making up for lost time with Frank who is a sucker for attention however he can get it. What Frank doesn't realize is that he's alienating his number one fan, Carl, in the process. Knowing Carl, there will repercussions in upcoming episodes. At the end of the episode, Frank goes unconscious in the sweat lodge.
Kev Ball (Steve Howey, Twitter: @ReelSteveHowey) is struggling to get business into the Alibi Room with all the construction outside and takes Mickey Malkovich up on his offer to create a whore house upstairs. With Veronica Fisher's (Shanola Hampton, Twitter: @ShanolaHampton) blessing, Stan's old apartment above the Alibi Room gets converted into a "rub and tug" whore house. Not too long after, Kev receives a visit from Stan's son Alan Kopchek (guest star Jonathan Schmock, Twitter: @JonathanSchmock) with a gang, aka "intramural tennis team," to collect what he's owed as "reparations" for not being granted the Alibi Room in Stan's will. Kev is able to stall a full on beat down by offering his rub and tug services to Alan's entourage.
Sheila learns that Roger Running Tree has a bunch of kids (well, they belong to his sister) and isn't Christian and continues dating him anyway.

Debbie and Matty broke up because she was a virgin. I presume that's the end to that story arc.
Preview for Episode 6 "Iron City"
(click here to watch directly on YouTube)
* * * *
Follow me on Twitter @Ifelicious for more on "Shameless" and other entertainment happenings. Showtime's Shameless can be found online via the series website, Facebook, Twitter: @SHO_Shameless, YouTube, and using the Twitter hashtag #Shameless.
Related Links