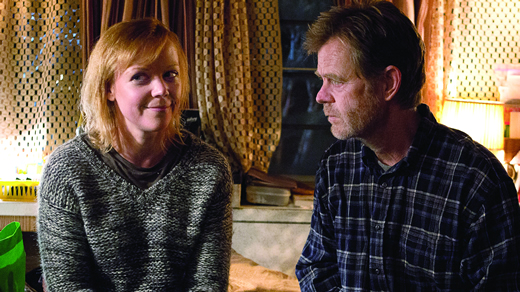 Episode 3: Credits & Info

Series: "Shameless"
Season: 4
Episode: 3
Episode Title: "Like Father, Like Daughter"
Written By: Sheila Callaghan
Edited by: Finnian Murray
Directed By: Sanaa Hamri
Network: Showtime
Like the episode title implies, we see more than one of Frank's daughters as more similar to Frank than they readily realize. I knew that things were bound to blow up with Fiona, but I had no idea it would in this way. Also, I was wondering where they'd go with Matty since he's way too old to be dating Debbie, and this week, it all starts to make sense.
Favorite Quotes from "Shameless" Season 4, Episode 3

My favorite quotes from the "Like Father, Like Daughter" episode based on the timing/context that it was shared and/or the actually writing. Debbie, Frank, and Robbie really had some good ones this week. I got a kick out of the first quote below because I live in Wisconsin which is home to the Menominee Indians, so I don't think you'd get that reference unless you were local to the area.
I found this new genealogy app. It turns out that I'm 1/32nd Menominee Indian. -Sheila Jackson
Ask him if he's DTF. -Debbie Gallagher
Looks like you in skank form. -Carl Gallagher
You deal with your family sh*t your way; and I will deal with mine my way which is not dealing with it at all. -Fiona Gallagher
Many. At least 50. I stack them like coasters in a drawer. -Frank Gallagher
Grab my hips. Pound my ass…With your f**king hip bone. Jesus! -Mickey Malkovich
One rusty link at a time. -Lip Gallagher
He was my protector for years. I don't mind being his for a while. -Mike Pratt
I don't know why, Frank, but I feel like I've known you my entire life. -Sammi
Roger Running Tree's coming here in any second, and I think he's sensitive to animal urine and toddler. -Sheila Jackson
Your breath smells like dog poo. -Chucky
I'm the worst kind of addict. I'm addicted to the rush of life. -Robbie Pratt
Does this make you cray? -Debbie Gallagher
Are you the sticking around type or the screwing around type? -Robbie Pratt
RECAP: "Shameless" Season 4, Episode 3 —

"Like Father, Like Daughter"
Read all of my "Shameless" episode recaps — CLICK HERE.
Operation Find Liver at Any Cost So I Can Live Long Enough to Abuse More Drugs and Alcohol leads master manipulator Frank Gallagher (William H. Macy) to seek out his long lost daughter Samantha, aka "Sammi" (guest star Emily Bergl, Twitter: @EmilyBergl), who is essentially a female version of him. With his son Carl (Ethan Cutkosky, Twitter: @EthanCutkosky) in tow, Frank scopes out Sammi's trailer. She has a son named Chucky (guest star Kellen Michael), but it quickly becomes clear that neither Sammi nor her son know Frank. After taking some of the money Carl was given by Sheila Jackson to buy groceries, Frank and Carl part ways. Frank then follows Sammi and her son to the school playground. He stages a run-in by bribing a kid at the basketball court with a joint to bully Chucky and Frank swoops in to look like he's coming over to help. Sammi falls for it, and the next thing you know they are spending the rest of the day together. Frank chooses not to tell Sammi that he's her biological father. Sammi misconstrues Frank's kindness as a romantic interest. Smitten by Frank's unwavering kindness in the span of the afternoon, when she learns they are both blood type O Positive Sammi offers to donate part of her liver to Frank as a thank you. Mission accomplished for Frank but not without an awkward, "incesty" moment when Sammi comes on to Frank with a kiss and clearly hoping for sex.
Carl Gallagher tries to score drugs for his dad by stealing dogs and holding them for ransom. His plan doesn't work, and now the already overcrowded Gallagher house has a bunch of dogs running around.
Fiona Gallagher (Emmy Rossum, Twitter @EmmyRossum) is forced to realize the apple doesn't fall far from addict fatherly tree. Things seem to be going well between Fiona and Mike Pratt (guest star Jack McDorman), at first. Mike keeps Fiona honest, and when she names her drug and alcohol addicted father Frank as the primary reason why they can't hang at her house, Mike tries to empathize with her. He sends her a link to find an Al-Anon meeting which is foreign concept to Fiona. At dinner with Mike's family, his older brother Robbie Pratt (guest star Nick Gehlfuss) shows up unexpectedly. Robbie is the addict in the family that Mike had been referring to earlier. Mike and Robbie argue, and Robbie leaves. Mike tries to make it up to Robbie by having him out to dinner along with Fiona. Robbie picks up on Fiona being a bird of a similar boundary blurring feather when Fiona tells the story of how she and Mike first met. Interest piqued, he proceeds to get Mike drunk, and plants his final temptation seeds to an unsuspecting Fiona on the car ride home. When they all get back to Mike's place, Robbie and Fiona help Mike to the toilet where he pukes and passes out. While passed out, Robbie makes an advance on Fiona who barely resists. They end up having sex on Mike's kitchen counter with Mike passed out in the bathroom. The sex stops abruptly when Mike opens the bathroom door to go to the bedroom not even noticing what has been transpiring in the kitchen. The next morning, Mike apologizes to Fiona for the hickey, of course, not knowing it was really from brother Robbie. The deception dance begins. When Fiona calls to check in on Mike, Robbie answers the phone. His last word to her on the phone was "addict." Fiona walks down the hall to see her father passed out on the floor, and has an implied epiphany "Like father, like daughter."
Lip Gallagher (Jeremy Allen White) is trying harder at college, but he's still ill prepared and at risk of losing his work study job at the cafeteria for showing up late too often. He's the only one in class without a laptop to take notes and is having trouble managing his time. After putting his best foot forward, he gets a better grade on a paper. He seems even more homesick than in the previous episode.
Debbie Gallagher (Emma Kenney, Twitter @EmmaRoseKenney) has a 13-year-old crush on 20-year-old Matty (guest star James Allen McCune, Twitter: @JAllenMc), but it becomes clear why Matty hasn't tried to statutory rape her (harsh, i know, but that's what it would be). Her friends Holly Herkimer (guest star Danika Yarosh, Twitter: @danikayarosh) and Ellie (guest star Teresa Ornelas, Twitter: @Teresa_Ornelas) continue force the idea about Debbie having sex. Holly lends her some lingerie and the girls offer her some pointers. When Debbie comes out of the bathroom, at Matty's house, dressed in lingerie he's not turned on. In fact, he seems to be turned off especially when he covers her up with his jacket and runs down a laundry list of excuses why he's not interested in sex. So, basically, Matty's gay, and Debbie doesn't realize it yet.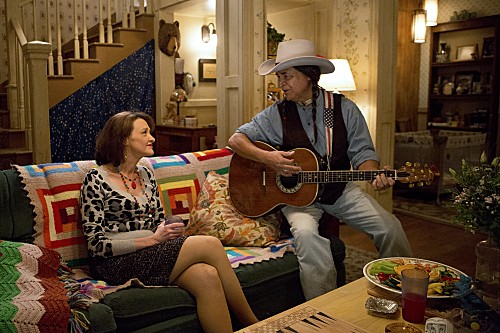 Sheila Jackson (special guest star Joan Cusack) and Mickey Malkovich (guest star Noel Fisher, Twitter: @Noel_Fisher) are horny. Sheila feeds her urge by trying her hand at online dating via Christian Mingle. We learn she is 1/32 Menominee Indian and meets a Native American cowboy named Roger Running Tree (guest star Eloy Casados) who I'm not sure is the Kickapoo Indian person she refers to earlier in the episode. With Fiona's ok, Sheila invites Roger Running Tree over to the Gallaghers' house for a date, while babysitting the youngest Gallaghers' overnight, that she hopes will be less of a date and more of a booty call.
Mickey  is hanging out at the Alibi Room and describes the type of "girl" he "hates" – redheads with freckles – matching the description of Ian Gallagher (Cameron Monaghan, Twitter: @CameronMonaghan) unbeknownst to anyone else at the bar. Kev Ball (Steve Howey, Twitter: @ReelSteveHowey) points out a girl who fits the description and Mickey takes her to the bathroom to have sex. Of course, it's doggy style, but that's not enough to satisfy Mickey's desire to have sex with a male partner…or, more specifically, Ian. He asks the redhead to please him by banging her hip bone against his ass.
Kev Ball and Veronica Fisher (Shanola Hampton, Twitter: @ShanolaHampton) are running a tight financial ship now to make sure there's cash coming in to pay for their babies. Veronica starts selling prescription med stash at the Alibi Room.
Other Stuff
Now that Fiona is dating Mike and working full time, it's clear that she's becoming more and more disconnected from the day-to-day family happenings. I'm guessing that's going to come at a price.
Hurry up and bring Ian back into the storyline!
* * * *
Follow me on Twitter @Ifelicious for more on "Shameless" and other entertainment happenings. Showtime's Shameless can be found online via the series website, Facebook, Twitter: @SHO_Shameless, YouTube, and using the Twitter hashtag #Shameless.
Related Links