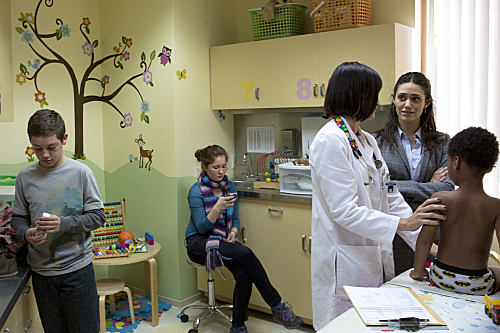 Episode 2: Credits & Info

Series: "Shameless"
Season: 4
Episode: 2
Episode Title: "My Oldest Daughter"
Written By: Nancy Pimental
Edited by: Tom Tommasino
Directed By: Mimi Leder
Network: Showtime
Showtime's "Shameless" Season 4, Episode 2 "My Oldest Daughter" is all about triplets, family secrets, sex, and the regular debauchery that we know and love from watching the series. Check out the episode 2 trailer, my favorite quotes from the show, episode recap, and more. What were some of your favorite moments from this week's episode?
Favorite Quotes from "Shameless" Season 4, Episode 2
One of the main reasons I love "Shameless" is for the writing. The below quotes from "My Oldest Daugher" were my favorite for the wording, what they mean in the context of the show, for it's political/moral/ethical value, or some combination thereof.
"Be honest with us doctor, is it because he's black?" -Carl Gallagher
"I, Stanley Winston Kocheck, being of sound mind and body leave to my sniveling, faggoty, fag of a fagorama daughter by the name of Alan Willard Kocheck my gun collection in the hopes that she'll kill herself before she chugs another AIDS cock." -Executor reading from Stan's will
"Stan, you son of a b**ch, you taught me that a man isn't a man unless he's loved a woman, eaten the heart out of a live goat or ripped a German soldier's face off. One out of three ain't bad." -Kev Ball
"We're a regular modern family, baby." -Veronica Fisher
"Like a teenage lacrosse player on the rag retaining water." -Frank Gallagher
"Right now is the perfect time. If you don't bleed, you can't breed." -Ellie
"I'm a ghetto nurse. Better for folks around here to come to me than to wait 18 hours in the emergency room." -Veronica Fisher
"I already know they are [a blood match]. My father only screwed a Mexican whore while he was with my my mom, and they can't get pregnant." -Carl Gallagher
"You see, I was supposed to hook up with this other chick tonight, but then I got dissed. So I was thinking maybe me and you smoke a fatty and maybe bang one out?" -Lip Gallagher
"I bet chickens don't like chicken." -Matty
"You better get a ski mask and a getaway car because that's the only way we're going to be able to afford four babies." -Veronica Fisher
"I'm taking care of me for a change. Not him." -Fiona Gallagher
"If Fiona won't do it, I'll get my other daughter to…My oldest daughter. Samantha." -Frank Gallagher
RECAP: "Shameless" Season 4, Episode 2 —

"My Oldest Daughter"
Fiona and Lip Gallagher are still adjusting to their new lives. Fiona is experiencing the perks of health insurance for the first time, dating her boss Mike Pratt who seems to genuinely care for her, and he's grooming her to be a field sales rep. At a doctor's appointment with the youngest Gallaghers, the doctor (guest star Alison Haislip) tells Fiona that one of Liam's testicles hasn't yet descended and Fiona can get birth control with a $5 copay. In other news, old habits are hard to break for Fiona. She is used to lying to get by, even when it's not necessary. That presents a problem for Mike who really presses her about not calling and then calls her out for lying about damage to the company car. This leads to the first fight between fiercely independent Fiona and Mike. At work, Mike begins grooming Fiona to be a field sales rep for Worldwide Cup, and she shows early promise when visiting her first clients.
Lip also has old habits that are hard to break. He's never had to try hard to do well in school, but the first two episodes show him getting failing grades. Rather than make time to study harder, he goes to the tutor hoping to hustle extra credit. While in the hallway, he flirts with a blond and boasts about his plan, only to find out that she is the tutor. He accepts an invite from his roommate to go to a party at a sorority house. It turns out to be the same sorority that the tutor belongs to. Lip tries to woo her, but she's more interested in a grad student named Charlie. We start to see signs that Lip is a little homesick (or at least missing his familiar) when he takes a call from Carl and then runs into a gal, Gus's older sister, from his hometown at the party. In true Lip fashion, he tries to bag her. She, however, is not amused especially when he his come-on line is riddled with honesty and lacking tact (see favorite quotes section above). With Plan A and B conquests out of the picture, he settles for Plan C- a girl eying him lustfully from the staircase. She is offering what Lip wants but maybe not in the packaging he'd like. In any case, penis mission accomplished.
Frank Gallagher's health continues to deteriorate to the point of liver failure; and having burned every other bridge in his life, he continues manipulating his son Carl's love to help him survive. Frank seems to be showing more signs of cirrhosis of the liver and no longer can ingest alcohol without coughing up blood, but that doesn't deter him as we saw in the first episode. The addiction continues when he resorts to using an eye dropper to offer a dose of alcohol through his eyes. In the process, he physical symptoms of his body breaking down and convinces Carl to find him a new liver and drugs. Psychopath or not, Carl is still a 10-ish year old child (not sure how old he is) and takes this liver finding project seriously being quite resourceful in the process for a kid his age. Before leaving the hospital when Veronica started spotting (more details below), Carl stops by the organ transplant center and befriends a receptionist who tells him the bleak odds of anyone getting a liver transplant. She does offer some hope by telling Carl that a family member, over age 18, can donate part of their liver if they're an exact match with Frank's blood type. She hands Carl some at-home blood type testing kits. Carl finds out that his dad Frank has Type O Positive blood. Carl even goes to the gruesome extent of rummaging through the bathroom garbage for one of Fiona's used tampons. When tested, it reveals Fiona's blood type matches Frank's. At the end of the episode, Frank, Fiona, and Carl are in the living room. Carl tells Fiona she's blood type match to Frank, but Fiona still doesn't care. Frank responds with an atom bomb by saying he'll try asking a previously unknown child, a daughter named Samantha, who is older than Fiona- the "oldest daughter."
Unconventional intersects yet again with improbability when an ultrasound after a pregnancy scare confirms Veronica Fisher and Kev are having triplets. When Dr. Johnson's (guest star Corey Sorenson) blood work and ultrasound confirm triplets, Veronica and Kev's reactions are polar opposites. It all began when Carl headed over to Veronica and Kev's house hoping to score some drugs for Frank from Veronica's impressive medicine cabinet. In a moment when Veronica is bent over, Carl points out that Veronica has blood on her pants. Veronica rushes to the emergency room with Carl unwillingly in tow, and Kev meets them there. Fearing that she's lost her child, Dr. Johnson comes in and congratulates the couple on conceiving triplets. Veronica's initial reaction is compounded fear. Between the child her mother Carol Fisher is having on their behalf and this unexpected pregnancy that has become a pregnancy of multiples, there are now four babies on the way.  Her solution is to ask her mother Carol Fisher abort her fetus. Carol refuses and Kev is disgusted that Veronica would even ask. Kev, on the other hand, is through the moon when he learns he has triplets on the way and runs down the hospital hallway proclaiming the fertile prowess of his "magic penis." Carl sits idly and unwillingly by but eventually asks to be excused. Being at the hospital sparks an idea that leads Carl to the organ transplant center described in the section above.
The reading of Stan's will unearths some truths and surprises. The executor of Stan Kocheck's will, an urn with Stan's ashes, Kev, Carol Fisher, and Stan's long lost son Alan Kocheck all meet at the Alibi Room for a combination makeshift memorial service and reading of the will. Until now, Kev and Carol believed that Stan had a daughter, but they learned that "daughter" was Stan's homophobic and ill intended reference to his gay son Alan. Stan left his gun collection to his son Alan but leaves the bar "to the man the he wished had been born my son" Kev. Both Kev and Veronica are shocked and somewhat embarrassed for Stan's decision to leave Kev the Alibi Room. Alan's rage takes many different turns in the form of threats but eventually settles in on a $500 per month demand for two years from Kev to pay for what he deems is his financial share of the Alibi Room. Before Alan storms out, he grabs his father's urn and smashes it on the floor. Kev and Carol are elated about owning the bar assuming it means a stable income just in time for their new additions, but bar employee Kate bursts that bubble when she shows Kev the Alibi Room's bookkeeping records that prove it to be nothing more than a money pit.
Debbie Gallagher is 13, not yet had her first period, and stuck in that adolescent phase of not yet a girl but not yet a woman. Debbie's friends Holly Herkimer (guest star Danika Yarosh, Twitter: @danikayarosh) and pregnant pal Ellie (guest star Teresa Ornelas, Twitter: @Teresa_Ornelas) are hanging out in Debbie's room watching porn on their laptops and talking. Debbie continues to be torn between the pressures of keeping up with her new circle of friends who fully expect her to have sex with Matty (guest star James Allen McCune, @JAllenMc) although she doesn't feel ready. Holly and Ellie school Debbie on what to expect on her upcoming date at Matty's house complete with the rules of materialistic manipulation before blow jobs and a condom for when they have sex. Anxious, Debbie gets to Matty's house. He tells Debbie that he lives on his own, and Debbie's quick glance at his driver's license reveals that he is 20. That sends Debbie into a panic who confesses that she's only 13. Matty is shocked but plays it cool. The episode leaves off with them sitting down in front of the TV to eat the dinner he prepared.
Noticeably Absent from "Shameless" Season 4, Episode 2
Ian Gallagher has yet to enter the storyline.
No more "Jimmy Steve" according to a blog post I read on Yahoo! TV — CLICK HERE.
* * * *
Follow me on Twitter @Ifelicious for more on "Shameless" and other entertainment happenings. Showtime's Shameless can be found online via the series website, Facebook, Twitter: @SHO_Shameless, YouTube, and using the Twitter hashtag #Shameless.
Related Links