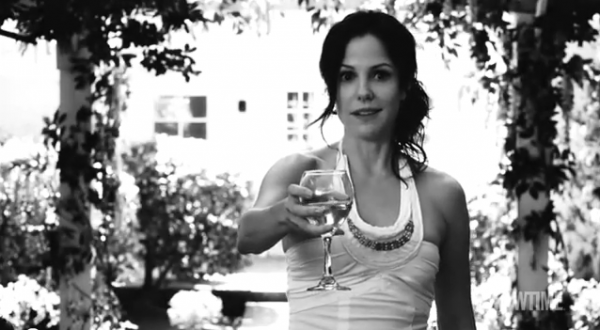 In my heart of hearts, I always wanted the "Weeds" cast to return to Agrestic and the show's theme song to return to the Malvina Reynolds version of "Little Boxes" that I grew to love so much that I made it a ringtone.  Instead, the eighth and final season gives us the answer to who got shot at the end of last season, the Botwins new, not Agrestic suburb town they're calling home, and likely a whole new series of creative intros in lieu of "Little Boxes."  Tune in this Sunday, July 1, 2012 at 10:00 PM ET/PT on Showetime for the kickoff and beginning of good bye to "Weeds."
VIDEO: "Little Boxes" original intro to Showtime's "Weeds"
(click here to watch directly on Myspace…ya, Myspace, LOL!)
Well, those days came and went with the end of season 3.  Since then, Nancy Botwin (Mary Louise Parker) has been evolving from a drug dealing soccer mom with some over-stereotypical black drug dealing "mammy" Heylia James (Tonye Patano) and her nephew Conrad Shepard (Romany Malco) to fugitive who weasels her way out of every impossible circumstance.  I loved the show in the early seasons, but it has gotten way too far fetched for me to hang onto every episode like I used to.
The wise folks at Showtime have decided that the upcoming season of "Weeds" (Season 8) will be its last.
VIDEO: Behind the Scenes: "Weeds" Season 8
(click here to view directly on YouTube)
This is a good one to watch to catch up on what went down at the end of last season and a look at what to expect overall in the final season.
VIDEO: "Weeds" season 8 Premiere Teaser
(click here to watch directly on Showtime's website)
"The wait from last season's cliffhanger is over – we'll finally learn who got smoked. While the victim is rushed to the hospital, the Botwins grapple with the tragedy and hypothesize on the shooter's identity." (source: press release)
VIDEO: Sneak Peek at "Weeds" Season 8 premiere — Elderly Neighbors
(click here to view directly on YouTube)
VIDEO: Sneak Peek at "Weeds" Season 8 Premiere — Tapioca
(click here to view directly on YouTube)
From the press release:
The show that introduced America to a pot-dealing soccer mom and changed the face of the network is sparking up its final toke: after eight unforgettable, jaw-dropping seasons, WEEDS is coming to an end with 13 episodes beginning Sunday, July 1st at 10 p.m. ET/PT. For the final season, it's back to the 'burbs for the Botwins. The fallout from the shot heard round the Tri-State area will transform everyone for the better, at least initially. The tragedy has caused Nancy to turn over a new (pot) leaf and return to her pre-dealing soccer mom ways. Meanwhile, Andy finds some semblance of love with someone uncomfortably close to Nancy, and Doug uses his hedge-fund money in a surprisingly good way. But just as it was in Agrestic, nothing is as serene as it seems in Old Sandwich, Connecticut. Just how long before the Botwins return to their old ways and blow up this new neighborhood, literally and/or figuratively, will remain to be seen.
What would you like to see in the final season of "Weeds"?
Read all of my blog posts about "Weeds" — CLICK HERE.
Related Links