Go Liris!  My DVR is already set.  ~Ifelicious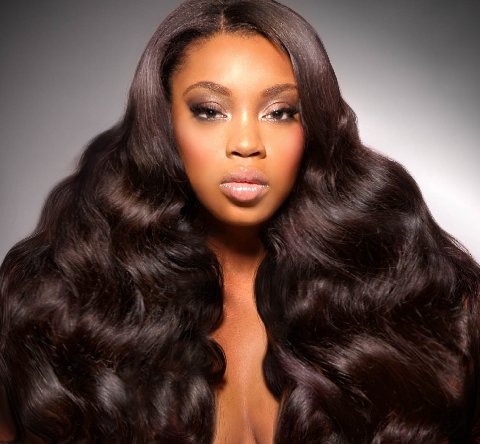 (press release)
Actress and model Liris Crosse, will appear on the second season of the Sundance Channel's fashion rehab show "All on the Line" television series. Elle Magazine's creative director and show host Joe Zee's "tough talk" (discerning advice for the struggling designers) is great to watch. Reminiscent of Simon Cowell on "American Idol," the tough love is meant to save the designer from epic failure and public embarrassment. After all, it's "all on the line" for these designers as they rework everything to show a buyer who can make – or break – their dreams.
The December 2nd hour-long episode will explore Qristyl Frazier Designs and Liris will be the designers muse. The show will unravel the intricate stitching of her business, dissect her staff and break down her design, to discover the glitch that has brought her to the brink of losing it all. Joe Zee will recommend how this struggling designer can alter her business so that it fits the Lane Bryant brand just right. As a result of this challenging exploration, he hopes to successfully re-inspire and relaunch her line.
Episode Promo
"For this episode, I challenged Qristyl to elevate her clothing's sophistication level for Lane Bryant, as the store offerings are moving toward a more runway-driven, fashionable and chic look," said Joe Zee. "It is quite heartening to know that a retail giant like Lane Bryant has taken an interest in collaborating with someone like Qristyl, who has struggled over the past 18 years and made a ton of sacrifices to fulfill her dream as a fashion designer."
Ms. Frazier, who grew up in St. Louis, was a season six "Project Runway" contestant and lives in the New York City neighborhood of Harlem, demonstrated early signs of success over the course of her career with Hollywood luminaries Queen Latifah, Wendy Williams and Janet Jackson wearing clothes from her "plus-sexy" line. Qristyl Frazier Designs has been featured in "Essence" and "Jet" magazines, the buzz and design are on-point, but her staff is not. Scrambling to complete last-minute fittings for meetings with major buyers may be the reason they can't land the big sale that will keep them afloat. Joe Zee thinks a buyer's meeting with Lane Bryant will be the perfect fit, but it will be up to the staff to make sure they're prepared.
Lane Bryant will be featured in the Friday, December 2nd episode of the critically acclaimed Sundance Channel series, "All On The Line With Joe Zee." In this episode, Lane Bryant Group President Brian Woolf and Senior Vice President of Product Design and Development Debbie Martin will determine whether or not to offer full figured fashion designer Qristyl Frazier a once-in-a-lifetime opportunity to create and sell an exclusive clothing line for the nation's leading women's curvy apparel retailer.
Shoppers are invited to a preview of the December 2nd episode on Thursday, December 1st at Lane Bryant's Fulton Street store in Downtown Brooklyn from 6 to 9 p.m. Guests can mingle with Lane Bryant executives Brian Woolf and Debbie Martin, "All On The Line" host Joe Zee, designer Qristyl Frazier and Liris Crosse. The viewing party will serve up signature "Lanetini" cocktails and showcase the new fashions from Qristyl Frazier Designs. Lane Bryant is offering one lucky winner a $500 gift card to purchase the QFD Collection.
All On The Line With Joe Zee Party Feat Designer Qristyl Frazier and Actress/Model Liris Crosse
Thursday, December 1st
6 to 9 p.m.
Lane Bryant
380 Fulton St. (corner of Smith St.)
Brooklyn, NY 11201
718-855-8300
By subway: Jay St – Metrotech (A, C, F, N, R), Borough Hall (4, 5), Hoyt St (2, 3)
For more information, please go to www.LirisCrosse.com.
About Liris Crosse
Few people start at the top, and Baltimore native Liris Crosse is no exception. Liris received rejection after rejection due to her voluptuous shape. And even though she chose an east coast giant, Wilhelmina Models, as her mother agency, casting reps were still requesting that she first lose weight and then come back in six months. The industry did not know how to market her powerful curves. Instead of giving into their demands or giving up on what she believed was her calling, Liris took matters into her own hands and created the vision for them. She became her own agent and utilized the urban market to achieve her dreams. Liris began to spread like wildfire. Essence, Honey, XXL, The Source and Black Elegance magazines were the first to believe in her vision. Men, women and young girls of all walks of life started to buzz about the impact Liris had in the mainstream magazines since she was the only model who represented the looks of real women. With these successes, Glamour, Seventeen, YM and Girl soon caught on to her refreshing image and began requesting Liris for editorial and commercial layouts. With all the sudden attention, Liris knew to ride the wave, generating enough energy to land the much sought after Lane Bryant, Ashley Stewart, Pelle Pelle, Karl Kani and Davoucci campaigns. This cemented her as a pioneer in the modeling world representing for the women with curves. The experience and exposure gained from music videos and commercials primed Liris for the silver screen. Liris has been featured in: "The Best Man," "Baby Boy," "Brooklyn's Finest," "Law & Order SVU" and more.