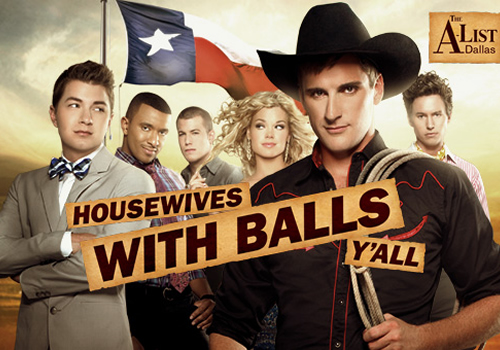 If you've watched the first two episodes of "The A-List: Dallas" on Logo, James Doyle (Facebook, Twitter) doesn't need much of an introduction. He seems like bit of an Austin Armacost from "The A-List: New York" with his drinking tendencies, a debatable former fling with a cast member, and that I do what I want and don't worry about consequences attitude.  At the same time, they really aren't any more similar than that.
Unlike the others, I was able to speak to James the longest, and in our few extra minutes, I saw a completely different side of him.  It helped me understand who he was as a whole person a lot more than before.  Then again, he could be totally bullshitting me, but who's to say?  Most of our interview is in this post, but there's a portion of it that I'm saving for something separate- to be revealed at another time.  😉  Oh, and also, you'll be surprised to learn who on the cast has been arrested.  To find out, read below.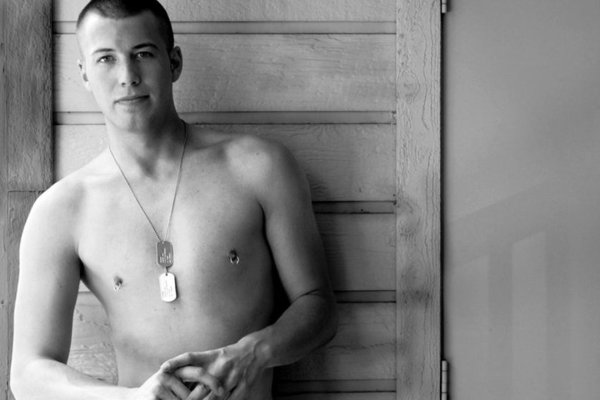 Without further ado…
Ifelicious:  You have quite a presence on the show.
James:  I'd like to think so.  I wanted to go all out.  If I was going to do this show, I better be remembered.
Ifelicious:  You are remembered.  What did you think of the first two episodes as far as how you're depicted?
James:  The first one was rough when I watched it.  I was like, 'Oh, God.'  Everyone has those drunken moments, and they just happened to catch me on camera…which made really good TV…but I think I got labeled more of a drunk than I really am.  I liked the second episode because I had a blast.  My friends and I were having such a good time.  They tried to make it look like I started stuff, but I was like, 'I don't really care what really happens.' I behaved myself all night long. Even the producers were like, 'We're so proud of you'… I felt like I redeemed myself a little bit, if that makes sense.
Ifelicious:  Ya, besides jumping behind the bar and starting what got Phillip pissed off.
James:  Oh, what you don't know is that I asked permission beforehand and the bartender said, 'Ok.'  Like you don't see those things.
Ifelicious:  Ok, so set the records straight.  Did you and Levi ever date?
James:  We never dated.  We messed around.
Ifelicious:  Ok.
James:  I don't know how he's going to answer that.
Ifelicious:  On more than one occasion?
James:  I think it was like two or three times.  Basically, we were both in college together, and his house was right next to campus so it was easy to sneak over there.  It was back when Levi had longer hair and a Jeep…I didn't know he was on the show.  I don't really care for Levi too much, and whenever I saw him in the casting I was like, 'Levi, he looks so familiar,' and then I saw him and thought, 'You've got to be fucking kidding me!  Of all the people in America, Levi?'  And they were like, 'Oh, you have a past?' and I sat down and told them everything about it.  Of course, they're going to run with that idea of how we know each other, so honestly I wouldn't bring it up six years afterwards, but for the show's sake, they definitely wanted me to bring it up.  It looked like I was so obsessed with him, but I'm not at all, at all.
Ifelicious:  I did get the impression, mostly in the first episode, that there were still some feelings, and then you were hurt that he was denying that you guys were ever together.
James:  I figured that he would deny it.  I was like, 'Levi, you gotta be kidding me.  You knew this before the show.'  We had a little falling out about it, but we're cool now…We played sandbox a lot.  I'm sure you've heard that.
Ifelicious:  No.
James:  When you go in a sandbox, like some scenes, you know you're going to piss them off.
Ifelicious:  Oh ya, I undersand.
James:  So after the cameras are off, you know, you're still friends.  Levi and I had a lot of sandbox moments this season.
Ifelicious:  So why do you think he even discounted your relationship?  Like why did he feel he even needed to say that?  That was the thing that was kind of perplexing to me when I watched.
James:  I have no idea, like I still ask myself that, and I've asked him a few times, and he just doesn't really have an answer for it.  And Taylor, I'm sorry.  I don't really care for Taylor.  He's very umm, well look at him.  Not that I'm the most attractive thing in the world but dear God, really?  Like I don't get that.
Ifelicious:  So are you close to anyone on the cast, or are you the guy that just pisses people off?
James:  I like Chase.  I like Ashley…Everyone gets on my nerves, but everyone that's in my life knows that about me.
Ifelicious:  I got a question for you on my Facebook page when I said I would be talking to you.  Aisha Shabazz wants to know, 'Have you ever been to rehab?  Would you ever consider rehab and/or therapy?'
James:  I've never been to rehab, but of course I won't deny that I have a problem.  I think people are reading a little bit too much into it when it comes to the show… A lot of people don't understand the situations they put us in, and they feed us alcohol, so I don't go around on a daily basis and do that, you know?
Ifelicious:  I was going to ask you how often do you drink?
James:  I mean right now I'm drinking a margarita, but it's also because I'm off for the next three days so like why not?  But I don't go around like throwing back alcohol every five minutes.  On the show you would think I'm screwed up like that, but have you talked to Levi yet?
Ifelicious:  I have.
James:  Did he say that he drinks every single day?
Ifelicious:  Actually, I didn't ask him about that.
James:  You should've asked him that.
Ifelicious:  Well, because what we've seen so far, you're the only person that we're concerned about.
James:  Levi probably drinks about five times more than I drink.
Ifelicious:  Oh ok.
James:  I've never seen someone get up first thing in the morning and drink whiskey doubles, like I don't how you do it.  That's what blew my mind that I'm the drunk on the show, but I don't think [Levi] has one sober scene in the entire episode, every episode.
Ifelicious:  So I know you're a trust fund baby as you described yourself in the first episode.  Do you have a day job?
James:  It's basically all family money, but I have worked my whole life…hotels,  and I've been a waiter.  I love waiting tables.  I know it's so weird, but I absolutely love waiting tables.  It's my favorite thing in the whole world.
Ifelicious:  Is it the meeting people part?
James:  Yes, I love meeting people.  I'm a pretty good waiter, I think.  I do pretty well at it…I'm moving back to LA, and I want to be a waiter, and it's weird because they're going to be like, 'Weren't you on 'The A-List?'  Why are you waiting tables?'…now that we have these labels which I hate that A-list b.s. label, and now automatically we have to be this person everywhere we go, and I don't care, like I went to the bar last night to meet up with some friends that came in from Houston…and the bartender was like, 'Hey Mr. A-Lister!…What kind of vodka do you want?'  I was like, 'Well's fine,' and he was like, 'What?' and I said 'Well's fine.  It's vodka,' and this guy gave me look like, 'Are you crazy?'  It's like these people assume that I should be wearing Gucci and walking out of a Bentley everywhere I go…I hate that.  Like, I like to shop at TJ Maxx.  I love Nordstrom Rack.  Why the hell are you going to go to Nordstrom and spend $500 on a pair of jeans when you can get them for $50 at TJ Maxx?
Ifelicious:  Hello!
James:  It has nothing to do with money.  It's just being practical.
Ifelicious:  I know.  I do the same thing.  Not that I'm quite the dresser because I'm a soccer player half the time.
James:  Oh, I'm not either.  You should see me right now.  I don't dress up. Like everything on the show you see me wearing, the v-necks, the jeans, that's how I dress every day.  Everyone else is dressed up for the show all the time.  I was not about to be bothered.
Ifelicious:  I know you like to travel a lot, and I'm quite a traveler myself, so I wanted to know where do you like to go?  Do you have a stand-by getaway that you just do when you need to get out?  Or do you just go wherever?
James:  My favorite place in the whole entire world is my mom and dad's [vacation home], and they always take me there like almost every summer.  This summer we didn't go because the hurricane (Irene) hit, but it's Ocracoke Island.  It's in the Outer Banks, North Carolina.  It's the most beautiful place that I've ever been to in my life, and I've probably been there about five or six times now, and now my new goal is every single summer I want to go out there.  I love California a lot, too.  I love the weather out there.
Ifelicious:  Ya, you said you were moving out there.  Are you moving to northern or southern California?
James:  Well, I'm going to go out to West Hollywood (LA) again.  I lived there before.  I moved out there before for a couple of months just to do some acting and stuff…Now I feel like I have a little better of a chance because people actually know my name now.  The first time around, I crashed and burned.
Ifelicious:  So you have acting aspirations?
James:  I do.  I always wanted to.  I think it's fun.  Like I don't really care about the money and stuff.  I just think it's a blast.  It's so much fun being someone else for a change.
Ifelicious:  Are you in a relationship right now?
James:  Unfortunately, no.  The guy I was talking to.
Ifelicious:  (interrupts) That we see at the end of the second episode?
James:  Oh no, this is a guy in Houston.  A great guy, but he just kind of stopped wanting to see me.  I guess because I'm not fitting in his plan because my life's a little bit different than normal, so he broke up with me, which is fine.  So I'm single.
Ifelicious:  Have you ever been arrested?
James:  I've never been arrested in my whole entire life…Isn't that strange?
Ifelicious:  And I don't mean that in a mean way.  I was just thinking the way we see you drinking, that's what made me think of the question.  I was thinking you've gotta have like a public intoxication arrest somewhere.
James:  Every interview I've had, somebody asks me that…Levi has [been arrested], Taylor has [been arrested], but I haven't.
Ifelicious:  So what do we have to look forward from you this season?
James:  Oh, honey…You'll see a lot more.
Ifelicious:  Is it more of the same kind of antics?
James:  I'm in this weird wonderland where I feel like I'm going to be here [in Dallas] forever.  Like I'm not going to find a husband if don't have a career, and I'm never going to have a career if I don't know what I want to do.  So a lot of this summer has been about me, trying to find myself, like find out what I want to be, who I want to be, et cetera, and they kind of followed that.  I'm excited to see all of that…[and] I get a little less drunk throughout the season.
Thanks, James, for taking some extra time to chat it up with me.  Everyone, stay tuned for another post related to James where he reveals more about his life and offers some words of encouragement for others who may have or are going through the same situation that he did.
Read all of my blog posts about "The A-List: Dallas" including all of the cast interviews – CLICK HERE.
Also, check out all of my posts about "The A-List New York – CLICK HERE. For my YouTube interviews with "The A-List" series- CLICK HERE.
Related Links