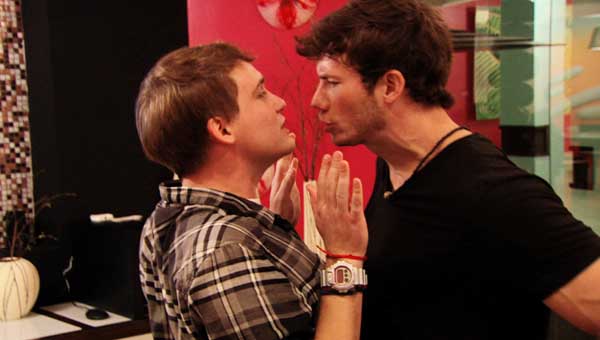 This is regarding my reaction to MTV's "Real World 25: Las Vegas" episode 11 "Oh Yeah, Mexico, Yeah."  Watch the clip below that is the impetus for this blog post.
Let me get this straight, because Dustin Zito threw but did not land the punch (although it looks like he did when I watch it, and in this unedited version Mike shows that his lip was cut) at Mike Ross, there's no need for an intervention by MTV. Let me sort this out, because Dustin shoved Mike a few times and even shoved him hard enough for Mike to fall backwards to the floor in his chair, there's no need for an intervention by MTV. Let me make sense of this, because Mike made a legitimate statement/warning to Mike about his gay porn past potentially preventing him from being able to do community service in an elementary school filled with minors and computers, he is wrong and provocative.  Not to mention, according to the non-action of MTV Real World producers and the cast that had Dustin's back, it's really Mike that's in the wrong.  WTF?? There wasn't even one of those public service announcements at the end.
MTV, you are completely in the wrong, and I am boycotting your network.
UPDATE MAY 22, 2011: Ok, my cooler senses prevail now. A more constructive way to go about this would be any of the following:
Tweet "@MTV I think Dustin should have been kicked off for his fight with Mike." (and/or @BunimMurray)
Write your own blog post expressing your point of view.
Email MTV and/or "Real World" show producers Bunim-Murray (i'm still looking for an email address)
Oh, and I TOTALLY caught the part in the clip above when Dustin yells "It's built the f*ck up, n*gga!"  If you missed it, it happens about 12 seconds into the clip.  Not. even. going. there. right. now…woosahhh!

As soon as Mike brought up the subject, I immediately thought of Abram Boise who recently canceled his children's book tour prematurely after being arrested for public intoxication and allegedly smearing his own poop in the jail (or something like that).  This is a day and age where school systems are very protective of their students.  Teachers are afraid to discipline their own students at times for fear of a backlash.  You can't even hug a kid and not consider being called a pedophile.
I digress (what's new, lol)…
To say the least, I am incensed by this episode and this season's response to out of control behavior in general. I am writing as a loyal fan of the network and the Real World series.  I've watched every single season- even when they started to suck. To top it off, the MTV Remote Control Blog writes a story "'Real World' Poll: Did Mike intentionally try to demoralize Dustin?" I know, as a writer, the power of media and its ability to influence people's reaction. If you don't believe me, just take the poll in the article and look at the results. There's an overwhelming number of people who voted that Mike was in the wrong for what he said.
Just watch the After Show below and see how the cast mates gang up on Mike, except Leroy who tries to maintain some balance, for his actions.  Let me make this clear, I AM TEAM MIKE ROSS on this subject, and too many people are missing his point.
I shouldn't be surprised considering Adam Royer from this season had several violent, drunken blackout nights where he kept getting kicked out of the club and destroying hotel property. It wasn't MTV that stepped in, it was the hotel management.
What happened to the days when MTV would intervene, even if the house didn't react? Tell that to my all time favorite Real Worlder Ruthie Alcaide from RW: Hawaii who was sent to rehab for drinking and partying "too hard." Tell that to Stephen Williams (a black cast mate, i'll be going there in a moment) who pimp slapped Irene McGee during the season of RW: Seattle and got sent to anger management classes. Tell that to cast-off OG David Edwards who got kicked off RW: Los Angeles for pulling the blanket off Tami Roman while Beth Stolarczyk yelled words like "rape" in Tami's defense. There are sooo many examples that I may just gather and put in a separate blog post.
At the same time, I ask myself why I should be surprised that MTV's Real World producers are relaxing their standards in recent years.  This is the same network that is making a mint off showcasing people passing themselves off as Italian and acting like stereotypical guidos on "Jersey Shore."  This is the same network that is paying teenagers tens of thousands of dollars (way more than minimum wage) and launching them into superstardom instead of counseling to record their lives as pregnant teens on "16 & Pregnant" and "Teen Mom."
Aside from all of the above, as a black person, I have a hard time believing the situation would've turned out the same on episode of RW: Vegas if it were a black cast mate (even Leroy Garrett who I champion as being one of the better representations of black men on the show…not perfect, but better).  I don't want to spend too much time on this point because I know someone is going to run with this one paragraph and forget every other argument I've made here.
Sort of summing things up:
I don't care if it appears that Dustin was provoked or not, he needs to keep his outbursts in check
Mike brought up a completely valid point. Who cares that he was the one to deliver the message
I was shocked at the cast mates reactions during the After Show.  I hate when people excuse foul behavior with "that's just the way he/she is" as a justification
I am actually surprised that the school didn't do any background checks of the cast before bringing them in to talk to the students…then again, it's Las Vegas aka "Sin City"
MTV/Bunim-Murray needs to address the violence in this episode publicly
This is the first time that MTV has really gotten me so upset that I am ready to boycott them
Dustin, the fact that you would call Mike a n*gga in an argument leads me to believe you very well would say it to a black person
Real World is not at all what it used to be…buzz kill
Related Articles