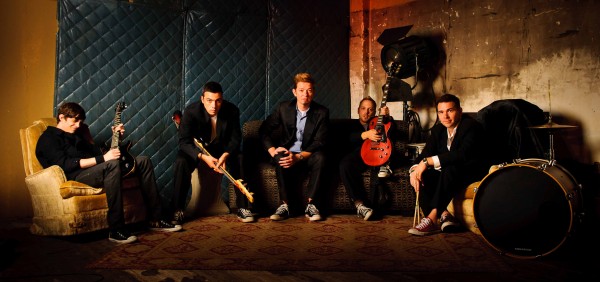 We are just good ole American rock and roll. That's it. We're not alternative because nobody wears makeup. We're not hard rock because although I can scream, but I'm not going to scream on every song. We're not pop…but when you put all of that together, that's what I believe rock and roll really is. -Rod Henson
Memphis, Tennessee is a city with a rich cultural and music history.  It's one of America's birthplaces for blues, rock and roll, and soul music.  It's the home of Beale Street, Stax Records, and Graceland.  Legends such as Elvis Presley, Johnny Cash, Otis Redding and Isaac Hayes have roots in Memphis as well as more current artists such as Justin Timberlake and Three 6 Mafia.
Blackberry Wednesday is an indie rock and roll band out of Memphis. Lead vocalist Rod Henson describes, "Memphis is a very tough town. This town has seen the likes of everybody.  What put us on the map is music…There's blues being played here every night, so to be a part of this Memphis music scene and to grow and to cut your teeth on it means a lot…and I'm proud to do it." They are not alone. We've seen indie artists out of Memphis try to make it on hit FOX reality TV show "American Idol" such as contestants Trenyce from season 2 and Alexis Grace from season 8.
One of the components that I listen for nowadays is whether or not the artist/band has at least one track that is "radio ready." By golly, Ifelicious Thoughts is a pop culture blog, and I've seen how difficult it is to get y'all to read and download music from an indie artist/band. Trust me, it makes me tug on my afro sometimes in frustration.  Without a doubt, Blackberry Wednesday is "radio ready." Listen to their debut album "Start Again" (available on iTunes and Amazon) and the single "Hey I" or my personal favorite "What's Coming to You" as proof positive. Even as I was preparing this blog post over the past few days, "Hey I" caught the attention of my hubby (and fellow in-house music critic) who was impressed by their vocals and immediately went online to find a place to download the single.
Without further ado… Meet the members of Blackberry Wednesday
This section could very well be entitled, "Don't judge a book by its cover," because these Memphians (new word i learned from the interview) don't have the typical look you'd imagine when you think of a rock band but possess everything else that makes them legit.  The group formed in 2007 but really began to take shape in the past year following the release of their debut album "Start Again" in April 2010.  The single "Hey I" has expanded its reach to 32 radio markets, 18 internet radio stations, and 2 satellite stations.  They're also getting ready to record new original music (they write and produce all of their own songs).  Be on the lookout for "Saying Things" and "Dance Floor Break-Up King."
For a list of upcoming shows around the US, check their website (www.blackberrywednesday.com).  Rod has already promised me that they'll get out to Columbus, Ohio. "Oh my God!  You know I want to…I'm going to work and make it happen," he said assuringly. They'd totally rock it out in C'bus at live music spots such as one of LC Pavillion's venues, Skully's, or Kobo.
Rod Henson
lead vocalist, pianist, from Memphis, favorite color green, likes long walks in the park, Aries
Lucien Croy
lead guitarist, color blind, from the interview I'd say his Facebook relationship status = "it's complicated" (hey, he offered, i didn't ask 😉 ), from Memphis, Gemini
David Wade
drummer, introduced himself as "I am the glue to this band," favorite color black, from Texas, Libra
Josh Fisher
bassist, newest member to the band, from St. Louis, loves the Rams, Aries
Chris Leerskov
guitarist, aka "Batman" thanks to his Converse Chucks- superhero edition (i'd totally rock a Wonder Woman pair if they made 'em), from Memphis, Capricorn
Interview
Trying to chat with all of the members of Blackberry Wednesday by speakerphone was challenging to say the least. I swear they had an acute case of ADD that night 😆 , but they were a super fun bunch to interview. In the end, I spoke to Rod Henson (lead singer and pianist) the most. Just from speaking to Rod on the phone, I could sense that he was determined, genuine, very lively, and has his own sense of humor. Here are some highlights from the interview:
Ifelicious: I read that you are not signed to a label.  Is that correct?
BW- Rod: Yes.
Ifelicious: What's that like?
BW- Rod: It's hard!…We're one step down from an indie label.  We have to do it ourselves.  You have to be the creator.  You have to be the planner.  You have to be the banker.  You have to be the accountant…You have to create the product, believe in what you're doing…package it like a product, market it, push it, and as a musician…It's a big freakin' distraction from what I really want to do which is just play music. Hello! That's what any musician is going to tell you that they want to do.
Ifelicious: When you release a song, how do you make sure people hear it and want to download it?
BW- Rod: You work your ass off all the time.  You stay on the internet constantly; never put your laptop down…We got in our car and we drove to radio stations…and we're still doing it.  You have to be shameless if you want to be successful in music because there is so much [competition] out there.
Ifelicious: How's the response been from fans when you're performing?
BW- Rod: If you could see me right now, I have this huge grin on my face because it's been amazing.  It's been awesome.  We try to go to channels where they're actually spinning our songs…We played in Atlanta, at the Hard Rock, and it was crazy.  I hope you get to see our show because we really put a lot of work into it, just energy, and I feel we get that response back from the crowd, too.
Ifelicious: Who's the 'show-off' onstage?  Who likes the limelight?
BW- Rod: Well, I'm the lead singer, and I'm the tallest one in the band so I'm a given.  They're all going to stare at me anyway, but I would say the show-off in the band would probably be Lucien (lead guitarist).  He's probably about five foot tall…and he is one hard working little man.  I mean, he's on his knees.  He's rolling around.  He's working hard.  That's for sure.
Ifelicious: Who's the shy guy?
BW- Rod: My drummer, totally.  Dave Wade; he's real shy.  I don't think he'd even be a musician if he didn't have the drums to hide behind, but he's super nice.
Ifelicious: Tell me about the song "Save Us From Ourselves."  The song is very powerful, and the imagery of the Gulf oil spill in the video is really vivid.
BW- Rod: Lucien and I wrote that song together…If I'm being really honest, it's almost like a prayer, that song, to me.  You know, we're right here in the Bible Belt…so it's just kind of reflecting on what we do to the world, at what we do to ourselves.
Ifelicious: How would you describe your sound?
BW- Rod: We are just good ole American rock and roll.  That's it.  We're not alternative because nobody wears makeup.  We're not hard rock because although I can scream, but I'm not going to scream on every song.  We're not pop…but when you put all of that together, that's what I believe rock and roll really is.
Latest video release "Hey I"
Video for "Save Us From Ourselves"
"Start Again" Track Listing
Start Again
Something New
Shut Up
Hey I
You're The One
Save Us From Ourselves
What's Coming To You
Pathetic
The Fear
Who's Getting Fat
Finished
Come Around (live)