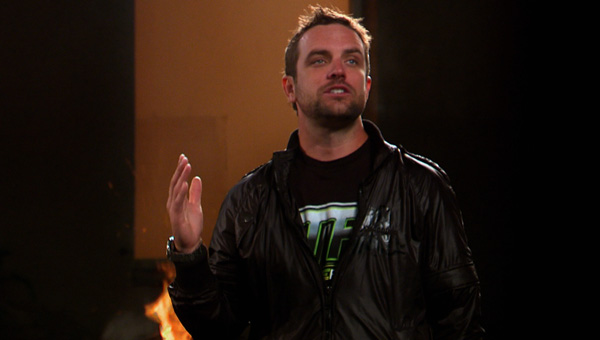 (Chicago Press Release Services) — After a month in Las Vegas University Medical Center recovering from brain surgery and other injuries sustained in a catastrophic crash at the Vegas Dew Tour championship, BMX star and MTV host TJ Lavin is out of the hospital and slowly recovering. But will it stop him from biking again? According to his mother, no way.
"I have no doubt he'll ride again, but oh yeah, he's done riding competitively," Barbara Lavin told RadarOnline.com. "The doctor says he can't afford any more head injuries — if he was a football player, he'd be down."
TJ, 33, made it home last week, and his mom says that while things are slow right now, everything is beginning to seem normal again.
"TJ's welcome was pretty subdued, no bells, no whistles, so not to overstimulate him since he's recovering from brain surgery," Barbara Lavin said. "He sat with a few friends, ate pizza and hot wings and watched football. It was good."
Lavin was put into a medically-induced coma and required surgery to relieve swelling on his brain following a failed "nac nac combination" maneuver. He also shattered his wrist and broke several ribs. The competition was reportedly intended as Lavin's last ride as a pro BMX rider.
The X Games gold medalist has appeared on MTV's "Cribs" and has a video game called "MTV Sports: T.J. Lavin's Ultimate BMX."
Originally reported by PopEater.com. Read the original article here.
See also my blog post "TJ Lavin meets the ultimate challenge…for this life" and all of my MTV RW/RR Challenges blog posts by CLICKING HERE.