I, by no means, am a member of PETA or have a strong position about the use of animal fur in fashion, but I ran across this press release from Leon Verres' site and wanted to present it to you as another angle on fashion.  I'm already bracing myself for the people who are going to read this out of context.  Anyway, read below, and maybe you'll want to pick up a 3F tee or AOA tee for yourself or a loved one.  ~Ifelicious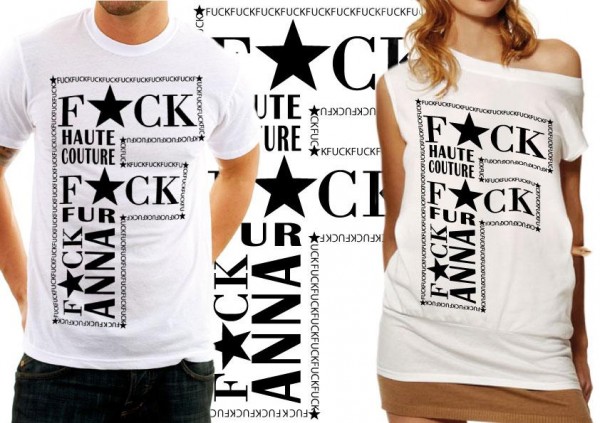 The Leon Verres Luxury Group (LVLG) is one of the leading independent selling groups for high-quality fashion- and luxury goods today. Together with numerous animal rights groups and more than 4 million people, who already support Leon Verres' "United Against Anna Wintour" campaign, the charismatic designer starts a battle against the ruthless fur industry and its famous supporters!
He is like the legendary King Midas, whose hands turned everything which he touched into gold. Like most recently the "3F" t-shirt, which set up new sales records in numerous countries within only two months after its introduction. In the USA alone, the t-shirt, which has also become famous as "Fuck Vogue! Fuck Anna! Fuck You!" was sold more than 100,000 times within a few days. Let alone the hot tempered discussions which the t-shirt caused in the world of the high fashion. Especially Vogue boss Anna Wintour had to suffer a lot from this.
However, this is by far not the end of Leon Verres' worldwide conquest, because the "Enfant Terrible" of the fashion business shows his superiority again with his brand-new message t-shirt. The new t-shirt, which is called "AOA" (Army of Animals), contains at least as much of the victory gene and the explosive impact as its famous predecessor. The "3F" t-shirt proclaimed impressively the aversion to Anna Wintour and her Vogue. The "AOA" t-shirt shows itself as merciless enemy of the fur industry and its supporters!
According to Leon Verres, "What do Anna Wintour, haute couture and the fur industry have in common? All three of them are in a coma on the intensive care unit and are only kept alive artificially by machines. But why does nobody switch off these damn machines? Like in many other cases, the greed for profit of the three coma patients' dear lobbyists is the reason. However, there is no need to worry. We will solve this matter. To the satisfaction of millions of fashionistas we have already kicked Anna Wintour and her Vogue hard in the cellulite ass. Now the fur industry and its supporters will get into trouble. Within the past few months animal-rights activists from all over the world desperately asked me to help and support them in their war against the fur industry. I did not hesitate for a single second and immediately agreed to help them, because fur means death, fur means pain – regardless if for chinchilla, fox or mink. 40-60 minks, 10-20 foxes or beavers, 30-50 racoons, 6-10 seals, 110 squirrels or 130-200 chinchillas have to die for one fur coat! These numbers, this unimaginable suffering of the massacred animals fills my heart with fury and pain. Regardless of how long it will take and how much it will cost, these people will pay for their actions. This group of people also comprises shameless fur supporters like Anna Wintour, Jean-Paul Gaultier, Kanye West & Co., who do not care a fuck for the suffering of the animals. These barbarians should be locked into one of those narrow, dirty and stone-cold wire cages of the Chinese torture-breeding farm for only one day. After that they would ask the PETA for forgiveness and for a lifelong membership on their knees and they would be crying, dressed with "bio-ecological clothes" and holding a cereal bar!"
Millions of animal lovers and fashionistas can barely wait to be finally able to wear the "Army of Animals" t-shirt on their skin and to protest against the torturous animal husbandry and the gruesome slaughtering with this t-shirt. The must have t-shirt can be ordered at www.leonverres.com, at numerous animal-rights organizations and in "fur-free" fashion shores. Of course the proceeds of the t-shirts are used for the war against the fur industry!