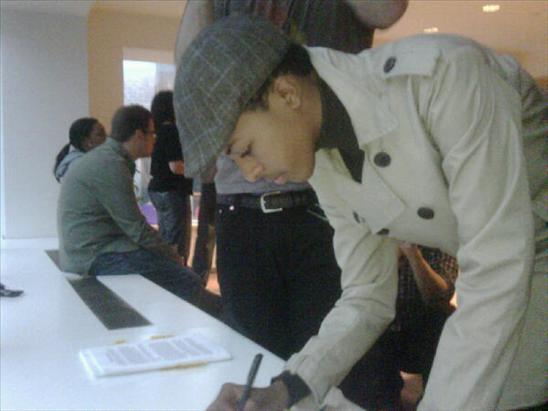 With his mixtape "The First Flight" and countless other singles/remixes (Star Is Born, Point to Prove, Set Me Free) being recognized by fans, yet overlooked by major media outlets, it took the release of his remix to Drake's, "Over" (Just The Beginning), that eventually got Daniel "Diggy" Simmons love shown by said outlets for being "the first" to drop something over the newly then released track. Although people were receptive of his remake of the new single, Diggy still had more hearts and ears to capture and win over, with the goal of letting everyone know that him creating music was not a hobby but a passion and it was something he is great at.
Going back into the studio, the young fashion icon spit a crazy sixteen over Nas' "Made You Look", and unleashed "Flow Stoopid" (MP3 link). Linking up with PhilTheGod to create a visual along with the track, "Flow Stoopid"(video link), was the hit that finally got Diggy more love then anticipated. With cosigns by Lupe Fiasco and Swizz Beatz via twitter and blog postings by Kanye West and Common, Diggy EARNED his buzz that has major companies, labels and the internet wanting to get familiar with him.
Last week the buzz generated rumors that Atlantic Records signed Diggy Simmons, a small statement of denial was released due to at that time it not being true but as of Monday, March 22, 2010, the day after Diggy's 15th birthday, the deal has been sealed; Atlantic Records has signed Daniel "Diggy" Simmons!!
For all of those who have supported the project thus far, you are MUCH appreciated as this has been a FUN and VERY successful journey. It really does not stop with getting signed, more GREAT news to come SOON!
Diggy Simmons' short convo with VIBE.com /VIBE Magazine
Diggy Simmons talks with RollingOut.com / Rolling Out Magazine
Diggy Simmons talks about "Made you look Freestyle (Flow Stoopid)" Video with GoodFellaRadio
Also check out a sneak peek of Diggy Simmons, Chivalrous Culture shoe line, on SoJones.com
(info courtesy of Diggy Simmons Press)

Read all of my blog posts related to Diggy – CLICK HERE.