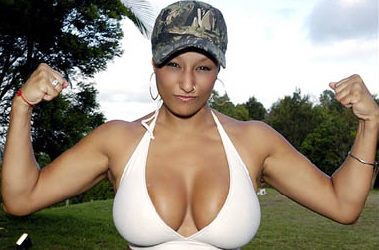 We can thank Vevmo.com who was able to get the skinny on the next MTV RW/RR Challenge season.  It's going to be called "Fresh Meat 2" which I'm not sure why they call it that over the Ruins or Duel or any of the other names.  Maybe the rules are similar?
UPDATE March 4, 2010, 5:30 PM ET: Gotta love Twitter! From @SarahLuv who reminded me (@ifelicious) of the reason for naming "Fresh Meat."  — It's called Fresh Meat b/c they are bringing in new people. That's where Evan, Kenny, Ev, etc came from.
Anyhoo, I didn't even write about the last season, and this is probably my last remaining fave show on MTV.  The Ruins was just awful.  I mean they ended up with with KellyAnne and Sarah versus Evan, Susie, Johnny, Derrick, and Kenny.  Mind you, those gals handled it very well until the end.  I think Sarah alone would've beat the other team.  She's tough stuff for a newcomer.
However, all of the remaining folks that I like were eliminated early, and I bet even MTV didn't bank on it.  Hence, the good juicy, scandalous competitive drama was gone.  No EV (my challenge "girl crush") or Wes or Paula or CT?  I'm getting old school.  I miss Ruthie, Coral, Beth, Rachel, Mike "The Miz," etc.  I mean folks like Paula, Aneesa, Wes, and Susie bring some drama, but not like it used to be.
BTW, when the hell did Road Rules get canceled?  It just dropped out of thin air which probably has contributed to the downfall of these challenges.
Enough blabber…

So here's this season's cast.  They're in pairs, but one of the pairs is not familiar.  Did they do some online casting again? Season premieres April 7, 2010.
CJ Koegel (RW: Cancun) and Sydney
Danny Jamieson (RW: Austin) and Sandy Kang
Darrell Taylor (RR: Campus Crawl) and Cara Maria Sorbell
Evelyn Smith (Fresh Meat) and Luke Wolfe
Jenn Grijalva (RW: Denver) and Noor Jehangir
Jillian Zoboroski (RR: Xtreme) and Pete Connolly
Katelynn Cusanelli (RW: Brooklyn) and Brandon Nelson
Kenny Santucci (Fresh Meat) and Laurel Stucky
Landon Lueck (RW: Philadelphia) and Carley Johnson
Paula Meronek (RW: Key West) and Jeff Barr
Ryan Kehoe (Fresh Meat) and Theresa Gonzalez
Sarah Rice (RW: Brooklyn) and Vinny Foti
Wes Bergmann (RW: Austin) and Mandi Moyer
UPDATE March 4, 2010:

Here's the trailer for Fresh Meat 2
Who do you think are the strongest teams?
Keep up with more of the juicy scoop about Fresh Meat 2:
Newly added links since original post was written…