…and Lance Bass to Host the Red Carpet Pre-Show Special.
If you missed it last night, like I did, you can catch the awards show again at the following dates/times:
Sunday, October 18, 2009 at 8:00 PM EST
Monday, October 19, 2009 at 2:00 AM EST
Tuesday, October 20, 2009 at 12:00 AM EST
LOS ANGELES– (BUSINESS WIRE) — Fox Reality Channel presents the 2009 Fox Reality Channel Really Awards Saturday, October 17 at 10p/9c from the famed Music Box @ Fonda in Hollywood. The "Reallys" is the only awards show to celebrate the best in reality television. Actress Vivica A. Fox, best known for her roles in films such as Kill Bill: Vol. 1, Soul Food, Independence Day and Set It Off, and a veteran reality television star in her own right, appearing as a contestant on ABC's Dancing with the Stars (Season 3) and host of VH1's Glam God with Vivica A. Fox and TV Land's The Cougar, will host the fourth annual Fox Reality Channel Really Awards show.
Singer, actor, producer Lance Bass, who gained fame as a member of the multi-platinum selling group, 'NSYNC, will host the red carpet show, bringing viewers up-close and personal to their favorite reality stars. Bass, a reality fan and producer himself has been in the reality spotlight before as a contestant on Dancing with the Stars (Season 7) and appearing on Bravo's Kathy Griffin: My Life on the D-List.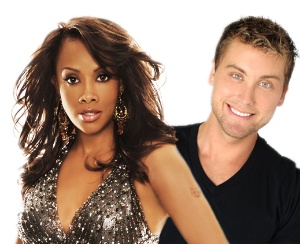 "Vivica A. Fox and Lance Bass are top-notch entertainers with strong ties to the reality television world," said Bob Boden, SVP of Programming, Production & Development at Fox Reality Channel. "We are pleased to have these talented celebrities as hosts of the 2009 Fox Reality Channel Really Awards and its red carpet, entertaining viewers with a fun-filled night that celebrates the colorful characters and greatest reality moments from the past year."
The 2009 Fox Reality Channel Really Awards is produced by Natural 9 Entertainment.
"We are excited to go back into production for our fourth consecutive year with the Fox Reality Channel Really Awards," said Carol Sherman, President and CEO of Natural 9 Entertainment. "Working with reality stars is always an entertaining experience filled with unexpected surprises and this year will be no exception to that wonderful rule."
Viewers can follow Fox Reality Channel on the following social networking sites:
Twitter – http://twitter.com/FoxReality
Myspace – http://www.myspace.com/foxrealitychannel
Facebook- http://www.facebook.com/home.php?#/pages/Fox-Reality-Channel/39488379431?ref=ts
ABOUT FOX REALITY CHANNEL
Fox Reality Channel launched in May 2005, to become the premier destination for lovers of unscripted programming. Fox Reality Channel is the only all-reality, all-the-time cable and satellite network featuring compelling original programming and network favorites. Fox Reality Channel is available in nearly 50 million homes and can be accessed via Video on Demand, broadband, mobile devices and other digital platforms such as Hulu and iTunes® (excluding American Idol Extra). For more information on Fox Reality Channel programs and schedules, please visit foxreality.com.
ABOUT NATURAL 9 ENTERTAINMENT
Natural 9 Entertainment is an independent production company based in Burbank, California. Natural 9 Entertainment produced the long running daily entertainment recap show called Reality Remix and has also produced a wide array of weekly series and specials for ABC, NBC, FOX, FOX Sports and most cable networks. Natural 9's most recent reality series Re-Inventing Bonaduce aired in spring 2009 on Fox Reality Channel and it will be producing the 2009 Fox Reality Channel Really Awards for the fourth consecutive year. Carol Sherman is the President and CEO of Natural 9 and Jeff Androsky, 11-time Emmy Award winning Producer/Director, serves as President of Production and Development.
Related Posts