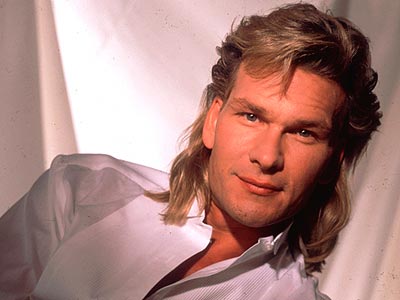 This week's Throwback Friday was a no brainer with the passing of Patrick Swayze.  Dirty Dancing came out in 1987 which would put me in middle or high school.  It was one of those movies that EVERYBODY saw, not just once but over and over and over again.  The soundtrack played in Sony Walkman's…the cassette tape kind.  We tried to mimick dirty dancing to the disgust of our parents.  Oh, and don't forget that Patrick Swayze was an absolute heartthrob!  His dance moves and those dimples could just kill!  I think nearly every girl imagined themselves in Jennifer Grey's "Baby" place being grabbed and shuffled across the dance floor.  This week, I had to call one of my sisters after Patrick Swayze died to remind her of that basketball referee that reffed many games in the CBA (Columbia Basketball Association)…at least I think it was that league or maybe it was out in Arbutus, MD…anyway, this guy was a dead ringer for Patrick Swayze, and I used to just stare at him (and not my sisters playing basketball).  It's one of those moments where you have to rationalize with yourself that Patrick Swayze would not be reffing a basketball game in suburban Maryland. LOL!
I really am going to miss Patrick Swayze.  His passing has really made me sad.  We've lost so many icons in the past few months that I'm honestly starting to go through a little mid-life crisis.  It's an odd space to get to when the people you grew up with on tv start to die off.  At the same time Swayze, like MJ was relatively young to die…only 57.  I feel like that's not fair, pancreatic cancer or not.
This week's Throwback Friday is dedicated to all my girlfriends at the all girl parties and get togethers when we played this tape in someone's  boombox and had girly giggles about seemingly important things at the time, or the end of year dances that took on "Time of My Life" as a theme to their event and wishing some guy would come over and ask you to dance when the song came on.  This is for you.  🙁
Related Links…
Ifelicious Thoughts– All of my Throwback Friday posts
Celebrity Gossip– Jennifer Grey remembers Patrick Swayze following his death
USA Today– Dirty Dancing: Baby's out of the corner
Dirty Dancing official website– www.dirtydancing.com/site.php
Yahoo! News– Dirty Dancing star Patrick Swayze dies at 57
The Huffington Post– Patrick Swayze dead
I should go see his star while I'm out here in Hollywood today.  Hadn't even thought of it until I saw some of the news clips below.