UPDATE: Audrina Patridge WILL be back for Season 6 of The Hills. Click HERE for details.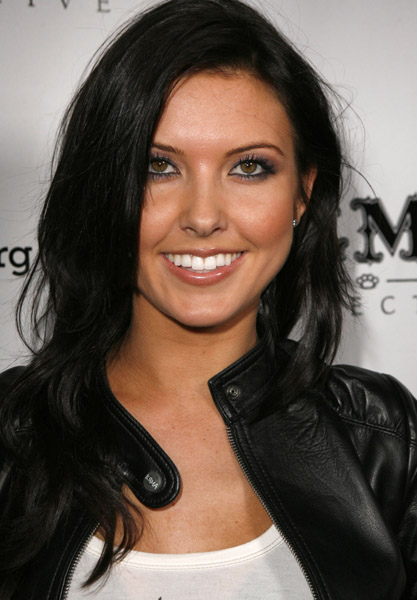 Weird.  "The Hills" was a spinoff of "Laguna Beach" and was supposed to follow Lauren "LC" Conrad post high school.  Last season, we watched the season without Whitney Port, the show's break out star and co-worker/pal of LC as she moved onto her own show "The City."  By end of last season, we all became aware that LC was leaving the show as MTV tried to keep us hooked with the grand entrance of Kristin Cavallari at Speidi's wedding.  Now, Audrina Patridge who has added flava to the show with her rocker chick, bad boy dating, insecure self has announced she is leaving after this season airs.  You can see her in her in theaters this month with the release of thriller/horror flick"Sorority Row," and she begins taping a yet to be named reality show about her life in early 2010.
Boooooo! *throws tomatoes* MTV, this show is gonna super suck without your key ingredients in the mix.
Come on, Kristin stunk it up real bad on everything she tried after "Laguna Beach."  Remember that hideous mess called "Get the Party Started" that she did on UPN?  It sucked so much it got canceled after only 2 episodes.  Let's face it, her only claim to fame has been being a beeyatch and in some stupid high school love triangle between LC and herself as they fought for so not worthy Stephen Colletti's attention. 🙄
This season of "The Hills" starts on September 29, and I see in recent photos that Audrina has crossed over to the "dark side" by lightening her hair color to a shade of blond like the show's former start LC used to rock.  I was lovin' the jet black on her.
My spidey senses thinks that Audrina has a minimal shelf life with "The Hills."  While she's been interesting on "The Hills," she doesn't have the personality to be front and center of a tv show in the same way as Whitney Port didn't have that extra something to keep me really hooked on "The City."
Oh well…I guess everybody has to dream…
Oh, watch this.  It's hilarious and set to Tila Tequila's "Fuck Ya Man."


Related links…
Twitter– Audrina Patridge
LA Times Blogs– VIDEO SCOOP: Audrina Patridge's BMX BF Cory Bohan will be in her new reality show
MTV.com– 'Sorority Row' Stars Audrina Patridge, Leah Pipes Promise Gore And Laughs
US Magazine– Audrina Patridge: I'm Leaving The Hills
The Hollywood Gossip– Audrina Patridge Set to Leave The Hills
Entertainment Weekly– Audrina Patridge Set to Leave 'The Hills' after signing reality deal with Mark Burnett
Famous Why– Kristin Cavallari
Related posts right here on Ifelicious Thoughts…
(you can also click the dropdown box on the upper right of this blog where it says "Search by Category")
All posts about The Hills
All posts about The City