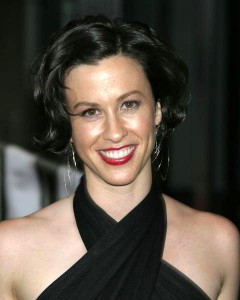 Yes, you heard that correct, Alanis Morissette will be a recurring guest actor on the upcoming season of "Weeds" Season 5.  The Showtime series kicks off in just a few weeks, on June 8.  She will be playing the role of Dr. Audra Kitson, Nancy Botwin's OB/GYN.  Morisette is more familiar to fans as a femme pop songstress from Canada, but she's showed up in tv roles periodically over the years.  Some of you may even remember Morisette the 80s Nickelodeon hit childrens tv show "You Can't Do That On Television."
If you recall from the season 4 finale, Nancy finds out she's pregnant and confronts Mexican drug lord/boyfriend Estaban with the news.  It should be interesting to see how this all plays out in the upcoming season.
(Found the scoop from seattlepi.com)
Goodie Goodie Gumdrops!  Can't wait for the season to get started!
🙂
When are they moving back to Agrestic?
It was kind of a weird twist last season when they relocated to Ren Mar.  The "little boxes" town of Agrestic added to the appeal of the show.
Here's a short preview of Season 5…