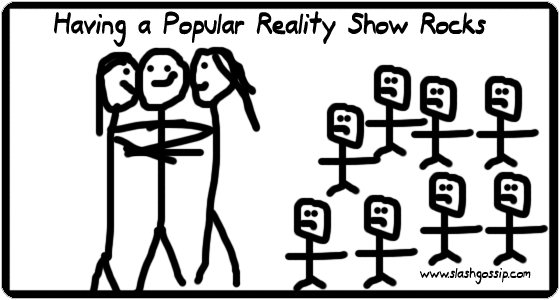 I reported about Jon and Kate's marital woes like others and the producers of the show threw a little teaser in the 2nd to last episode leading us to believe that Jon and Kate would discuss/admit some trouble in paradise.  Instead, we got 15 seconds at the end with Jon visibly annoyed that he can't just be himself anymore.  His few words do seem to offer an explanation about the sorority girls and night at the bar near his mother's home that any photos taken were as fan photos and that he was at his mom's because she broke her ankle and her husband (Jon didn't say his dad, not sure why, maybe a step dad?) was out of town.  Kate seemed to stand by her man as he shared his frustrations with being on the show, and she stated more than once that she enjoys being on the show.  That's all they're working through right now.
Well, if we were playing a game of bullshit, they'd be taking shots right now.  That's fine if they don't want to divulge any details about their relationship.  It is a threshold to cross when you are now famous enough to have to deal with rumors and tabloids, and they are certainly there now.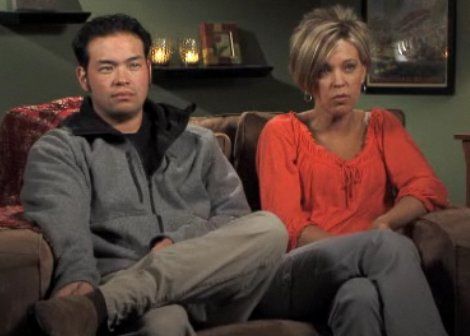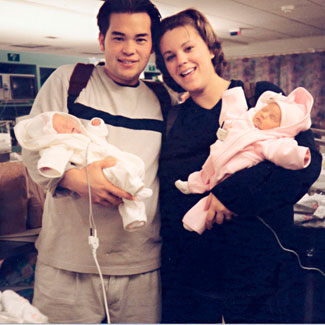 Here's my observation, I notice that Kate's body language is often (I won't say always because I honestly can't remember) pointed away from Jon during those interviews on the couch.  I don't expect them to sit on each other's laps, but they just look strained…and I don't buy that it's strictly because the couch is uncomfortable.  Those interview segments never show them recounting stories together in a fun way like they enjoyed each others time and the time with the kids.  Maybe their lives are so hectic that they can't even seen it themselves.
Do you think there will be a Season 5?
My guess is that Jon will opt out of the season and they'll just stop showing him on camera, but the show will go on as if he's a part of what's happening.  We see that in a lot of reality tv.  I remember laughing about how MTV's Laguna Beach cast never seemed to do homework or go to school or have parents.  The only thing they showed, most of the time, was partying and hanging out at each other's houses.
Oh, and there was no showing of the doggies on the last episode either.  I was kind of wanting to know how that was working out before the season finished.  Maybe Jon and his dogs (that's pretty much how Kate put it) will go do their own thing.  Maybe he'll even go back to working in an office as opposed to from home since that seems to stink for him as well, while Kate runs around making that paper for the family pimping her life story and those adorable kids.
Puppy video with the Gosselin kiddies!!!
I'm sorry, but I must digress for a quick second.  After seeing a show like this, why wouldn't it be feasible for Nadya Suleman (I refuse to call her octomom, that's just disrespectful) to family plan with hopes of a reality show, book deal, made for tv movie on Lifetime or WE, etc. after seeing so many others make a living doing the same?  Where would Kate Gosselin be without the show?